27/3, 14:53 | Digital cantus in crisis times
Student association ASV Taste showed that in a crisis situation, leave it up to students to be the experts in creative problem solving. The association hosted an online cantus yesterday evening with 120 members, using a combination of the platforms Twitch, Kahoot and Zoom.
26/3, 16:40 | Lockdown Lonnie
UT alumna Lonnie Holders (TC'02) is in a lockdown situation in the mountains of San Simone, a small ski area at an one hour drive from Bergamo city in Italy. She keeps the world informed about her situation via Instagram.
26/3, 13:45 | Novel-T has a 'corona' support team for entrepreneurs
Novel-T is helping regional companies with challenges related to the corona crisis. Their special support team has assisted 300 entrepreneurs so far. They offer daily Q&A sessions and hands-on advice related to finances, legal issues, remote working and help provided by the government.
26/3, 11:24 | Students abroad sharing their stories
More than 150 UT students are currently abroad. Some who returned home to their families on a voluntary basis, but there are also students who are stuck abroad, with no option to return to Enschede. We spoke to four students, currently in residing in either Spain, Vietnam or New Zealand, about their situation.
25/3, 14:57 | No culture on campus until autumn
All cultural events on campus are being cancelled or rescheduled until after summer. This affects performances organized by Culture & Events, as well as student asscotions and Studium Generale.
25/3, 11:45 | TechMed Centre helps healthcare sector in times of crisis
Dozens of UT researchers are currently in full force to assist the healthcare sector in the corona crisis. Especially within the TechMed Centre, where they are at an advanced stage in developing a technique allowing multiple people to use the same breathing machine.
25/3, 10:30 | No physical lectures till June
The UT classrooms will stay empty till 1 June. The online education is extended from 6 April to 1 June because of the novel measures of the government against the coronavirus. In case government regulations would change before 1 June, the UT will assess at that time what activities would still be feasible at the campus, as is stated in the mail directed to all employees and students this morning.
It also states that the UT is investigating what options there are for activities for which there is no online alternative available, such as some practical assignments and exams. Possibly part of those activities will have to take place during the summer period.
24/3, 14:41 | VSNU consults on new government measures
The government banned all meetings until 1 June yesterday. But for education, there are still some uncertainties. The Association of Universities in the Netherlands (VSNU) will discuss this afternoon what the new measures will mean for Dutch universities, including the UT. For example: what about online education? For now, the measures apply until 6 April. More is expected to be announced tonight.
24/3, 12:37 | First digital PhD defense
So, this is what a fully digital PhD defense looks like: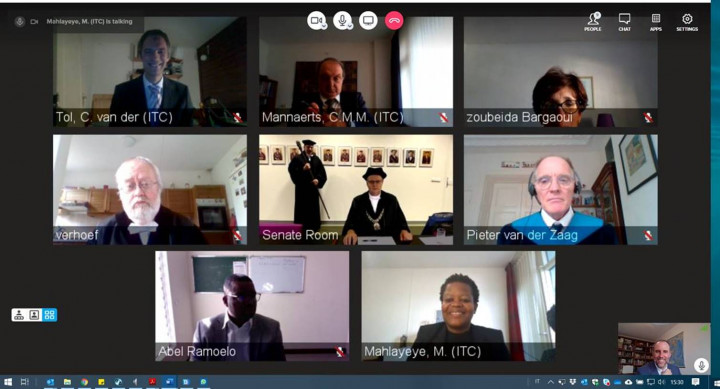 Last Friday, beadle Wim Koehorst was part of the first fully digital PhD defense. He shares his experience in the interview below.
24/3, 10:13 | Digital museum visit
With the help of UT researchers from the Human Media Interaction and the Robotics and Mechatronics groups, Tetem museum in Enschede is able to open the exhibition The Swarm digitally to the public during the corona crisis. As of this Thursday, people will be able to use a remote-controlled robot Double to go through the exhibition. The telepresence robot gives everyone the opportunity to 'visit' the musem via their computer or Ipad / Iphone. Real-time image and sound are sent via the webcam.
23/3, 20:02 | Batavierenrace cancelled
The newly announced government regulations forbidding all public gatherings and events until the 1st of June mean that the Batavierenrace, which would have taken place on the 2nd of May, is cancelled.
23/3, 16:09 | Effictively studying from home?
Are you struggling with finding the right focus now you're forced to study from home? UT researcher and learning expert Alieke van Dijk shares some tips and tricks.
23/3, 14:45 | Still life
In case you haven't seen what an (almost) empty campus looks like, our photographer Rikkert Harink captured the current 'still life' on campus.
23/3, 11:41 | Quick overview
As of today, the UT continues with its education, fully online. That goes for the full third quarter. It is still unclear if education in the fourth quarter will also take place online.
Because of the outdoor gym facilities being overly crowded, the UT decided to close them down this weekend.
All buildings are closed, except for a section in the Spiegel, for students who can't study at home.
In line with the national measures (see below or here), no negative binding study advice (bsa) will be issued to first year students this year.
23/3, 11:32 | New liveblog
We started this new liveblog, to keep you up to date about developments this week. Last week's liveblog can be accessed through the link below.