21/3, 12:23 | Outdoor gym closed
Because of a large number of people who were still making use of the outdoor gym, the UT decided to close down these facilities. You can still make use of the UTrack, but only upon presentation of your campuscard.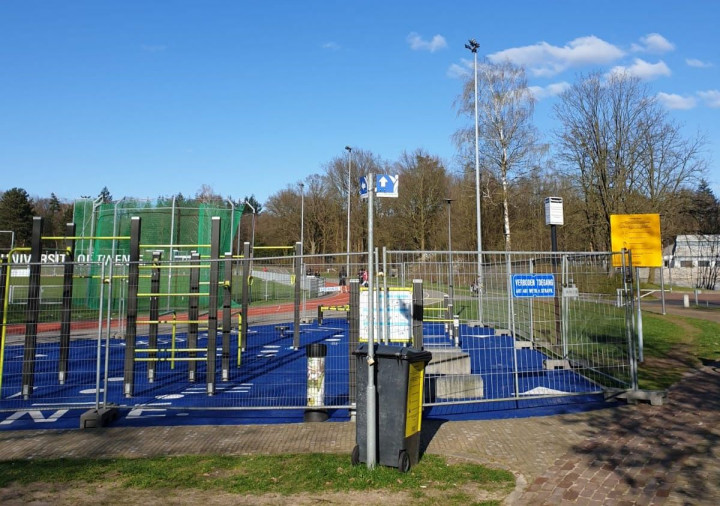 20/3, 19:17 | No negative bsa this year
In line with the national measures (see below or here), no negative binding study advice (bsa) will be issued to first year students this year. What the UT will do if you don't meet the bsa requirements this year:
- You can fulfill the requirements in the study year 2020-2021.
- You will receive a non-binding preliminary student progress evaluation.
- You're also invited by your study advisor, to discuss whether continuing your study programme is advisable or not.
20/3, 15:39 | Shell Eco Marathon cancelled
Green Team Twente cannot defend their title at the Shell Eco Marathon this year. Shell decided to cancel the competition, which would have been taking place from late June to early July, because of the coronavirus. The Green Team still continues to work on their hydrogen car. It goes for all the student teams: it comes down to improvising.
20/3, 15:08 | Working from home
Almost all UT employees work from home this week (and undoubtedly in the coming weeks). U-Today wants to hear these stories. How do you like working from the improvised workplace and what tips can we share?
20/3, 10:20 | Sports at the UTrack: stick to the corona rules
The campus is totally deserted, but the outdoor gym next to the UTrack is packed, sometimes with over 25 people. 'We are aware of the situation,' says Sanne Kleinenberg, Head of Sports. 'Since Thursday morning, the UT has placed a warning sign and waste bins with cleaning products. The campus security also knows about the situation.'
It is all the UT can do at the moment, Kleinenberg knows. 'It is ultimately up to the users to handle the sports equipment responsibly. I personally find it very inconvenient to exercise with such a large group in times of corona. These people are not yet aware of what's going on. Sure, it's important to stay fit, but try to be responsible. As Sport Centre we offer alternatives. For example, one of our instructors posts a video every day with exercises that you can do at home or in the garden.'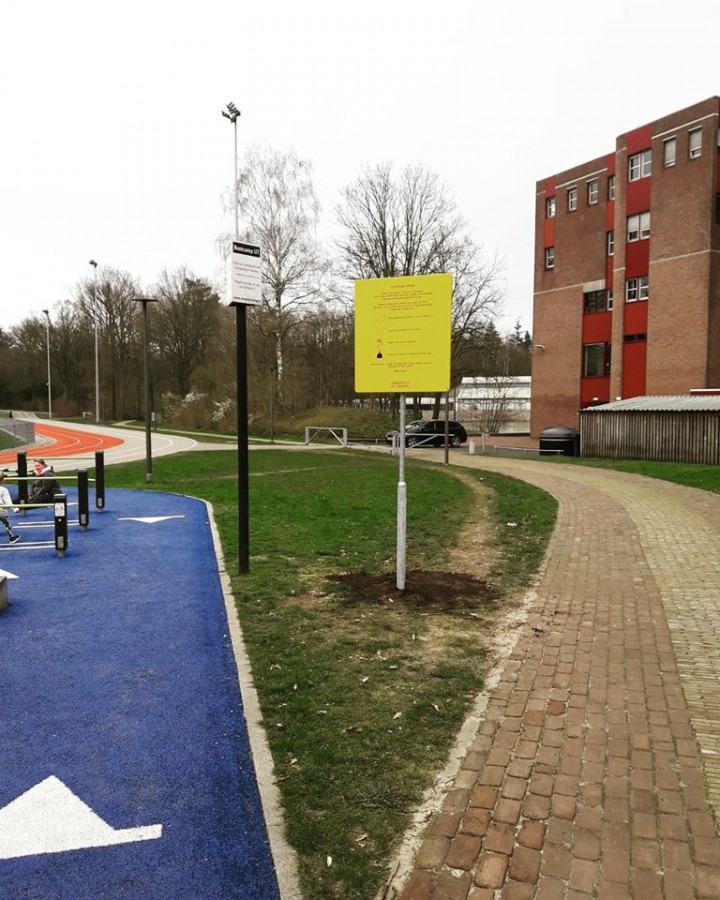 19/3, 21:02 | Binding study advice postponed
First-year students are granted a delay from the binding study advice if they have not obtained enough points due to the corona crisis. They can also borrow extra from DUO to pay their bills.
19/3, 13:56 | 160 UT students and 30 employees still abroad
Due to the corona crisis, it is necessary for 160 UT students and 30 employees who are abroad to return to the Netherlands as soon as possible. The university is in contact with most of them, but a small group has not yet been succesfully contacted, spokesperson Laurens van der Velde says.
18/3, 15:09 | LISA: 'Next week will be tense'
We interviewed LISA director Jan-Laurens Lasonder about the measures the ICT department of the UT is taking. According to him, next week will especially put pressure on the network infrastructure, when the lectures – as far as possible – take place online.
18/3, 14:38 | Nine students at the Spiegel
With all other buildings on campus closed, except for the Spiegel and the student houses, the UT offers students who don't have the opportunity to study at home study places on the Spiegel ground floor. Earlier today, nine students were making use of that option.
18/3, 10:16 | UT collects face masks for regional healthcare workers
The coronavirus outbreak increases the demand for personal protective equipment drastically. To provide the regional healthcare system with an adequate supply, the UT collects all protective equipment, especially face masks, till noon today. Employees are called upon to hand it in at the service desk.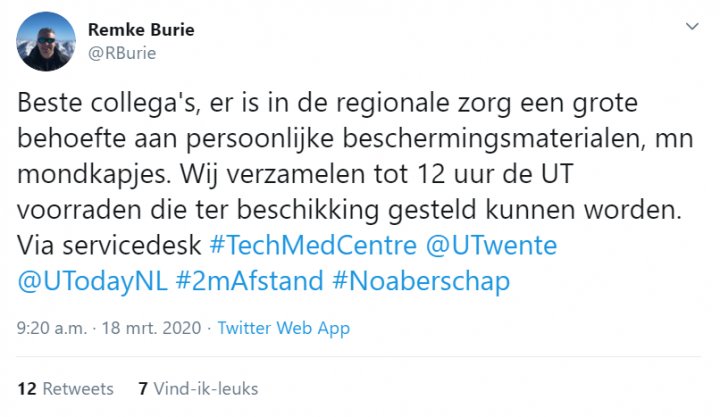 Update (15:03): The initiave from the TechMed Center today paid off: 25 boxes of face masks, gloves, protective suits and disinfectants were delivered. The items have now been send to the Medisch Spectrum Twente (MST) in Enschede.
18/3, 9:47 | Create Tomorrow postponed
The Create Tomorrow committee decided to reschedule their event to 7 and 8 October 2020.
17/3, 18:45 | All UT buildings will close tomorrow
The UT decided to close all buildings from tomorrow on. Over the last few days, the university noted that the vast majority of staff members are able to work from home. All buildings on campus will be closed and are only accessible by using an authorized employee card to enter the buildings outside office hours. Students who do not have the opportunity to study at home, may use the Spiegel building. There is a limited number of study spots available.
Employees will have the opportunity till noon tomorrow to pick up necessary belongings required for working from home. Also, student and study associations may enter the buildings till noon to take their belongings elsewhere.
Employees and students received a mail with detailed information on the subject, including information about research activities, the Sports Centre and the service desks of various internal services. In this mail employees and students are also informed about international business travels, a return to their home country, internships outside the UT and upcoming PhD defences.
17/3, 17:22 | Student houses taking responsibility
No parties, washing hands, online FIFA tournaments, no hoarding, avoiding going out the door as much as possible and listening to experts. Student houses both on and off campus are taking their responsibility during the crisis.
17/3, 17:10 | 'People can handle honesty'
UT researcher Mariëlle Stel focuses on communication during disasters. She gives insight into how citizens should be informed. 'The government finally became transparent and clear about why they take certain measures.'
17/3, 14:05 | Saving energy
An interesting side effect of the corona crisis is reduced energy consumption and therefore CO2 emissions, worldwide. 'This effect is also clearly visible at the UT. The website energydata.utwente.nl shows the power consumption of every building on campus, hour by hour. We see that daily consumption is 10,000 kWh less compared to last Monday. That is the annual consumption of 3 average Dutch households, every day,' informs Nando Tolboom, a PhD researcher at the UT and one of the creators of the mentioned website of Campus and Facility Management.
17/3, 11:22 | Tai chi tryout
The Sports Centre will offer tai chi this week, starting at 9 am from Wednesday until Friday, at the DJ booth opposite the Bastille main entrance. The tai chi classes are mainly aimed at (international) students who live on campus and who struggle with social isolation. The Sports Centre will take safety/hygiene precautions, such as exercising 1,5 meters apart from each other.
Update (19:04): the tai chi sessions are cancelled. The Sports Centre now focuses on workouts you can do from home.
17/3, 10:41 | UT warns for cybercrime, U Parkhotel closed
In an email sent yesterday evening, UT chairman Victor van der Chijs states that the coronacrisis 'turns out to be a great opportunity for cybercriminals to attack victims'. He asks people to be careful with suspicious looking emails and to report them to the UT cyber safety department, through cert@utwente.nl.
In other news, the U Parkhotel is now closed until at least the 6th of April.