Master's student Mechanical Engineering Lucas Vermeer is currently staying in an Airbnb in Christchurch, New Zealand, together with four other students and one former student.
'From the 12th of February, I was on a study trip with study association Isaac Newton to Indonesia and Australia. While most of the others either stayed in Australia or travelled to other countries, I continued traveling to New Zealand, together with two study mates. There, we hooked up with three others. When the UT made an appeal to all the people abroad to come home last week, we wanted to return home and our flight would have left yesterday. That didn't happen. It's a bit of a long story, but because of changing rules and flights getting cancelled, we ended up booking two extra flights – unsuccessfully. So we travelled to the city of Christchurch where we've rented an Airbnb for the next month, since yesterday. The costs per person is comparable to a month's rent of a student room, so it's quite okay.'
'Yesterday, the prime minister of New Zealand declared a state of national emergency, saying everyone has to act like they are a corona patient. It means we can't and won't leave this house anymore, except for getting groceries. We don't have any issues with missing classes, since we all don't have any study obligations this quartile. So we try to make the best out of this situation and make sure we don't drive each other crazy. We have a television, games, WiFi and Netflix, so we try to make this into our student house for the time being, just like back home. We even have an Instagram account now, called Huize Kiwisolatie.'
'I'm also very happy with how communication with the UT is going. We're in touch with Miranda from CES and we have the feeling she's available day and night. Now, we're also in contact with the Dutch ministry of foreign affairs, since there are hundreds of Dutch people who are stuck in New Zealand. Whenever there is an opportunity to come back home, we'll take it. We're not planning on staying here for a whole month.'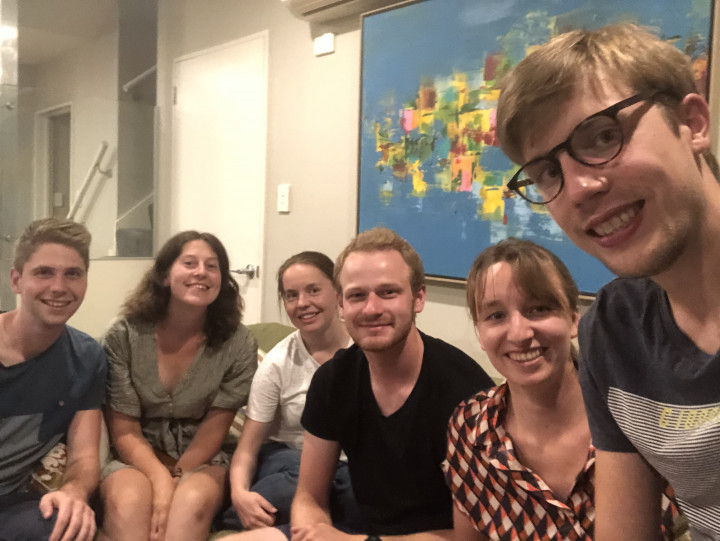 ---
My Nguyen, a bachelor's student BiT, is currently in quarantine in a military complex in Vietnam for more than a week.
'When it was announced that the UT was closing one and a half weeks ago, I actually made up my mind and decided to stay in Enschede. But the next morning, my mother called me and kept insisting that I should return home. She told me it was safer in Vietnam than in the Netherlands and more or less begged me to come back. So I booked a flight home and I was very fortunate that flight wasn't cancelled.'
'Vietnam's policy is very strict. Everyone that comes in will be put in quarantine for fourteen days and you're also tested in the meantime. I've now been in quarantine for more than a week in a military complex, so I haven't been reunited with my family yet. I feel quite safe and I'll just have to deal with this situation for the next few days. It's not that I disagree with the measures the Dutch government is taking. It's more about when they started. Because even though Vietnam borders China, we've only had about 130 confirmed cases since January and zero deaths because of the coronavirus. The difference is that Vietnam has been tackling the problem at its root. Keeping up with my study isn't really an issue. I'm in my last year and I only had about two or three lectures left. I'm mostly working on group projects these days, which is perfectly manageable.'
---
Diego Picardo Perego, a master's student Sustainable Energy Technology, is currently staying with his family in Madrid.
'My family urged me to go back to Madrid, about two weeks ago. My three brothers said things will become just as bad in the Netherlands as it is over here. The situation in Madrid is very bad, with life having come to a total standstill, except at the overcrowded hospitals. Now I'm with my family I feel okay and safe. It's way better than being by myself in Enschede for a few months and we're very strict with our health precautions. Everyone is on the same page.'
'In my room, I can focus on my study. I've been cramming all my courses of my second year into this year and the UT has set up many methods online, so I'm able to keep up. I have no clue when I'll go back to Enschede. I'm planning on doing my internship next year in Madrid, but if education still takes place online next quarter, I probably won't return for a long time. All my stuff is still over there, so I'll have to see when I'll be able to pick it up. I'm not going back until this crisis is over. Still, even though we're all in this dire situation together, we have to be optimistic.'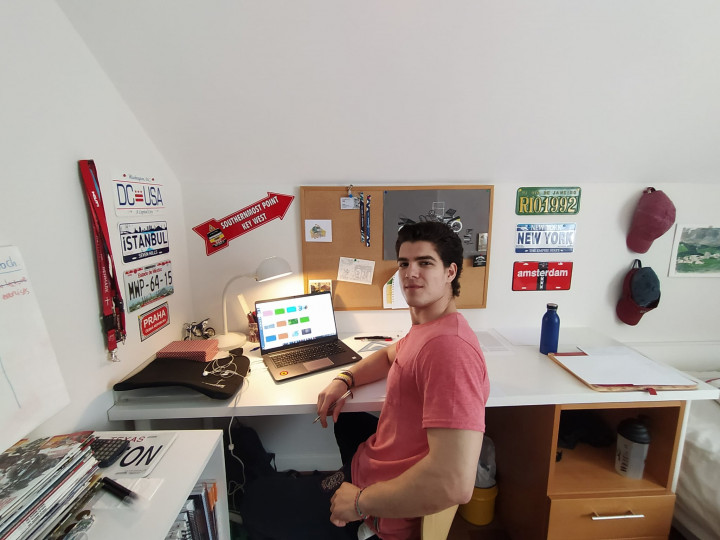 ---
Master's student Biomedical Engineering Vicky Andriessen is currently working on her thesis in Auckland, New Zealand.
'I mostly notice a lot of people are confused. They first started hoarding toilet paper, but since recently they've switched to alcohol. This whole situation still feels a bit unreal to me. Everything is shut down, also at the University of Auckland, except for the labs where they are researching the virus. I heard that they're looking for students who may be able to help out. Since I have plenty of lab experience, I might be asked and I'll be happy to help anyway I can.'
'In the meantime, I'm focusing on my graduation project, focused on in-vitro meat. I've been working on that for about a month, mostly by studying literature. I was actually planning on setting up my first experiment this week, but that's not possible. I created a little buffer for myself of about eight weeks, initially meant to do some traveling. If this situation lasts for more than eight weeks, that might cause some problems.'
'Other than that, I'm terribly lucky with my situation at the moment. I live in the most amazing house, together with three roommates. We have a jacuzzi, a big yard and we host theme dinners and parties in our garage. Just with the four of us, of course. We have to make the best out of this weird situation. When I first got here in Auckland I stayed at a different place, with cockroaches crawling on the floor… Horrifying. I started from the bottom, now I'm here, haha. I landed the graduation project of my dreams, so I didn't want to go back to the Netherlands anyway because of this crisis. In the meantime, I'm keeping an eye on my friends and family back home through Skype.'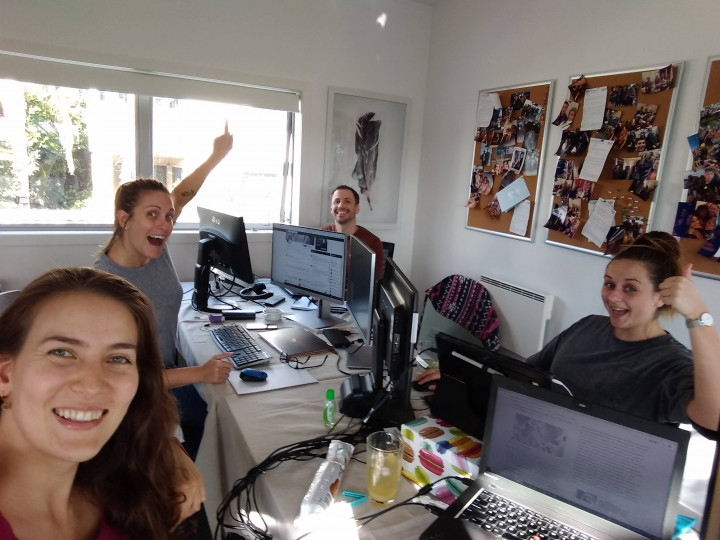 Selfie by Vicky Andriessen.