With the development, the area around Langezijds should connect to the current O&O square. 'You could consider it the completion of the O&O square,' says Rob Nengerman, one of the employees involved on behalf of Campus & Facility Management.
No parking lot
Big difference from the current O&O square: it will be a lot greener around Langezijds with lots of grass and trees. Two access roads will lead to the main entrance of the new ITC accommodation – from Oude Drienerloweg and O&O square – and there will be seating areas and an oval-shaped pond in front of the building. The artwork 'de Kronkel', which stands in front of the main entrance of the current ITC building at the Hengelosestraat, will also move to the campus.
The metamorphosis has its consequences for the Langezijds parking lot in particular. 'That will disappear. Additional parking spaces are already provided at the Es, P3,' says Nengerman. 'That was also clear in ITC's programme of requirements: greenery should not only return in the indoor gardens, the outdoor space will also be integrated. There will also be a transport access, with some parking spaces for the disabled and permit holders.'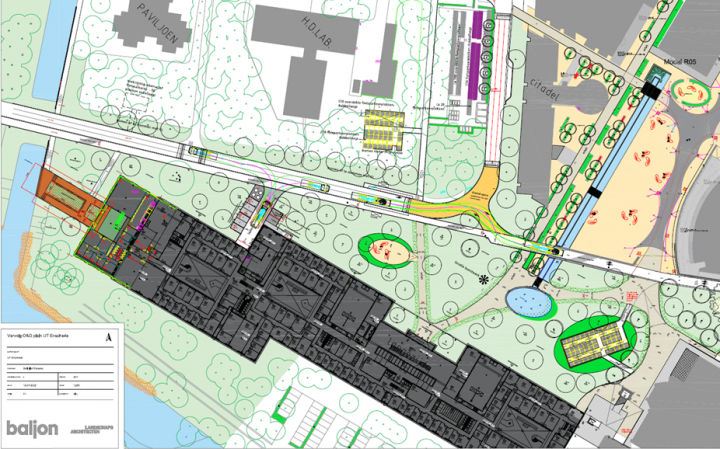 Room for 700 extra bicycles
Where car parking spaces disappear, many bicycle parking spaces will be added. There will be a permanent bicycle shed in front of the TechMed Centre. There will also be two-level bicycle parking facilities near the High Pressure Lab and opposite the Citadel. In total, there will be approximately 700 extra bicycle parking spaces around the current O&O square. 'This fits in with the preparations to make the O&O square bicycle-poor, because of its appearance and accessibility for emergency services. It's especially crowded in front of the doors of Hal B and the Waaier.'
The renovation of Langezijds is almost complete, according to Nengerman. 'The ITC faculty wants to start moving in from mid-April, so that they can start lectures and research in the fourth quartile,' says the project manager. Before the outdoor renovations start, the university council still has to approve the plans, in December.
'Head' of Langezijds
The plan is for the 'head' of the Langezijds building to be completed in the summer of 2023. That part of the building - on the side of the main entrance of the UT - will be given a 'general purpose' for the time being. 'It is a sought-after place, but no users have been selected yet,' Nengerman says. The plan is for that side of the building to have its own entrance. 'There will be a deck in line with that entrance, up to the pond. That should contribute to the recognisability of the entrance.'