COVID-19 EARLY WARNING SYSTEM
The COVID-19 dashboard should serve as an early warning system for outbreaks in the Netherlands. The dashboard will be a map of the Netherlands divided into municipalities and safety regions. It should show the historical and current patterns of infections and movements, and also visualize a risk assessment of potential sources of infection in the near future.
The dashboard is being developed within a ZonMW funded project led by Eindhoven University of Technology (TU/e) with UT and TU/e professor Nelly Litvak as the project leader and with the UT as one of the project partners. Other consortium partners are Leiden University Medical Center (LUMC), Utrecht University, data analytics company Mezuro, and IT service provider ilionx.
The development of the dashboard officially started in October and its first test version is now up and running. 'Predicting COVID-19 is extremely complex and close to impossible,' says Litvak. 'We therefore cannot make precise predictions, but can see some trends based our model and on the corona measures in place. This can provide insights to policy makers and help them make appropriate decisions.'
'I investigate how policy makers actually use the dashboard'
The UT's involvement in the project, in fact, focuses on implementation, on how municipalities use the dashboard, explains UT scientist Florence Metz. 'The project combines data about behavior and symptoms from the COVID Radar app with data on people's movements between municipalities. The company ilionx then creates the dashboard. At that point, I step in,' continues Metz. 'I investigate how policy makers actually use the dashboard information. I want to understand how to best present the information so that it is useful for policy makers. The information should support them in taking timely decisions.'
'The information will be valuable beyond Covid'
The dashboard is being designed in close collaboration with safety regions and its first version is already working. However, the final product is scheduled to be finished in 2022. What if a COVID-19 dashboard is not necessary by then? 'We aim to understand how policy makers in democracies react to shocks, what helps them make responsible decisions while balancing everyone's different needs. This understanding will help us not only in this crisis, it is universal. I think the information will be valuable beyond Covid,' says Metz.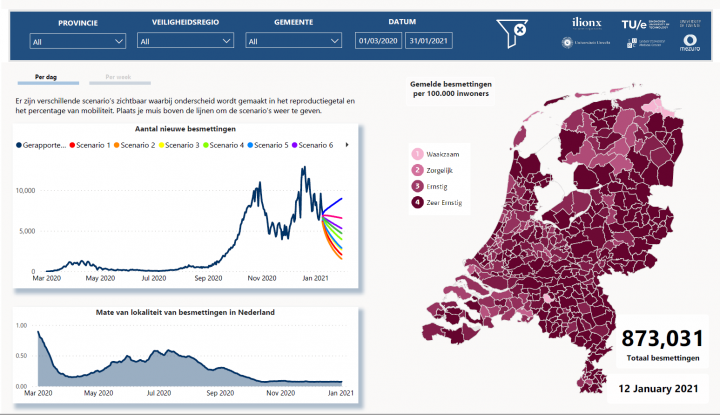 Test version of the COVID-19 dashboard. 
'I also dare say that this is not our first or last pandemic,' adds Litvak. 'Epidemic modelling has been around for years, but in this project we search for ways to present the information in a way that is useful and clear for decision makers. Combining data in an informative way is our main goal. Moreover, even with the vaccine, the disease likely will not disappear, at least not very soon. We will need to deal with its containment for some time and our research results and the dashboard will be useful for that. Sadly, it is also likely that there will be other viruses in the future. Hopefully with the dashboard and other tools that scientists are developing, we will be better prepared.'