This academic year 60,000 students began a Bachelor's degree programme. The Master's degree programmes drew 50,000 new students. All in all, there are several thousand fewer first-year students than in 2021/2022.
The universities already gave explanations for this last autumn, when the first figures emerged. In 2020 and 2021 an exceptionally large number of young people began a study programme, having nothing else to do because of the pandemic. That wave is now over. In fact, many young people are now taking a gap year, probably in anticipation of the basic student grant, which returns in September.
Meanwhile, the figures have been thoroughly checked and higher education institutions have announced the definitive numbers today. Apparently, there has been a fall of 24 percent in the number of first-year Bachelor's students at the University of Twente – even more than was reported previously.
No other university experienced such a decline. Tilburg and Leiden attracted respectively 12 and 10 percent fewer freshers, while Maastricht (plus 5 percent) and Eindhoven (plus 4 percent) grew the most.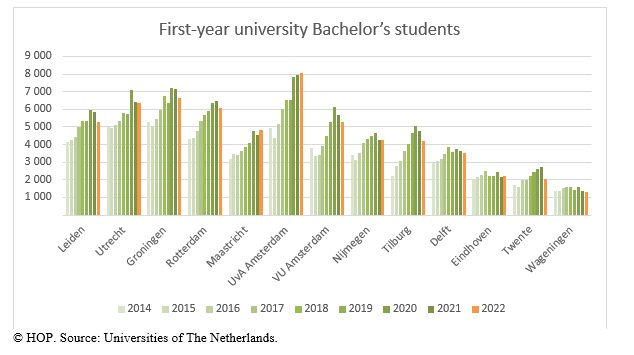 The total number of enrolments, including seniors, shows little change. Nationwide, the universities have as many students as last year. At the opposite ends of the spectrum are the University of Twente (3 percent fewer), and the University of Amsterdam and Utrecht University, which have 2 percent more enrolments.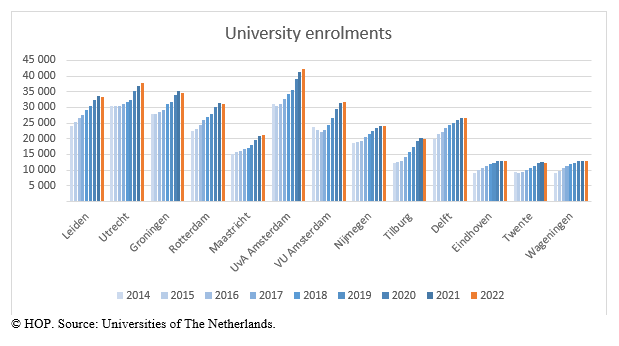 The number of international students, however, is still growing. This year, more than 85,000 international students have enrolled at a Dutch university – 7.3 percent more than last year. One in three freshers now comes from abroad, both Bachelor's and Master's students.
Dijkgraaf
'We have to control that influx so as to ensure a better balance in the education system', says Education Minister Robbert Dijkgraaf in his response. 'We have to make the pluses of the internationalisation, such as the ability to attract international talent to the Dutch labour market and Dutch society, as great as possible, and the minuses, including problems such as excessive workload for teaching staff and the shortage of student housing, as small as possible.'
If all goes well, this month he will put forward proposals to control the influx better. This is part of the extensive 'foresight study' that he is working on. That study covers topics such as the decline in the number of Dutch students, as well as internationalisation, funding and 'deficit sectors' like healthcare, education and technology.
Change
In their press release the universities anticipate the foresight study. They expect to continue growing in the years ahead and ask for a change in the higher education system.
The universities want a system that 'makes funding less dependent on student numbers and market shares', says Pieter Duisenberg, chair of Universities of The Netherlands (UNL).
In other words, if the number of students falls, the universities do not want it to hit them financially. Conversely, they want to get enough funding per student when they start growing again. Otherwise, they predict, employees' workloads will increase and the quality of the teaching will suffer.
Universities of applied sciences
The demographic shrinkage at universities of applied sciences can be felt more markedly. The universities of applied sciences are attracting fewer first-year students than before the pandemic and expect that trend to continue. That is also part of Dijkgraaf's foresight study.
Five universities of applied sciences already received funding this year to make up for the decline in their student numbers. More money will be available from next year.
A committee of the universities of applied sciences themselves recommended making studying at universities of applied sciences more attractive to pre-university students. The study programmes should be at 'eye level', so to speak. This would also require more research funding.
Minister Dijkgraaf might also be thinking along those lines, but he is keeping his cards close to his chest. If that is the case, Dutch higher education is on the eve of a fundamental system change.