'Constantijn' — the prince introduces himself with a fist bump. No exaggerated ceremonial display. And that's exactly how he approaches his honorary doctoral degree from UT. 'Of course it is an honour. Only, I'm not so thrilled by the honour in itself, that's a lot of window dressing. I'm a man of actual content. It's important to me that my honorary doctorate makes a real contribution. At the end of the day, it can't just be an empty honour.'
It's the same today during our interview about the honorary doctoral degree — the focus is on content. The interview takes place in a historic building in the stately neighbourhood of Benoordenhout in The Hague. The listed building, which is adjacent to the house where the prince and his family live, houses a number of different organisations Constantijn and his wife Laurentien are associated with. The premises are elegant — there's no scrimping on oak panelling and marble floors, but the interior design of the rooms has the feel of a house. 'We want to bring together different kinds of players here,' he explains. 'This is neutral ground. The whole building has to feel like one big living room.'
In one of the living rooms, Constantijn tells about his work as 'special envoy' for Techleap (previously Startup Delta) whose goal is to help new Dutch tech companies become successful. As standard bearer, the prince tries to attract large investment funds to the Netherlands and lobbies the Dutch government for better regulations and financing. Before Covid he also visited the most important trade fairs for the sector, such as the Consumer Electronics Show (CES) in Las Vegas, along with Dutch companies and agencies. 'University of Twente was always well represented,' Constantijn says. 'It is one of the most committed technical universities.'
Entrepreneurial spirit
 The importance of universities for successful startups seems a one-two punch. After all, talent, facilities and knowledge are abundantly available on Dutch campuses. Yet the role of universities is not as obvious as it seems, says Constantijn. 'At the end of the day, it's not universities who set up successful start-ups, but business people. And usually it's private investors who finance new companies.'
It is a somewhat sobering revelation for universities who are keen to talk about successful, entrepreneurial alumni. What, then, should we think of Jitse Groen (Thuisbezorgd) and Geert-Jan Bruinsma (Booking.com), who were both students at University of Twente? 'Naturally, universities make claims based on their alumni, and it's their right to do so. Only, you shouldn't draw any conclusions from such claims. The majority of successful business people didn't learn how to be entrepreneurs by sitting in lecture halls, that's just the way it is.'
Market demand
That doesn't mean universities don't deserve recognition, Constantijn explains. Universities, in his view play, a crucial role within the ecosystems where start-ups thrive. In such an ecosystem — the word keeps cropping up during the interview — businesses, knowledge institutions, universities and government agencies create the ideal climate for start-ups. 'Universities develop technology, deliver talent and infrastructure, and come up with unbelievable inventions. So they are extremely important for such ecosystems. But it is a specific role and they could do a better job of it.'
First of all, according to Constantijn, there's a big gap between the technology that's supplied and the demands of the market. 'The way universities in the Netherlands often see it is that if you just push the technology hard enough and you collect enough patents, a successful company will automatically materialise. But it works differently in practice. Building a company demands a lot of other skills. Successful companies respond to market problems by finding the right technology to solve the problem.' The latest, most stunning technology often doesn't match any demand in the market and is difficult to implement within existing production chains, the foreman of Techleap explains. 'What it boils down to is a good idea that fits the market, the right people and adequate financing.'
Investment
When it comes to financing, things occasionally go wrong at universities, too, Constantijn says. 'Often universities are extremely valuable for start-ups at the beginning, because they provide research facilities and talent. But when a company grows, and starts to make money, then all of a sudden the university is sitting on the other side of the table. It would be very helpful if, when that time comes, universities stood behind the entrepreneurs instead of suddenly negotiating about repayment. Universities really shouldn't hold shares in companies or only a very tiny percentage — the American university Stanford applies a maximum of five percent. Payments for IP [intellectual property] are also undesirable in the early phases of start-ups. First let companies grow and attract investment before universities try to cash in on IP.'
'That's why universities should be generous, because it's hard enough — no, almost impossible — to get a successful company off the ground based on new technology alone. Entrepreneurs need all the help they can get.' Later on, Constantijn asserts that investment will automatically pay returns to the university. 'Take for example the University of Twente. The culture of an entrepreneurial university, which is created thanks to successful start-ups and spin-offs, attracts talented people to the university. And you can make arrangements about anything, even money.'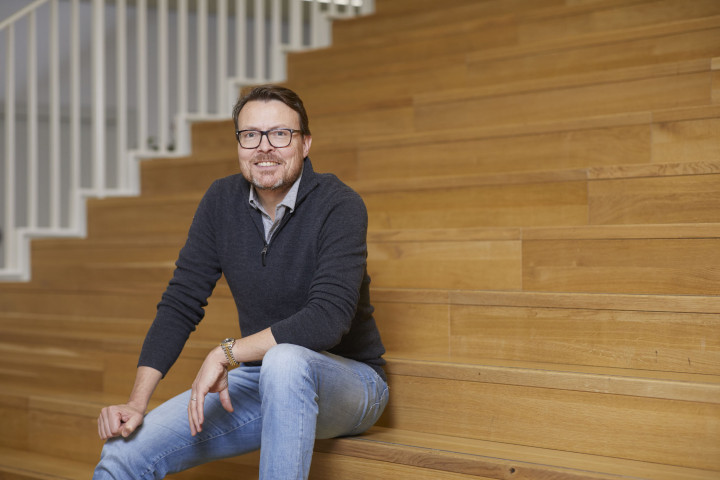 Next level
Traditionally, University of Twente bears the image of an entrepreneurial university — or rather, the entrepreneurial university of the Netherlands. In the early 1980s, the then rector Harry van den Kroonenberg introduced this as part of the university's official strategy and vision. According to UT's Professor Jos van Hillegersberg, Constantijn's honorary promoter, it's time to move up to the next level as entrepreneurial university. 'The UT was one of the first in the 1980s. Since then the successful model has been copied everywhere. It's time for the next stage, and Prince Constantijn can help us. For years he's been playing an important role with the start-up climate in the Netherlands, comes to the UT regularly and has made his love for the tech sector crystal clear.'
Within our renewed, entrepreneurial course, diversity, internationalisation and social entrepreneurship should have the leading roles, Van Hillergersberg says. These social entrepreneurs have an intrinsic drive to make the world more sustainable and socially responsible, he asserts. Getting rich is no longer their motivation. The UT professor also sees socially responsible approaches to business among his own students. 'We're undergoing a real change in society and the university has to respond to it with a new strategy.'
Constantijn also sees internationalisation, inclusivity and diversity as essential ingredients for becoming the next level entrepreneurial university. 'It's about creating an environment that makes talented people everywhere in the world want to come here. If you want to be a thriving international ecosystem, then an inclusive culture — for example, in the area of language policy — is essential.
He cites the example of Adyen, the Dutch payment company that has now grown to one of the most successful fintech companies in the Netherlands. 'At Adyen they were saying right from the very beginning: we want to be a global payment company. That's why we immediately chose English as our main language, even though a large proportion of our staff were Dutch. But Adyen was thinking about the future. Later, when a company has grown substantially, a language change will be very difficult. Then, for example, managers would still be speaking Dutch to each other, while everything else in the workplace would be conducted in English. A situation like that wouldn't do anything for the inclusivity within the company.' When considering the right policy, it ultimately comes down to a question of where a company or institution's ambitions lie, Constantijn suggests. 'A university with international ambitions won't be able to avoid an inclusivity policy either.'
'Making Dutch universities compete with each other to attract students is something I find really idiotic'
Money makers
Van Hillegersberg listed something else, in addition to diversity, inclusivity and internationalisation, namely the social entrepreneur who no longer sees big money as the most important driver. Constantijn sees this differently. 'I make a podcast where we talk to successful business people. Almost all the business people I interview for my podcast say they didn't do it for the money. They find it exciting, have a tremendous drive and think they can make a substantial contribution. But to grow and to have an impact, you just need to have the funds. Take Tesla, for example: they've had an unbelievable impact on electric cars. At the same time, they always thought big when it came to earning, so that the company could keep growing. The two things aren't mutually exclusive.'
Making money and universities: it's a combination that often begs the question. Commercialisation is still too often seen as lacking integrity and in conflict with academic independence, Constantijn asserts. What happens when an entrepreneurial student or researcher attracts a lot of private capital with a company that was set up with help from the university? In his eyes, there is still a lot of envy for the 'professor with a Porsche' and the feeling that the university didn't earn enough from the commercial success.
That's the totally wrong way of looking at it, Constantijn says. 'It's true that public money goes to research and facilities. That can be used to help companies that are starting out. Only, it takes private effort to set up and manage an organisation, make a business plan, map out a strategy, implement it and attract financing. The university doesn't have anything further to do with these stages. It just so happens that a successful company is going to make money. If a university discourages that, then there is no stimulus for researchers and students to start a company and for other entrepreneurs to get involved.'
Top-level sport
The entrepreneurial spirit ought to be valued more by universities, the prince feels. 'There are all kinds of arrangements for students who play on the Netherlands field hockey team. But a student entrepreneur who's just starting out and has to meet with an investor doesn't usually get an alternate date for his or her exam. It's somewhat cheap if universities lay claim to the success of their alumni retrospectively, when a company has become a success.'
Constantijn proposes giving new entrepreneurs the same treatment as top athletes. In the prince's eyes, they are cut from the same cloth. 'Successful business people are just like top athletes: they act in a highly conscious, focused and disciplined way at every step. That's why we should give more consideration to the needs of entrepreneurial students: set up a place where they can submit their requests for extensions, or integrate their start-ups into their programmes so that students can graduate within their own company, for example. If young people know that at University of Twente they can set up a business — not alongside but during their undergraduate studies — then I know for sure that many talented young people will be choosing Twente as the place to do their degree.'
Making choices
According to Constantijn, universities in the Netherlands in general, and UT in particular, have everything they need to compete in the international arena. More collaboration and more specialisation are both crucial, he argues. 'Making Dutch universities compete with each other to attract students is something I find really idiotic. There's no point in starting a mechanical engineering programme in Leiden. You have to complement each other. When I was in Canada I saw how they designated three academic centres for artificial intelligence: Toronto, Montreal and Edmonton. Canada is now one of the major players in the field of artificial intelligence in the world. It can be done. My making choices, specialising and creating ecosystems. If it can work there, it can work in Twente too.'
As one of UT's honorary doctorates, the prince would be happy to join the discussion. It's a good thing that the University of Twente is not unknown territory for Constantijn. 'I know the new president, Vinod Subramaniam, really well. We both sit on the supervisory board of the Rijksakademie (State Academy of Fine Arts). With him, and with others, I want to see how we can take the UT to the next level in the field of entrepreneurship. That's where I want to make my contribution.'
Profile — Prince Constantijn (1969)
2016 – 2021 Special Envoy for TechLeap.nl, formerly known as Startup Delta.
2010 – 2016 Adviser and later adjunct Cabinet secretary, and Cabinet secretary for vice-president of the European Commission and Commissioner for the Digital Agenda, Neelie Kroes
2003 – 2008 Adviser on European public relations at the Ministry of Foreign Affairs
2000 – 2001 MBA at the European Institute of Business Administration (INSEAD) in France
1996 - 2000 Law at Leiden University
Constantijn van Oranje-Nassau was born on 11 October 1969 in Utrecht, the third son of Princess Beatrix and Prince Claus. He has two brothers, King Willem-Alexander (1967) and Prince Friso (1968-2013).