It's about a twenty minute walk from Leiden Central Station to Professor Wim van Saarloos's office. On the way it's hard to avoid great names in physics: Zernike, Bohr, Planck, Galilei, Einstein. The streets named after these great scientists lead you through the extensive Bio Science Park to a building named after another great, Jan Hendrik Oort, who helped discover the rotation of the Milky Way.
The home of physics in Leiden — and so too of the newly minted emeritus professor Wim van Saarloos — is located between the building of the pharma company Janssen and the space researchers at SRON. The halls are long and low. The office of theoretical physicist Van Saarloos looks 'lived in': a well-filled bookcase, a folding bicycle in the corner, strewn bits of paper with mathematical formulas scratched on them. Despite his emeritus title, it's not that easy to remove him from the Lorentz  (another great name) Institute in Leiden.
'All of us together, that's the feeling I get when I visit the UT'
Club of friends
In his modesty, Van Saarloos is the last person who would promote himself as a great name. The University of Twente's honorary doctorate came out of the blue, as an exceptional but welcome surprise, he says. 'An absolute honour and very special experience. It's my first and probably my only honorary doctorate. I've always had a weak spot for the UT, mostly because of the atmosphere there. It feels like a club of friends. All of us together, that's the feeling I get when I visit the UT. It's really wonderful and a tremendous honour that in receiving this honorary degree I also get to participate in that atmosphere.'
It's the people who make the atmosphere. And he knows those people very well. He got to know former rector Thom Palstra in the 1980s at the renowned American Bell Labs. He also says that he had a hand in the 2013 appointment of UT president Vinod Subramaniam as scientific director of research institute AMOLF (FOM Institute for Atomic and Molecular Physics). And Professor Jacco Snoeijer was one of Van Saarloos's PhD students. But the closest bond is with University Professor Detlef Lohse, who is also his honorary promoter (along with Thom Palstra and TGS dean Ariana Need). They knew each other before Lohse started at the UT. 'Detlef is an exceptional man in every respect. He's the only scientist I know who actually likes writing research proposals. For him, research starts there — it's a treasure hunt, a puzzle.'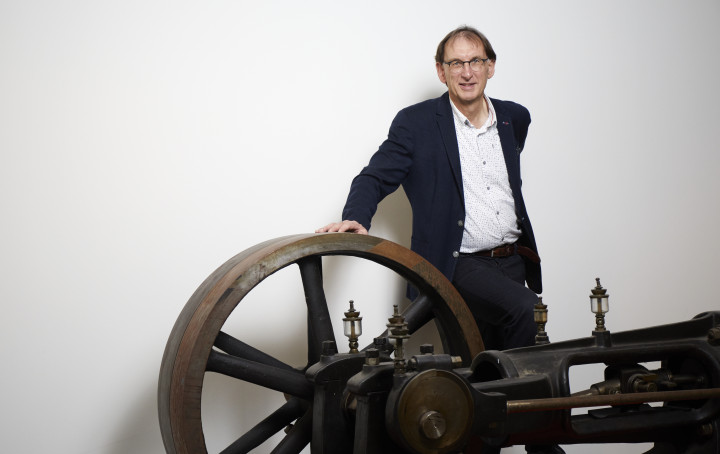 His own path
Van Saarloos grew up in Franeker in the province of Friesland. He first became interested in science while attending the gymnasium in Leeuwarden. 'That's where I discovered that I didn't have to work to do physics. It was in and of itself interesting, challenging, fun. My teacher at the time had studied in Delft; he was a real engineer. I thought it was fantastic, but I'm open enough to say that the opposite holds for those students who had trouble with the subject.' While most of his classmates chose to do their degrees in Groningen, Van Saarloos made the conscious choice of studying physics in Delft. 'I come from a family of general practitioners. My father, grandfather and great-grandfather were all GPs in Franeker. In medical circles especially, Van Saarloos was a well-known name, which for me came with a negative pattern of expectation attached. I didn't want to go through life as "the son of". I wanted to create some distance, to follow my own path in life.'
He did very well in Delft, first in applied physics, but after switching he graduated cum laude in theoretical physics ('it's actually "not done" in engineering, but they made an exception for me'). At the suggestion of his supervisor in Delft, Professor Hans van Leeuwen, Van Saarloos went to the relatively large physics department in Leiden for his doctoral work, where he graduated cum laude under the supervision of Peter Mazur. For his postdoc he ended up at the renowned Bell Laboratories in New Jersey in the USA, where he stayed for a year and a half. In 1991, Van Saarloos returned to Leiden University, where he became professor of theoretical physics and devoted himself to static physics and soft materials. 'Those are materials that behave like solids, but also exhibit non-elastic deformation or flows. The most tangible example is perhaps a dab of mayonnaise. While Detlef was particularly fascinated by turbulence and the behaviour of ordinary fluids such as water under extreme circumstances, I dedicated myself more to spontaneous pattern formation and complex liquids. What happens if you disturb the equilibrium of something ever so slightly?'
An empty floor and an idea
One of his most important achievements in those years can be found one floor up. Van Saarloos takes the opportunity of interrupting the interview to give me a tour of the Lorentz Center, an international institute for scientific workshops that he and several colleagues set up in 1997, and of which he served as director until 2009. 'It's a place where scientists come together for a week or two to participate in workshops on a specific theme. A one-day symposium is often too short, too much of a pressure cooker. And these days there is hardly anybody who has time for a sabbatical of a couple of months. It's safe to say this is the golden mean.'
During the tour there is no lack of liveliness in the hallways and rooms. The current Lorentz Center Director Arjen Doelman butts in. 'Oh, an honorary doctorate at Twente? I think I can guess who's behind that. Terrific! You know, I once jumped onto a moving train. It was Wim who had put that train on the tracks.' He rushes off down the hall and Van Saarloos continues: 'We didn't start here by writing a project proposal and then going through a difficult financing trajectory. We had an empty floor and the idea of bringing scientists together. That was it.'
According to Van Saarloos, the centre offers a lot of added value for scientists who are starting out by helping them build a network. 'As a young scientist in the Netherlands, you don't have to fly around the globe to find collaborators. You get onto a train and get out in Leiden. You get to know each other better and differently than at a conference. That's the power of Dutch science. We don't have an Oxford or Cambridge, but we do have thirteen really good universities nearby that work closely together.
'We still face the challenge of helping more people feel at home in the Dutch scientific community'
Restart
Back to his office to restart the interview about the restart of his career. That's because since 2009 academics in the Netherlands know Van Saarloos primarily as a research administrator. That's when he became director of the Institute for Fundamental Research on Matter (FOM for short). 'This marked my transition from researcher to research administrator. Something that played a role in my decision was that between 2004 and 2007 I had cancer. Yeah, things were pretty bad. There came a point when I didn't accept any more PhD candidates, in the knowledge that I wouldn't be around any more in a few years to supervise them. But luckily it all ended well. Someone else might have chosen to cycle up Mont Ventoux as the symbolic restart of their life. I chose to become an administrator. I know full well that I would have never taken that step if I hadn't had cancer.'
Since that time Van Saarloos has been devoting himself to Dutch research as a whole. During his time at FOM, he gave particular attention to integrating partnerships with industry. As one of the initiators of sector plans for physics, around the middle of 2007 he gave the needed stimulus to the professional field and hard science as a whole. In 2015, he led the complex reorganisation of the funding body NWO (Dutch Research Council), which absorbed his FOM. In the meantime he also co-authored the strategy to have 20% of appointed professors at Dutch universities women by 2020. 'My three daughters opened my eyes. There came a time when nearly every member of the FOM board had a daughter around the age of 13. I asked the others, when our daughters start university in five years, what kind of environment will they end up in? I was genuinely worried. If one of my daughters had asked whether she should also go into physics, I couldn't have recommended it to her wholeheartedly. Luckily, awareness of diversity has grown and expanded since then. But we still face the challenge of helping more people feel at home in the Dutch scientific community. It all starts with understanding.'
Wim van Saarloos in a nutshell
2022        President of the European Academies Science Advisory Council (EASAC)    
2018-2020    President of the Royal Netherlands Academy of Arts and Sciences (KNAW)
2016-2018    Vice President of the KNAW 
2015-2016    Transition Manager of the Netherlands Organisation for Scientific Research (NWO)
2010-2015    Director of the FOM Institute for Fundamental Research on Matter
2008        Royal honour, Knight in the Order of the Dutch Lion
2008        Winner of the Physica Prize
2004        Appointed as member of the KNAW
1999        Winner of the Descartes-Huygens Prize
1997-2009    Director of the Lorentz Center, international centre for science workshops, Leiden University
1991-2009    Professor of Theoretical Physics, Leiden University
1984-1990    Researcher in the Department of Materials Physics, AT&T Bell Laboratories, New Jersey
1982-1984    Postdoc at AT&T Bell Laboratories, New Jersey
1978-1982    PhD in theoretical physics (cum laude), Leiden University
1973-1978    Graduated in physics (cum laude), TU Delft
Full throttle
Perhaps that is the keyword which governs all his efforts as research administrator: understanding. Understanding between the scientific and the business communities, as well as between universities, between disciplines and between individual scientists. But there are still things he doesn't understand, such as the absolute differentiation between technical and academic universities that only exists in the Netherlands. Or the way research is funded in the Netherlands. In 2017, when he had just become vice president of the Royal Netherlands Academy of Arts and Sciences (KNAW), he wrote Wetenschap in Nederland (Research in the Netherlands), with the then president José van Dijck. Van Saarloos and Van Dijck didn't just outline the strengths of the Dutch consensus model, such as the many lines of connection, the concept of friendly competition, openness, accessibility, equality and trust. They were relatively early in their conclusion that the system of research in the Netherlands was in danger of breaking down, particularly as a result of the way it was financed. 'The government's current funding model operates on the basis of allocating institutions funding for each student enrolled. Research doesn't really have any role to play. Retain enrolments and things are fine, but if your market share of students contracts, then you have to make cuts to funding projects. With the result that every university — year in, year out — tries to safeguard its market share. Vinod has rightly called it a race to the bottom.'
'Our science has been projectified'
Thanks to the consensus model mentioned above, Dutch research is very highly regarded all over the world, but lately the motor is running full throttle, Van Saarloos says. 'The most distressing consequence of underfunding is that there is much less freedom. You can't just say, I'll earmark some money to appoint an outstanding student as PhD candidate. No way, first you have to get approval for a project proposal. Everyone has to go cap in hand to the NWO for every little thing, which means a huge number of applications and much lower standards of evaluation — because the evaluators don't have the time for it — and a much lower success rate for promising and innovative proposals. Our science has been projectified'.
Antidote
He sees a possible antidote for 'projectification' in so-called rolling grants. Van Saarloos gives an extended discussion of rolling grants in the essay he published last year, 'Meer wetenschap in Nederland' ('Increasing research in the Netherlands'), when he said stepped down after two years as president of the Royal Netherlands Academy of Arts and Sciences. 'With rolling grants, when a project ends, you're not dependent on a new project to fund the appointment of that talented student as your next PhD candidate. Rolling grants function as a kind of bridging between projects. That allows you as a researcher to take risks with more confidence and peace of mind.'
Van Saarloos explains that he is concerned about the state of research in this country. 'But I refuse to be alarmist. One of the reasons is that there are already so many making demands. Primary education wants more money too, and so do the police. It's true, we absolutely have to invest more in Dutch science and higher education, as PwC also concluded this year, but it doesn't have to be all at once. Big shocks to the system — both positive and negative — are never a good thing. We in Dutch science and research have to evolve towards change and bigger structural investment. With more confidence and capacity for spotting and promoting talent and excellence. And mutual understanding.'