'The 1990's at the University of Twente were a very interesting period,' alumnus Tobias Tasche begins his story. He arrived at the UT to study Mechanical Engineering in 1990, the year with the highest number of new students to date. 'Many things were changing very rapidly at the time,' he adds. Indeed, they were. This was the time of the first university email accounts, countless new student associations and the first hints of internationalization.
Student town
With the student influx growing, Enschede was becoming more of a student town with activities branching outside of the campus. 'For the first time, student clubs that were not affiliated with the campus or the UT studies started to emerge,' remembers Tasche. 'There was AEGEE, Taste and Audentis, which quickly became very popular. The first year clubs also started and just a few years later first 'disputen' began to appear. For example, I joined the dispute Kadmos which is still around now, 25 years later, and I was one of the founding members of a literary dispute Phaedrus. We used to get quite famous writers like Levi Weemoedt and Simon Vinkenoog to the Vestingbar for lectures.'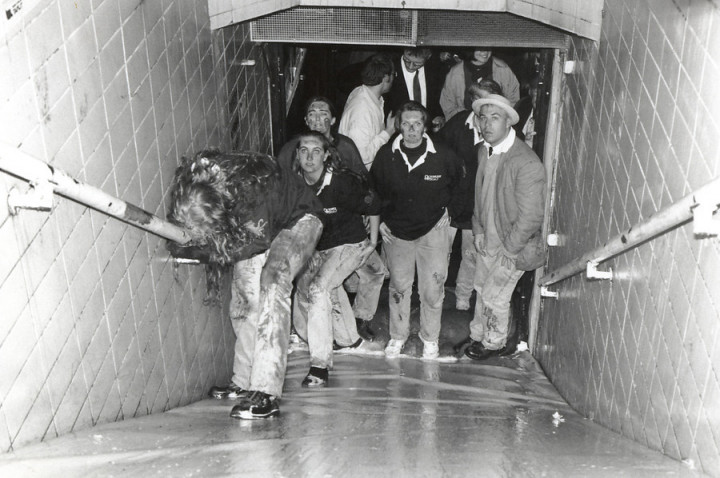 Gat in de markt 1994 
Protests
Even with such an active student population, the residues of the relaxed 1980's atmosphere were still remaining at the UT. At least if it came to the study rules. 'There were barely any rules for passing your studies,' says the alumnus. 'It was quite hard to get kicked out. I think that is one of the main differences compared to now. The only sort of rule was that you had to pass your first year within two years – which I swiftly failed to do. And I certainly wasn't an exception. I remember there was an article in UT Nieuws about a guy who was celebrating his 12,5 years as a student. This was not that unusual. Many people were on campus late into their 20's. The government tried to tighten the rules a bit – by very low standards, compared to now, but students definitely disagreed. We organized protests. I'm hardly the world's most active protester, but I was there for this.'
              'It was a very monochromatic existence'
Another aspect of the university that still resembled the 'old days' was the student population. 'It was still very male dominated,' says Tasche. 'There were predominantly engineering subjects being taught at the UT and that mostly attracted boys. I studied Mechanical Engineering, which received by far the biggest number of first year students at the time, but there were almost no women among my classmates. It was mostly white Dutch guys, there was not much diversity. In comparison to the current situation, it was a very monochromatic existence.'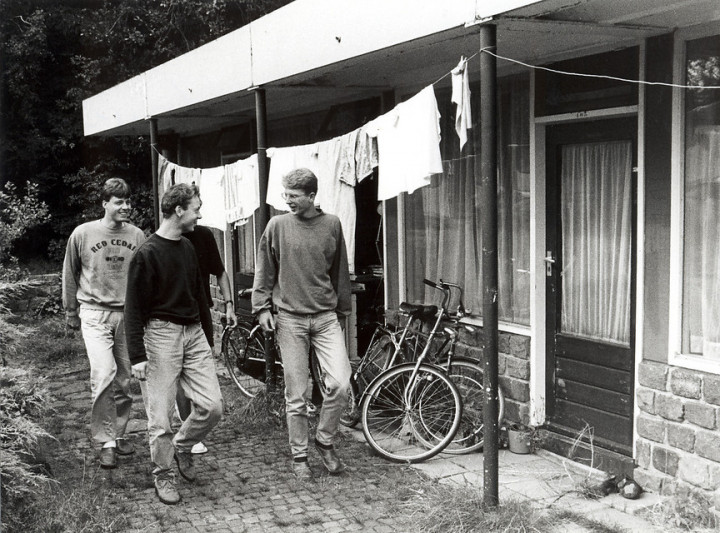 The start of internationalization
Slowly, but surely, the campus was opening up to a more international and diverse crowd. 'There was quite an active group of foreign students already,' remembers the UT graduate. 'I think this was the first time there was a real increase in the number of internationals. I remember there was even an association dedicated to creating better reception for foreign students. Although, in hindsight, there was not as much mingling as there could have been. All study programmes were still in Dutch, and so most of the international students were not sitting in the same classroom with me. They came for a summer course or post gradual education. The university was still not that international.'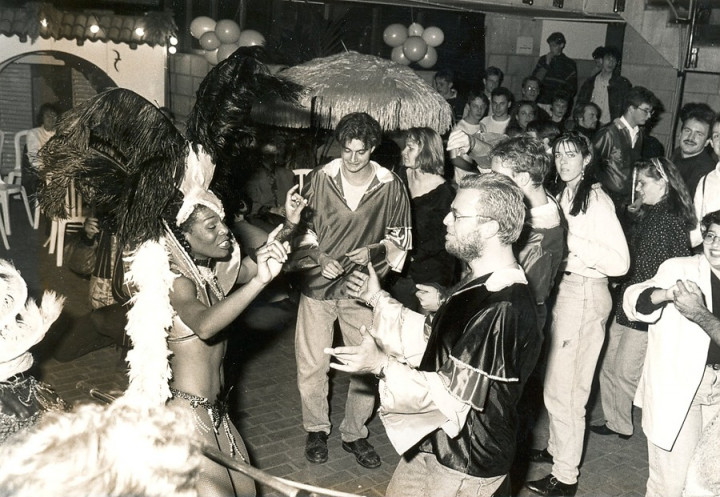 Carribean festival 1991 
This was changing, however. Not only were there more people from abroad at the UT, more UT people were starting to go abroad. This was also thanks to international student associations, such as AEGEE, which Tasche joined as soon as it opened a branch in Enschede. 'AEGEE focused on international activities and that was one of the aspects of my student life that really influenced me,' says the alumnus. 'For example, there were AEGEE summer schools that we could join. I hitchhiked to Poland and to Ukraine. That was very unique. You have to remember, at the time it was not common to study abroad. It was possible but still only about half of my classmates went abroad for an internship or a part of their engineering degree. By the time I left, UT started programmes specifically designed for it, but during my time it was unusual to go abroad. So the idea of AEGEE, where we met up to talk about Europe within an association that had branches in many student cities, this was revolutionary.'
Tobias Tasche
Tobias Tasche studied Mechanical Engineering at the UT in years 1990-1997. Immediately after graduation he started working for Shell, where he held various positions, including Technology Manager for Formula One. In this role he was responsible for the delivery of the technology and logistics support activity of fuels and lubricants to the Ferrari Formula One team globally. Tasche spent more than twenty years in major international oil companies, living and working in many countries including the Netherlands, the United Kingdom, South Africa, Kenya, Japan and Italy. He currently works as Director Of Marketing And Business Development at SIP Speciality Oils and Fluids in London.
Email revolution
Tobias Tasche was at the UT for yet another revolution. Emails. It might sound impossible now, but people at the university did not communicate via emails until then. Nobody did. In 1991, the University of Twente became a 'test location' for the use of electronic communication. Two hundred terminals were installed, allowing the UT community to create their own email accounts and send each other the first digital messages.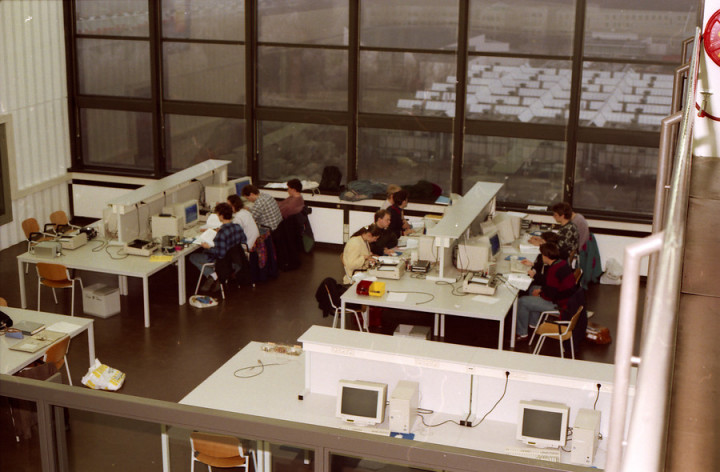 'Current students don't realize that we grew up without emails and internet and smart phones. We remember when all of this came into existence,' remarks Tasche. 'When the first email accounts started at the UT, we were all given a floppy disc with our email address and password. Most people didn't have a modem at home, and so we had to cycle to the UT to collect our emails. There were special computer rooms on campus. Majority of communication was still done by fax, though. Looking back surely makes you appreciate all the progress we've achieved since.'
'The new generation seems a lot more open minded'
The university has indeed undergone a major transformation since the 1990's. Tasche, who now lives in the UK, hasn't seen it personally, but he stays in touch with the UT through his 'old student associations' AEGEE and Kadmos. 'We regularly meet up with the old and the new members. From the stories I've heard, things seem to have changed a bit. When I talk to the new generation of students, they seem a bit more focused on comfort. They have higher standards of living and they even have cars. That was completely unheard of in my time. On the other hand, the new generation seems a lot more open minded. As I mentioned, the campus in the 90's was quite a masculine environment. Of course there were gays, but they weren't as open about it. If someone came out, it was huge news. Topics like mental health and gays weren't quite so openly discussed as they are now. Today it seems much easier. People have better opportunities to be themselves. And that is truly a good thing.'