It's 1981 and the THT (Technische Hogeschool Twente / Twente Technical College) has officially existed for twenty years. While its first two decades were marked by student protests and efforts for improvements on campus, the eighties are the time to reap the rewards of that work. It's time to have fun. 'There was not a lot of student activism like in the 60's and 70's,' recalls UT alumnus Peter van der Linden, who arrived in Twente in 1983 to study Informatica (Computer Science). 'All battles have been fought already. We had a good financial support system from the government, we didn't have to worry about a thing. It was quite a relaxed time. You could really do whatever you wanted.'  
'The study years were easy,' agrees Applied Physics graduate Daan Maatman, who studied and lived on campus from 1980 to 1986. 'The main actions happened in the 60's and 70's. The 80's were a lot quieter.' That doesn't mean THT students were oblivious to the outside world. They just 'didn't t feel the need to protest', adds Maatman. 'We had a lot of discussions on how we could improve the world. We talked about politics, economics, the world situation. I remember a lot of talks and a lot of coffee. Cold war was the hot topic that we discussed a lot. We talked about it, but we never felt in danger ourselves. We felt safe in our little bubble. We were not busy with protests, we only talked about it. We improved the world by drinking coffee.'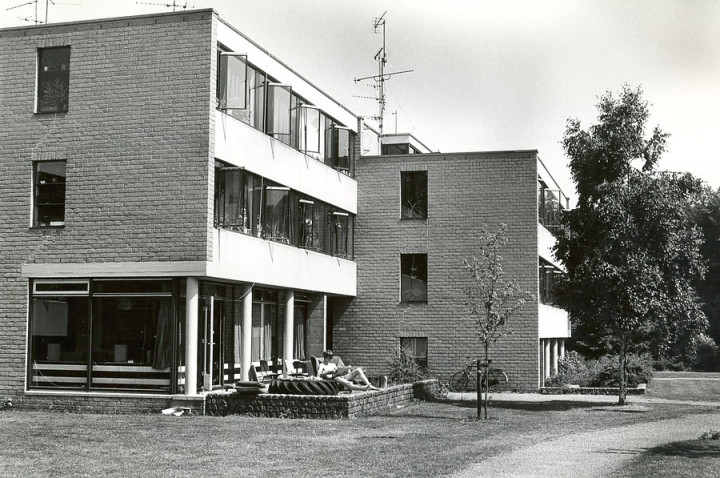 Party time
It was not only coffee that was drunk on campus, though. Maatman, who lived in Patio 32, enjoyed his fair share of wild nights. 'Every summer we had a house party. Everyone wanted to come there, we had a reputation. It was so busy! And the brewery was right there, so of course everyone was drinking beer. But my body was not able to cope with so many liters of it,' he remembers the first time he got drunk. 'I ended up talking to a tree for several hours. And I thought the tree was talking back to me. I don't remember that, it was told to me. Still now, everybody remembers the story of Daan talking to a tree.'
'After a while you've had enough of all the noise, all the parties, the trashcans on fire, fire brigade knocking on your door.'
Van der Linden has similar recollections of his time on the THT terrain. 'I didn't stay on campus throughout my studies, though. After two years I moved to the center of Enschede. After a while you've had enough of all the noise, all the parties, the trashcans on fire, fire brigade knocking on your door. With such a high concentration of students in one place, there was always someone with an idea for a party. But I wouldn't have missed it for the world. It was definitely a great start to my studies.' Most of these gatherings were related to the countless sport clubs on campus, adds the alumnus. 'Sport was the heart of campus.'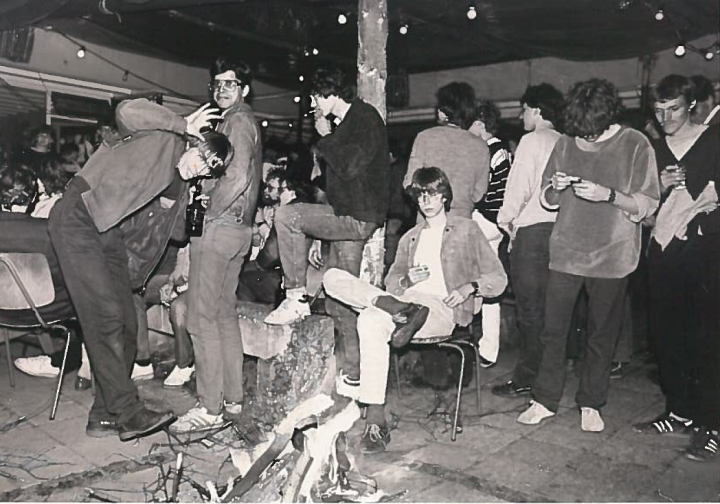 Party on campus, photo provided by Daan Maatman 
Parties, sports, fun with housemates. Sounds like the UT in the eighties offered a lot of opportunities for 'free time'. 'For us studies were quite relaxed and predictable,' admits Van der Linden. 'Nine weeks of courses, a couple of weeks of exams. Of course you had stress in those last weeks of exams, but that was it.' Daan Maatman also doesn't remember any enormous study stress. 'I myself didn't study that hard at first. The first year I only managed to pass one exam out of thirteen. After that I got more serious, but the first year I was busy taking motorcycle lessons, making friends, exploring the city, partying. The requirements for studying weren't that strict at the time. Only a minority of students was really committed to studying all the time.'
The first lady of mechanical engineering
Alumna Wendy Luiten was this minority. Even more so, she was THE minority. As the first woman to ever become a mechanical engineer at THT in 1984, her experiences offer a glimpse of a different reality. Her memories of studying in Twente sound miles away from the endless parties and carelessness of other former students. 'I studied, I volunteered in the library and that was about it. There were no social clubs, only sport clubs. I don't remember it as a party campus, I also don't remember my fellow students as the partying type. But then again, this differed per sports club. I think you had to be in specific sports clubs to have a lot of parties. I also did not have that much money – I was a student-assistant and I was really glad for the opportunity to earn a bit of extra cash.'
the alumni
In 1984 Wendy Luiten became the first woman to obtain a degree in mechanical engineering at THT / UT. After graduation, she worked in various Philips R&D departments as thermal specialist and as certified Design for Six Sigma Master Black Belt. She was involved with developing the world's first consumer flat TV, received the Semitherm best paper award 2002, the Harvey Rosten award for excellence 2013, and Philips Research Outstanding Achievement award in 2015. She holds 5+ patents, authored 30+ papers and lectured all over the world. Five years ago she started her own consultancy company. 
Daan Maatman studied Applied Physics at THT / UT in years 1980-86. He now works as Head of Technology Department at the Ministry of Defense, where he supervises the development and testing of military equipment.  
Peter van der Linden holds a Master's degree from the University of Twente, where he studied Computer Science (Informatica) in years 1983-89. After many years as manager at companies such as Ericsson and Thales, he now works as R&D and ICT Manager at Menicon.
'What I remember the most about my time on campus was the total astonishment,' adds the alumna. 'So many people were amazed and surprised I wanted to study mechanical engineering and that I was doing it,' she says. 'I came to the UT in 1976. I was one of two girls in the whole year and the other girl was gone by Christmas. All other women were secretaries or cafeteria staff. And we all had only one toilet in the building and this toilet happened to be very far away from all the labs and classrooms.'
  'All people at the time had the idea that an engineer should be a tall Dutch guy'
'I don't know how often I was asked why I wanted to study mechanical engineering, but in the early years it was at least on weekly basis,' continues Luiten. 'When I visited the Open Days, people were asking me where my boyfriend was. Everyone just assumed I was there with a boy. So I knew a bit about how it was, but I was not prepared for the reality of the studies. I was not prepared for the continuous questions on why I was there. It became a struggle, especially in the later years. At some point I stopped going to classes, I mostly studied at home. I got a lot of attention, and not always positive. Also, I had difficulties with the furniture in the lecture halls. The chairs were too high for me, they were built for an average Dutch man. I don't exactly look like a typical mechanical engineer. I'm a woman, I'm only 1,57 meters tall, my mother is Asian, I come from the Caribbean. And all people at the time had the idea that a mechanical engineer should be a tall Dutch guy.'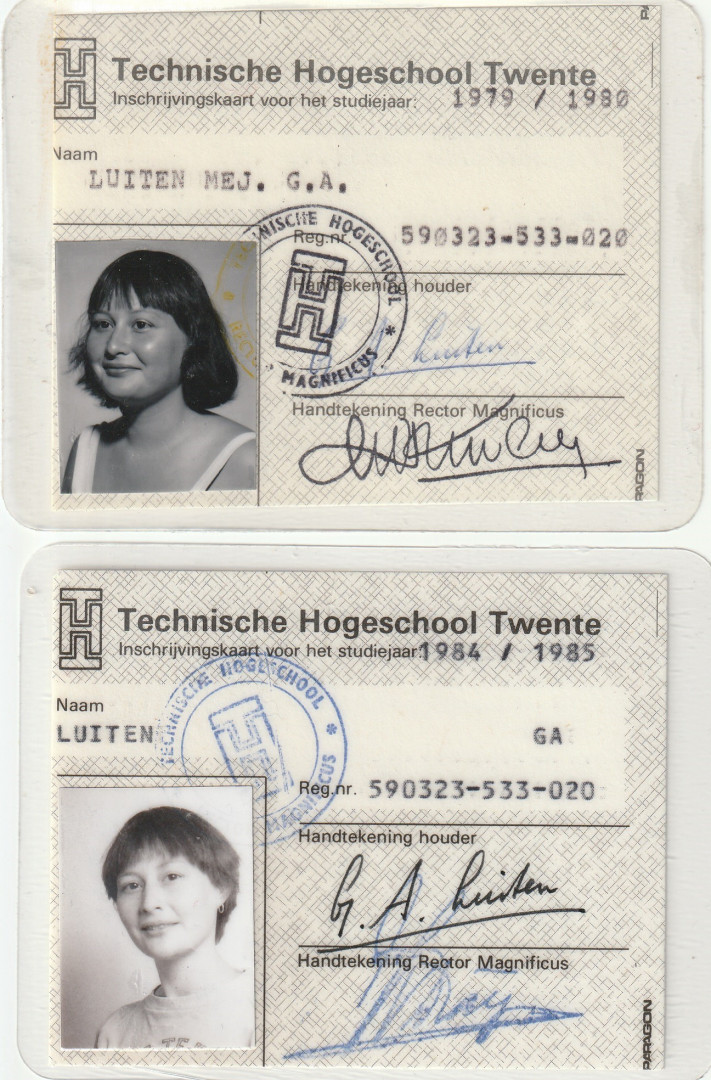 Although Wendy Luiten 'certainly had a fun time on campus', it was not easy for her to make close friends, especially not among direct classmates. 'It wasn't exactly popular to do group work with me. In most social settings, I felt absolutely welcome, but there were always only boys around. There were almost no women on campus. I knew other girls from different studies, but we were not a tight group. In later years girls from non-THT studies were allowed to live on campus and I had close friends in this group. Staff members also had to adapt. At the time, it just didn't occur to people that there could be a female student. For example, at some point I was getting messages from the administrative office, asking me to report for military duty – which all men had to do at the time. I tried to explain, but the messages kept coming. They were very persistent. So I had to go to the office and show them my student card, explaining I was a girl. They just never even checked my gender, it never occurred to them.'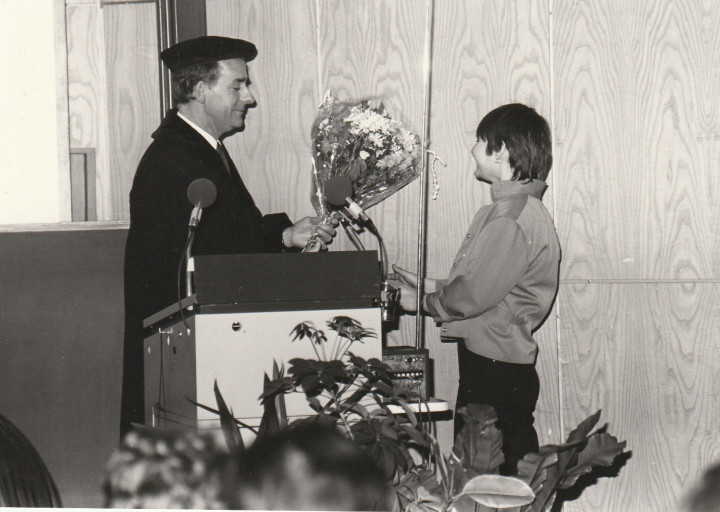 Wendy Luiten at her graduation in 1984 
Brave new world of computers
With addition of new study programmes, it was mainly after Luiten's graduation in 1984 that more women started coming to the UT. Maatman and Van der Linden witnessed this, admitting that girls on campus were uncommon, but certainly no longer alien. Especially Van der Linden had relatively many female classmates. 'Informatica was new, it attracted a lot of people. About 10% of my classmates were women, which was definitely more than average at the university at the time. In our close group, there were three men and two women. For us it was really normal to have female classmates, but people from other studies were quite surprised to hear that.'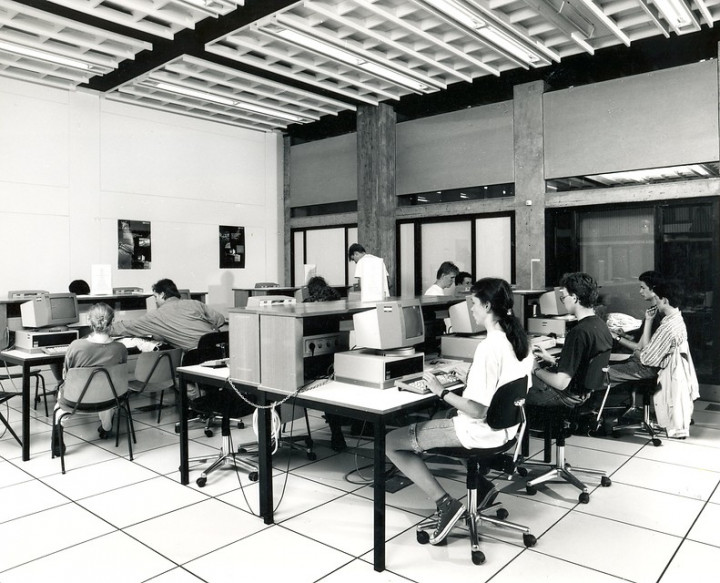 The 'Informatica' programme was unique in more than just its gender profile. It was brand-new. The first batch of Computer Science students only just arrived in 1981. 'The very first batch considered themselves very special, but they were also very helpful to us. They introduced us into this whole new world,' remembers Van der Linden, who himself was in the 'third batch' of students focused on computers and programming.
'Those five years were a revolution'
'Computers were something special at the time. At first, you had to use these cardboard cards to do your programming. You used the card and place it inside the computer. But that disappeared quickly. When I started my studies, I had to input my code using a large typewriter style keyboard, but in the second year those were gone too. The developments were really fast. It all kept changing. I remember, in Cubicus there was a special area with computers reserved for Master students, who could use the computers to write their thesis. They had to register their time upfront and then could use the computer. For us that was really 'wow'. That was something you hoped to achieve – to use one of those computers to write a thesis. But by the time I got to writing my thesis, almost all students had their own personal computer at home. Those five years were a revolution.'
Very different
Even more has been revolutionized since then, and not only in terms of computers. 'At the time, being the only girl was just what it was. I'm glad that it is different now,' says Wendy Luiten. 'I see that my daughter has many female friends at her university and, more importantly, female role models.' Peter van der Linden has also noticed improvements. 'I can't say it was better in the 80's,' says the alumnus. 'I see that going abroad for minors or internships is a lot more facilitated now at the university. That is nice. I only hate the changes in Bastille. Bastille used to be a maze. It officially had 33 levels! It was such a nice collection of short stairways, hidden passageways, cafes and bars. And it was well known for its parties. Now it is totally different. The only thing I recognize there is the Vestingbar.'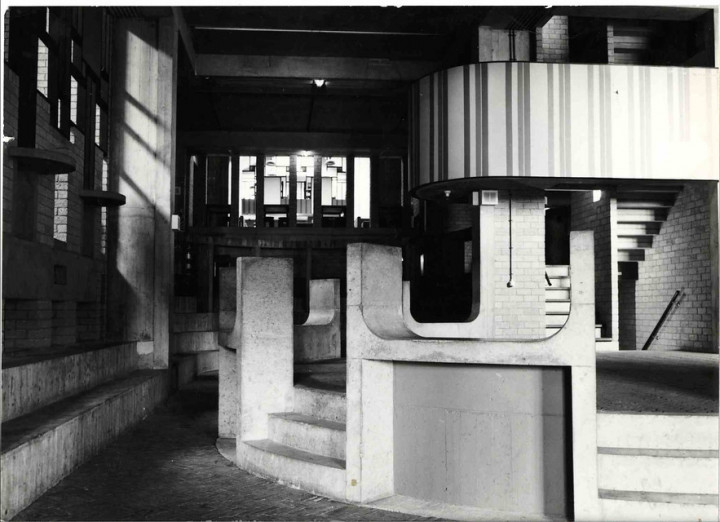 Inside Bastille, 1982
'Some people compared the campus to a holiday resort'
Maatman believes that, in some aspects, the 'grass was greener' in the 1980's.  'The campus now is very different than in the 80's. There is even a bus driving over the terrain! In my time, it was a world of its own, separate from the rest. I got a room in no time, there was no housing issue. Now all of that has changed. It is a lot more crowded. In my eyes, it was certainly better in the 80's. It was special. It was just a cozy place with a lot of possibilities to develop yourself.' That sums it up nicely, agrees Van der Linden. 'The thing I remember the most is the laidback atmosphere. Some people compared the campus to a holiday resort and they weren't wrong. On a nice sunny day, you would see people sitting in the grass, drinking, playing music, no traffic around them. It was relaxed and easy.'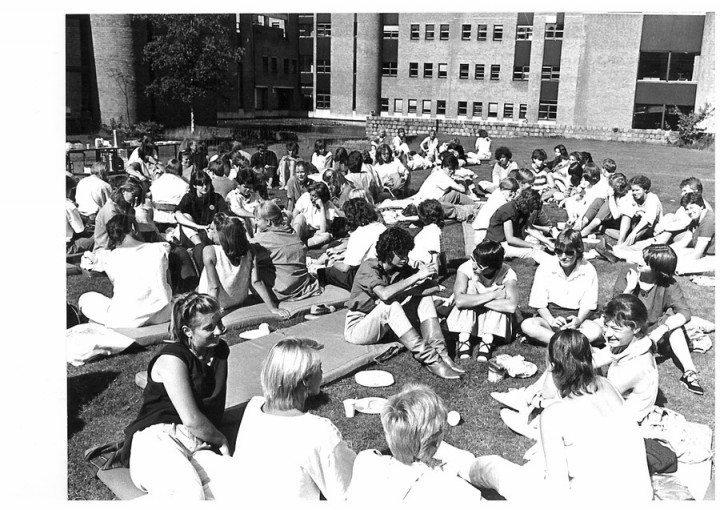 Special introduction for women on campus