How much can change in just fifteen years? A lot, as it turns out, even before Stefan Kooij, who has been the programme director of Applied Physics for many years now, sits down to look back at the period from 2006 to 2010. 'I just gave a lecture in Spiegel 1. In those days, that was still a room specifically intended for PhD defenses; the senate room was a bit further down the hall. It is a terrible room to give lectures in, I think because of the lectern. You stand in front of the students, while I prefer to stand in between them.'
Nesting pigeon
He says this from his room on the fourth floor of Carré, a building that was completed in 2010. Before that, Kooij and his fellow physicists were in the Hogekamp, which after years of vacancy is now home to about five hundred student rooms and the U Parkhotel - the successor of conference hotel Drienerburght. 'When our programme celebrated its fiftieth anniversary in 2019, we had invited alumnus Diederik Jekel to speak. He asked us if we could arrange an overnight stay. After we forwarded the location, he texted us, "Hey, that's my old practicum space, do I have to spend the night there?" A lot has changed, but fortunately you can still find remnants from that time. Where Arago's bar (oorrelkelder, ed.) used to be, there is now a bicycle cellar. But the logo of the study association is still pontifically displayed on a pillar.'
Kooij worked on the fifth floor of the building. And so almost every department had its own little island. 'You had your department on one side of the corridor, and the classrooms on the other. It was easy to keep an overview. But the building had had its day. It was incredibly draughty. The lifts barely worked, or worked too well: if you pressed the button, four lift doors would suddenly spring open at once. And if you went to the toilet, there was a pigeon nesting around the corner. But I did feel that it was easier to find your way around to others. Everyone had their own space and you knew that about each other.'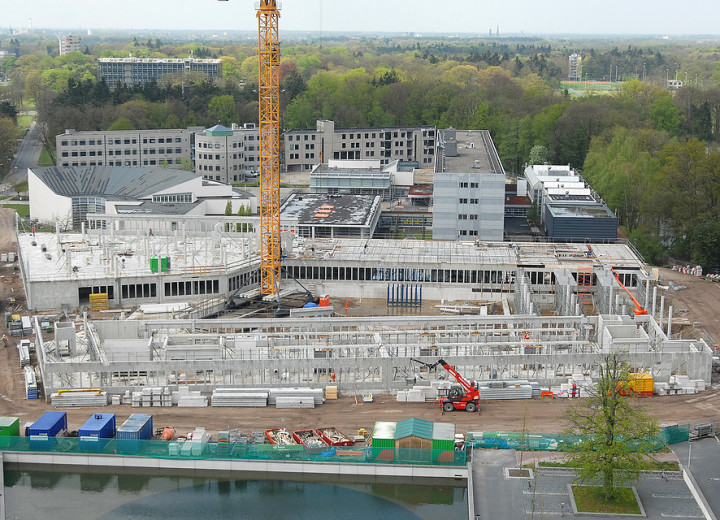 Construction of Carré (2008)
Centralising
The move from Hogekamp to Carré accentuates the contrast between then and now. The colossus of concrete, steel and glass was exchanged for the still hypermodern-looking Carré. What we know today as O&O Square was not there between 2006 and 2010. By now well-known buildings such as Carré and NanoLab had yet to be built, while the chemical technologists were still at Langezijds. Carré eventually became a meeting place for physicists, chemists and (bio)medical technologists. The Mensa moved from Bastille to the Waaier. 'From 2010 onwards, you could therefore roughly divide the campus into three parts: a residential part, a sports and culture part and an education and research part', says Kooij.
'Even the printers were centralised at one point'
The moves symbolised a total centralisation manoeuvre by the UT. This had practical consequences, Kooij explains. Before, each study programme had its own library, administration system, ICT expert, HR officer and teaching support staff. That became a central education support service (currently CES, ed.), a central library in the Vrijhof, a central ICT service, a central HR department. Even the printers were centralised at one point.' The desired situation was manoeuvrability and flexibility, but practice proved more difficult, says Kooij. 'You know, when people are on the work floor, they know what's going on. If you take them away, how will they identify a problem, let alone solve it? On the other hand, the merger also offered advantages. 'We have created beautiful practicum rooms in Carré, which are suitable for several programmes. In addition, there is a high-quality cleanroom in the NanoLab. With such an entire cluster together, you know how to find each other easily - in a different way.'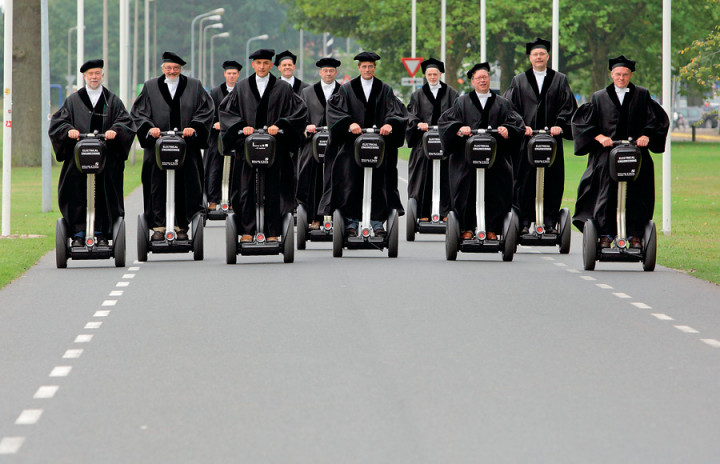 Electrical engineering professors ride around on a segway to draw attention to their education (2008).
Corporate identity police
The most striking and controversial fusion, however, had to do with the image of the UT. In mid-2009, the corporate identity was overhauled. Goodbye Entrepreneurial University, welcome High Tech, Human Touch. 'Yes, I was at the unveiling,' says Hiska Bakker, then coordinator of visual arts at the Culture Department and now working at Studium Generale. 'There was a big tent at the Faculty Club, it was quite a happening. And then came the unveiling: UNIVERSITY TWENTE. In capitals, with a full stop. And all those knickknacks and frills around it. That was supposed to represent the UT. I remember very well that we thought: what kind of humbug is this?'
'You could sense somewhere that people felt they had to hand something in'
It was a centralising action through and through, says Bakker. 'Out with your own little islands and logos. All through one and the same mould. We had to start radiating unity. That is not necessarily a bad thing, certainly not in the eyes of the outside world. But it was striking that something that was supposed to be festive ended up being ironic. We had to work on this - but above all get used to it. You could sense somewhere that people felt they had to hand something in, that someone else had thought of something for them... That suddenly there was a corporate identity police force roaming the campus.'
The cost of a new logo and corporate identity was extra salient: some three million euros. This was despite the fact that the UT had been struggling with a budget deficit for years and had to make drastic cuts. There were even questions asked in the Dutch national parliament. 'Yes, there was definitely a fuss about it,' says Kooij. 'Depending on who you asked, it cost a few tonnes or a few million to replace the old soup bowl logo. The fact that it disappeared was not so bad in itself, but it was the slogan underneath that was so unique: The Entrepreneurial University. At the same time, all change is difficult and leads to resistance. Later, I understood better why UT wanted to market itself in this way. That unity also gave some familiarity.'
Shoes in the hallway
As Bakker puts it, 'The UT has grown into the High Tech, Human Touch jacket'. 'You could also see the desire for more internationalisation in the new slogan. If I look back about fifteen years ago, the campus was predominantly white and Dutch. There was an influx of German students, no doubt due to the start of the psychology programme. And of course there were scientists from other countries. But internationalisation was mainly: we talk about it, but do nothing about it. We did little to make people feel welcome.' That is going better nowadays, she says. 'I see it every day in the Vrijhof corridor. You can set your watch to the flow of Islamic students walking along here towards the prayer room. There is a washroom, there are shoes in the hallway. I think it has something beautiful. If you really want to be inclusive and make people feel at home, you have to show that in your actions and attributes.'
'Despite the increase in scale, the chats in the corridors and at the service desks have always remained'
The sense of community, the feeling of home, that is what Bakker has been experiencing for almost 25 years as a UT-employee. 'While the UT has grown substantially in recent years. Somehow I miss the stray cats, the turtle aquarium in the Cubicus, the charm of a meeting in the Blomzaal of the Faculty Club, to name but a few. But the campus remains such a magnificent place. And you can still see the old estate in it. Everyone who walks around here is there to study or to work. That too gives a sense of unity. And I think that somehow the UT is a place where people take time for each other. Despite the increase in scale, the chats in the corridors and at the service desks have always remained.'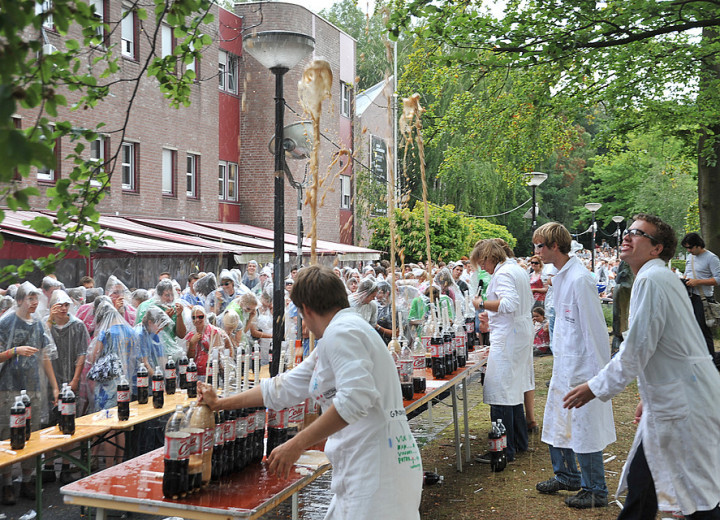 Mentos-cola geysers at the introduction (2009).
More air
She mentions in particular the role that students play in this. 'Some fifteen years ago, they had much more spare time next to their studies. It was less strict, there were fewer exams. There was an overwhelming urge to do something in addition to your studies, to develop yourself outside the walls of the lecture hall. That made it fun. I do notice that the pressure of studying nowadays takes its toll on activism. Just try to plan a meeting with a group of students nowadays. There was more air in student life back then.' Kooij recognises this pattern. After all, between 2006 and 2010 UT was on the eve of a major change to a new educational model and the (national) introduction of binding study advice. 'If there is one thing that is and remains important, it is putting ourselves in the shoes of the students. In the course of our sixty years of existence as a university, we have certainly come to realise that there is more than books and equations.'
Our eyewitnesses
After graduating from Utrecht University with a PhD, followed by a postdoc at VU University Amsterdam, Stefan Kooij started working as an assistant professor at UT in 2000. Since 2015, he has been programme director of the Applied Physics programme.
University of Groningen alumna Hiska Bakker joined the UT in 1997, initially in the communications department. A year later, until 2014, she was visual arts coordinator at the culture department. Since 2014, she is programme maker and presenter at Studium Generale.