I am back and this time with a more serious topic here from Brazil. Last week I went to the strange planned city and Brazilian capital Brasília (which by the way has amazing architecture and weather) and I was asking myself, how will Brazil develop once a right-wing populist like Jair Bolsonaro leads the country?
I will try to explain the situation I experienced here. I just want to stress that I am neither an expert nor want to express my political view, I only want to illustrate my experiences here in Brazil.
In Brazil it is different than in most European countries because the Brazilian people have the opportunity to directly vote for the President of the country. This happens in two election days, the first one was the 7th of October and the second past Sunday, the 28th. And as most of you might know from the media, Jair Bolsonaro, a political right-wing senator and ex-paratrooper from the military, won and is going to be Brazil's new president from the 1st of January 2019.
For me it is strange to see how a man who is agitating against gays, women and people of colour can get more than 50% of the total votes. The reasons can also be found in the Brazilian politics of the last years and are complicated to understand. Anyways, I will try and give back what I read, heard and what I had numerous conversations about with my Brazilian friends.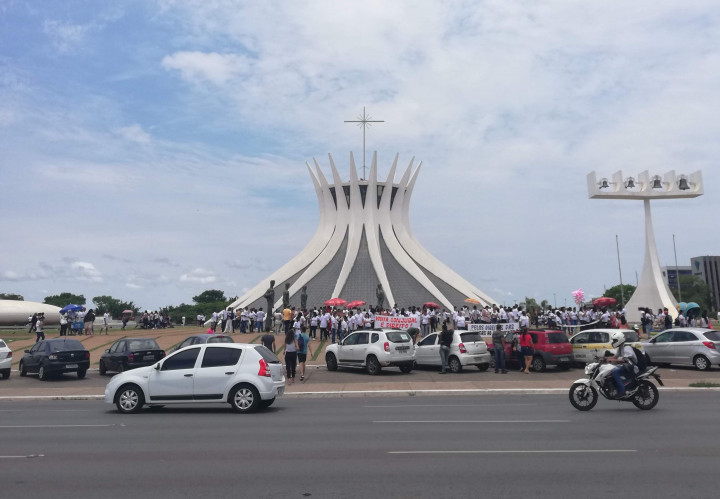 The left-wing Party of the ex-president Lula (PT partido dos trabalhadores, Party of the workers) was in charge of Brazil for more than 15 years and Lula held the presidency twice. Only until one of the biggest corruption scandals, known as Lava Jato (port. For Car-wash) would convulse the entire country and even the entire Latin America. This corruption scandal, which involved billions of dollars, the biggest companies of Brazil and highly decorated politicians, caused Lula the presidency (he is correctly sitting in investigation custody here in Curitiba) and caused the Brazilian people to rise up against the old system in which the rich were stuffing their pockets with money which didn't belong to them.
Now, when the people had the chance, they voted for a right wing president Bolsonaro, who did not have any (maybe just not discovered yet) corruption in his almost thirty years in politics. It is a chaotic situation, which polarised the Brazilian people. Even we were warned to wear red (the colour of the workers party) on the streets of Brasília, because we might get into serious trouble with Bolosonaro supporters. The world-wide known phenomenon of fake news campaigns via social media channels also helped to divide the people even more, with both sides drawing more and more extreme pictures of the political enemy.
For me as an expat here in Brazil it is scary to see that a man like Bolosonaro will soon lead this country and I just hope that the democratic mechanisms will prevent his extremist law bills - for example, every Brazilian should get the right for a gun to protect themselves.
I just hope the best for this wonderful and diverse country, with which I honestly fell in love with. I also hope that Brazil will get economically stronger again and that the big inner-political tensions will be worked upon. So, this country can soon live up to it's great potential of a being a country, which people from the whole world can emigrate to, to live a life in freedom and peace.