'The fact that I can spend a whole day on campus again is a good sign', Toonen says. Last September, his wife was diagnosed with cancer. Heavy treatments and an intensive recovery period followed. Because of his wife's illness, Toonen was forced to relinquish some of his duties as dean. 'This is a situation that should not be underestimated', he says. 'The question now is what side effects the follow-up medication will cause. Fortunately, my wife and I can once again do things together, like walking along the Dinkel. In fact, we hiked so much that my knee started hurting again. Last week, I went to the Medisch Spectrum Twente (MST) to get two more injections…'
A meniscus tear, Toonen explains. 'I used to play football a lot, and at a fairly high level. In my youth, I played against the Van de Kerkhof brothers – and I always got the better of them. Rinus Israël was my favourite. We played in the same position, as central defender. But I also did quite well as a midfielder. I once got into an argument with an opponent who tried to insult me by comparing me to Willem van Hanegem.' Toonen bursts out laughing. 'It was the biggest compliment he could have given me.'
Toonens football past reveals itself as he reflects on his career as a dean. He regularly uses football lingo to explain the ins and outs of the faculty or the university. 'I do it automatically, but people who don't play football sometimes have no idea what I'm talking about", the dean grins. This farewell interview also features a few almost Cruyffian metaphors. 'In a faculty, you don't build a team by playing in a 4-3-3 or 5-3-2 formation. The structure of a faculty isn't that important. What matters is that you can train together using a system to form a team.' Or: 'As dean, I would sometimes rush straight through the defences with the ball at my feet.'
profile
University of Twente, Dean of the Faculty Behavioural, Management and Social Sciences (BMS) 2015-2022
TU Delft, Dean of the Faculty of Technology, Policy/Governance and Management (TBM/TMP) 2008-2015
Leiden University, Dean of the Faculty of Social and Behavioural Sciences 2003-2008
Leiden University, Professor in Institutional Governance and Public Administration 1989-2015
Erasmus University Rotterdam, PhD in Public Administration, Intergovernmental Relations, Multi-Level Governance 1987
Radboud University, MSc Political Science, Public Administration - Economic Governance 1970 - 1976  
Academic values
With his retirement as dean of the BMS faculty drawing near, Toonen looks back not only on his time in Twente, but on 20 years of 'being a dean'. He has served as dean in Leiden, Delft and Enschede. According to him, 'being a dean' is not a profession, but a mission. 'I always felt that I had to do it. As a Professor of Public Administration, I enjoyed an excellent academic career, internationally as well. But I didn't think that was enough. A university community must protect its academic values. I hail from the days when there was talk of academic self-governance. Academics should take responsibility for that governance. You can either complain about the bureaucracy or do something about it yourself. That has always been my drive as a university administrator.'
'My motto has always been: I am my own man'
In Twente, Toonen also adopted the protection of academic values as a starting point. At the end of 2014, former UT Rector Ed Brinksma uses a ruse to lure the experienced university administrator to the campus. He invites him to give a presentation to the Advisory Committee on Appointments which is looking for a new dean for the BMS faculty. Toonen presents his ideas strictly as an advisor, not as a candidate. In his presentation, he explains to the committee how the social sciences should be involved in engineering and technology and how an interdisciplinary faculty should be created. 'Which is exactly what we eventually did at BMS', says Toonen. 'After my presentation, they asked me: why not do it yourself? The rest is history. A few weeks later, I was getting Sinterklaas poems in Tweants.'
Upon taking office, Toonen was confronted with a merged faculty that was in a 'dire financial situation' and faced declining student numbers. 'The faculty – to quote one of the UT board members – was on its knees. To be honest, I wasn't looking for another appointment as dean. However, there was a certain amount of risk involved in the task at hand at the UT and that is what drew me to it. My motto has always been: I am my own man. This would be my last project, which allowed me to act independently. I was also given the opportunity there to provide the impetus for something new: a faculty of social sciences and technology. That is why, after a brief period of hesitation, I accepted the position.'
Community
Among the first things the new dean has to deal with are the national student survey scores. 'I had been here for four days when I attended my first deans meeting at the UT. The Elsevier surveys had just been published and everyone was furtively sneering at me. The UT was almost at the bottom of the list. The satisfaction ratings for various BMS programmes were low, dragging the entire university down. After the meeting, I set to work almost immediately. Thanks to my experience, I knew what I had to do. Relativity aside, within two years we already had a few 'top programmes' at BMS. As Faculty Board, we managed to carry this through successfully.'
'Faculties are the cornerstones of a university'
'It all comes down to academic values', Toonen explains. 'When it comes to 'good education', people often want to talk about so-called KPIs: key performance indicators. That's so foolish! A university is not an organisation focused on products, but on capabilities. Talent, quality and values are paramount. It's not just about lecturers' performance in the lecture hall, it's about building a community where students feel at home.'
'A good football coach is able to create such a community', the dean continues. 'Think of Van Gaal, for example. He can do that. I realised that we needed to build a community at BMS too. There were constant conflicts and disagreements around boards of examiners. There was a disparity in the rules for different programmes. The boards all acted independently and that led to discontent and rivalry, also among students who often felt they were treated unequally. I wanted to move towards one regime; one faculty community. And ultimately, we achieved that.'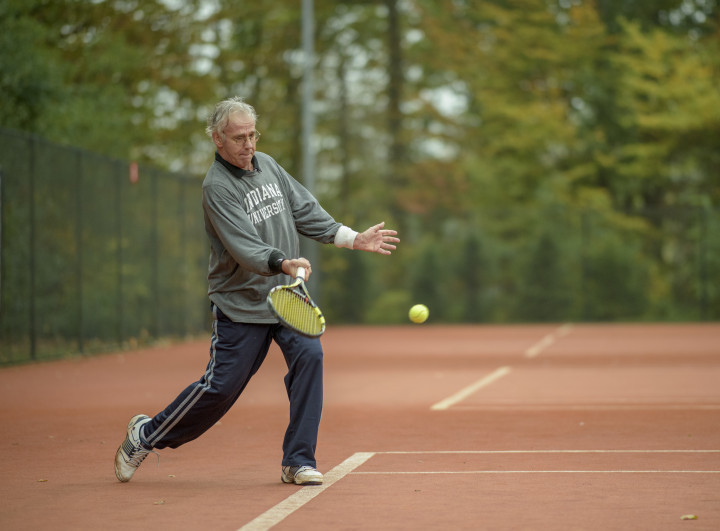 Picture: Toonen in action on the UT tennis court. The interview about his weekly tennis match on campus can be read here.
The faculty as cornerstone
In addition to creating a community, Toonen emphasises the importance of the faculties, which he calls the 'cornerstones' of a university. He believes that a faculty is the place where research and education come together. 'I don't like the separation of academic education and research in schools and institutions. Especially at the UT, cross-pollination between research and education is indispensable.'
As dean, he constantly had to defend the faculties' importance and autonomy. 'When I was dean at Leiden University, the Board of Governors included directors from the McKinsey consulting firm. They wanted to create a horizontal organisation by getting rid of the faculties. From that moment on, the Executive Board would directly manage the departments. "40 speedboats" is what they called it. I said: guys, all those boats will get wedged at the first lock. And more importantly, you're creating islands.'
'Because who is going to supervise the professors and hold them to academic standards and values? Taking on the role of primus interpares (first among equals, Ed.) is traditionally one of the dean's most important duties. If there is no dean to call people to account, things will go wrong. I've had to protect women from male colleagues well before #MeToo. There is also continuous discussion about academic mores and integrity in other areas. These things don't happen if you erode the power of the middle level – the faculty. As a result, those speedboats will soon turn into kings ruling their own little kingdoms.'
'You could have a blazing row with me and you wouldn't know it the next day'
Personal
The creation of a university community and the importance of the faculties are the academic values Toonen wanted to protect as dean. In defending these values, he applies the adage 'speaking truth to power'. 'I think you should be able to call people to account. An academic community involves fierce debate. This is sometimes lacking in Twente, though it also happened in Leiden. People tend to make things personal far too quickly. You could have a blazing row with me and you wouldn't know it the next day. That's kind of my temperament.'
According to Toonen, this also played a role during a recent court case concerning a business conflict that had turned personal. The case revolves around a long-running labour dispute between the UT and a BMS employee. The university wants to terminate her employment, but the woman disagrees. The Executive Board decides to take the case to court. The court does not grant the request to terminate the employment contract. The woman remains in the service of the UT.
Toonen has little to say on the matter. 'I personally have a lot of opinions on the case, but as dean, I can't say anything about it. These kinds of labour disputes are university affairs. I was present at the court hearing as a witness, that's all. Besides, much more important things have happened – even though they might not have made it into the newspapers. Last week, I stumbled upon my very first interview as dean of the BMS faculty. I was surprised when I reread it, because the vision set out in that piece has been fully realised. The faculty is back on its feet. There is still a lot to be done, but we have achieved a great deal in the past few years.'
Tanya Bondarouk, Professor of Human Resource Management and Technology, will replace Toonen as dean of the BMS faculty as of 1 April. Toonen feels ready to hang up his boots. 'A few days ago, I cleaned out my office by myself and sorted everything. That was a nice moment. Soon, I will retire after twenty years of being responsible for an organisation comprised of 300 to 400 people. That's quite a relief, to be honest. It brings me peace of mind.'