'Who will be the campus' new mayor/sheriff/firefighter?' Fij laughs out loud at this tweet from his UT colleague Katja Hunfeld, but he also realises: 'This is a perfect description of the position'. The job vacancy for his successor is already online, and he had a meeting with the recruitment agency responsible for the daunting task of finding the 'new Pim Fij', insofar as that is possible. 'That felt very strange. They saw that I'm really excited and passionate about the work and the department… Yes, I still am! But they also expressed their understanding for the fact that I'm quitting. Still, I'm saying goodbye to my great love, and I can assure you that it's extremely difficult. I hurt myself.'
'Give me a problem and I'll solve it'
Switched on
For many people at UT, this decision to quit came as a bolt from the blue. Last autumn, on the Skagerrak between Norway and Denmark, something in him snapped. 'I think the Covid-19 crisis may have played a role as well. When it started, I was completely at ease. During a crisis, I'm always in control and ready to roll, so to speak. Give me a problem and I'll solve it. But this crisis simply affects everything related to the service we provide: the buildings, the grounds, the people, sports and culture. Plus, there are always safety issues. And don't get me started on working from home… You can't just put me behind a screen in an attic room.'
And then there is the man Pim Fij. Someone who shows his face everywhere, both inside and outside the UT and who even appears to be on social media non-stop. 'The position is twofold: you're practically involved in everything, both internally and externally. I think it's part of the job, this involvement, but that does mean that I'm always switched on. In the beginning, especially because of Covid, I did nothing but work and sleep. You can't keep that up for two years. I even notice it in my body: I suffer from herniated discs and pain in my shoulder. It's time for me to start taking better care of myself.'
'I have no qualms about making decisions and I don't change my mind about them'
Pain in the ass
As a student at the social academy, he once aspired to become a youth centre coordinator. However, that programme turned out not to be a good match for Fij. He found his calling through military service: at the squadron administration, the position of supervisor turned out to fit him like a glove. He studied Public Administration – and at the end of his studies he completed an internship at the UT Staff Office. Then, in 1988, Fij started working as an employee in the Finance Department. He quickly worked his way up the ladder at the UT. Four years after starting in Finance, he became a policy support staff member for the Executive Board. Suddenly, the opportunity to work as an interim director at what was then the Faculty of Applied Mathematics presented itself.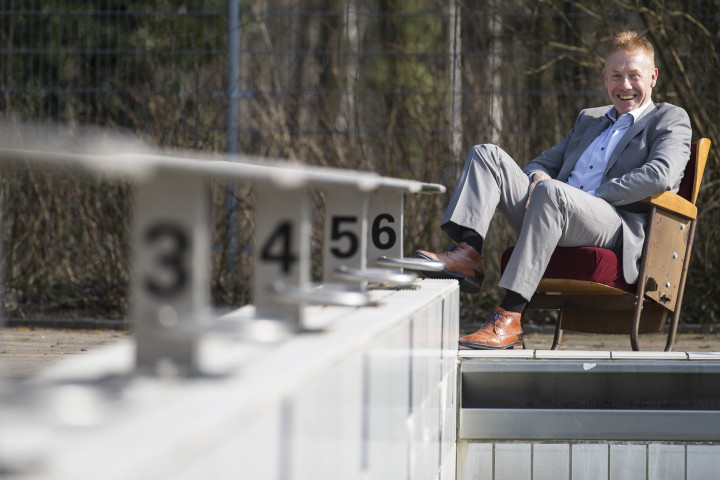 Pim Fij in 2014.
From the mid-1990s onwards, Fij found himself in a succession of director's positions. At the Faculty of Philosophy and Social Sciences, under Hans Achterhuis, former Philosopher Laureate of the Netherlands. At the Faculty of Computer Science, under Peter Apers, then at the Executive Board again, under President Frans van Vught and at the Faculty of Science and Technology, under Alfred Bliek. During the reading of his CV, Fij recounts some of his best memories. How, during his first years at the UT, he was still touring the Netherlands with the band The Ice Gang and how he would turn up at the Spiegel building on Mondays, all puffy-eyed. How he spent his job interview with Hans Achterhuis and the other members of the Faculty Board drinking heavily at café Jansen en Janssen. And how the strategist Frans van Vught had already set his sights on Ed Brinksma ('I think he is the most popular rector we have ever had') as his successor at an early stage.
Major reorganisations
But Fij did not shy away from confrontation either. The Faculty of Science and Technology was formed by the merger of two faculties. 'And each faculty had its own people in charge. Out of every two persons in charge, we had to pick one and seven chairs had to be abolished completely, from secretary to professor. I remember an engineer who, after forty years, had to dismantle his lab which he had set up himself. And then I showed up at his door with some VVV gift cards, because that's what you would get in those days. Of course, he was very disappointed and I was deeply touched by that. But you have to do what you have to do, professionally speaking. I have no qualms about making decisions and I don't change my mind about them. It doesn't help to have regrets or to look back, but you do end up in a position where you have 'blood' on your hands. You can't stay after a reorganisation like that.'
So, you have to leave, Fij knew. He was approached by SLO, the national institute for curriculum development in the Netherlands. Fij felt honoured and he was granted the title of director. He was doing well, but when he was promoted to statutory director, he learned that the role of a board member is very different from the role of manager. 'I'm not really a 'big picture thinker', I think I'm more of a manager: give me a task and I'll carry it out', he says.
After a labour dispute with the supervisory board and his subsequent dismissal, he was unemployed for a short time. Enter the UT again, in January 2013. He had a cup of coffee with the then Vice-President Kees van Ast and the Secretary Erik van Keulen and an interim job presented itself: a 'major reorganisation' of the Sports Centre. 'And that was very much needed', says Fij. 'The Sports Centre had been in the red for ten years and there was an annual structural deficit of five tonnes. There were too many managers, too many expenses and too little income. That's why we signed a long-term contract with the Sports and Exercise Programme of the Regional Training Centre (ROC). And previously, there were three swimming schools that used our facilities practically free of charge. No more. We started our own UT Swimming School again, which continues to do very well.'
'We have more than enough advisers and thinkers, but not enough people who will roll up their sleeves and take action'
Helping hands
After the interim job, he became Head of Sport & Culture, then Campus Manager and in 2015 he was promoted to Director of Facility Management, tasked with establishing one single integral campus service: the CFM we know today, which Fij is very proud of. But on the eve of his departure, he also identifies an important area for improvement. 'We have always been customer-friendly, it's in our genes. But that's not the same thing as being student-oriented. Our students are the reason we exist, after all. How will this benefit the students? That should be the starting point, instead of: do we have a feasible and affordable business case?' Fij is particularly impressed with the association culture and the Student Union. 'Thanks to the Union, we were able to construct the UTrack and build a cover over the Open Air Theatre, to name a few examples. Such examples reinforce my conviction that we, as a department, still have some room for improvement, especially in our approach to board members and committees. They are not 'just students'; they are administrators who have a budget and responsibilities – and we'd better take them damn seriously.'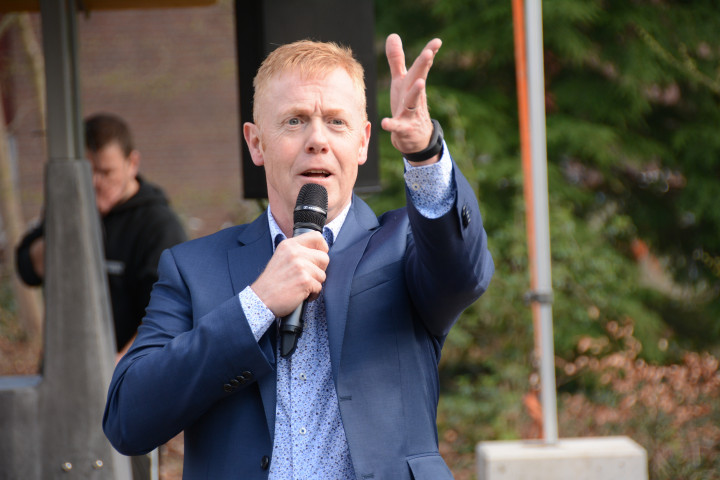 In 2016, at the opening of the Bootcamp.
'The fact that we are the university we are today is due to the student association life at our university', says Fij. That is why two developments are of particular concern to him: the growth and internationalisation of the UT. 'Especially with regard to the student association life. This may sound a bit blasphemous, but I rarely see people from who-knows-where contributing to the board of an association. The UT must be careful to preserve its uniqueness.' Fij also notices a growth in the number of UT staff. 'Especially when it comes to staff and policy officers, I have noticed that we are growing. I miss the helping hands. We have more than enough advisers and thinkers, but not enough people who will roll up their sleeves and take action.'
Fij has no regrets about anything, but there are a few things that were disappointing. 'For example, we didn't succeed in getting a rugby club here, which is a true student sport. And there was a time when FC Twente was training a first division team at the FBK athletics stadium, so we considered bringing those athletics facilities to the campus. However, the municipal boundary between Hengelo and Enschede proved to be a major obstacle. If we had succeeded, we might have been able to build a first-class sports centre here. That would have been wonderful!' And what were the lows? 'When a student commits suicide, those are by far the most difficult moments. The pain, the grief and the impact on all those involved, from the parents, fellow students and housemates to the security guards... You always try to imagine what it's like for them, but that is just not possible.'
Common sense
There were two farewell receptions for Fij yesterday, followed by a dinner. What is Fij doing today, when his employment is officially over? 'Pick up my granddaughter. And perhaps I'll go to the bike shop Ten Tusscher, to collect my new racing bicycle. Yes, I was mad enough to buy one, a beautiful new Trek bike. My wife Marian told me to do so, as a farewell gift to myself, she said. There's a reason I'm so fond of her!' And after that? Technically, Fij will retire one day before his sixtieth birthday. 'I've been approached for a number of positions, it's not a secret. But I've decided that I'm not going to do anything until the summer holidays, and I'll see how I feel about it. I don't know what it's like to be switched off, but I know myself well enough that I'm going to do the good things in life. A whole lot of cycling, in any case, and I think I'll dust off the old Fender Stratocaster.'
What advice would he give his successor? 'You have to be able to switch between talking to people in the mail room and to the Executive Board, you have to build up a good relationship with the student boards. You have to take them all equally seriously. Also, you don't need a specialist in this place, you need helping hands. Those are much more important. But the most important thing: you need common sense for all the things that will come your way here. There is always something going on, a crisis or student problems. If someone sets a couch on fire in Wesselerbrink, you'll have the riot police at your doorstep. It helps to be a good house father to the students on campus: you get functionally angry when they cross the line, but you protect them unconditionally. You know, if you can't laugh on the inside after such shenanigans, you should be looking for another job.'