Subramaniam also addressed the corona pandemic, the war in Ukraine and climate change in his speech. 'Exceptional times, but I am most concerned about the growing lack of trust in society. The trust in each other - which serves as a pillar in our society - is under pressure. An angry underlayer has no faith in each other, in politics, in institutions and, most important to us, in science.'
Making a difference
According to the president of the board, this means that the UT must be even more aware of its role as a knowledge institute. 'By offering perspectives and making impact, together with stakeholders. We're not going to stop the war in Ukraine or find quick solutions to the climate crisis, but we can help solve problems where we can make a difference. I draw confidence from the thousands of new students we are welcoming, who even more than us feel the urge to work towards a more sustainable world.'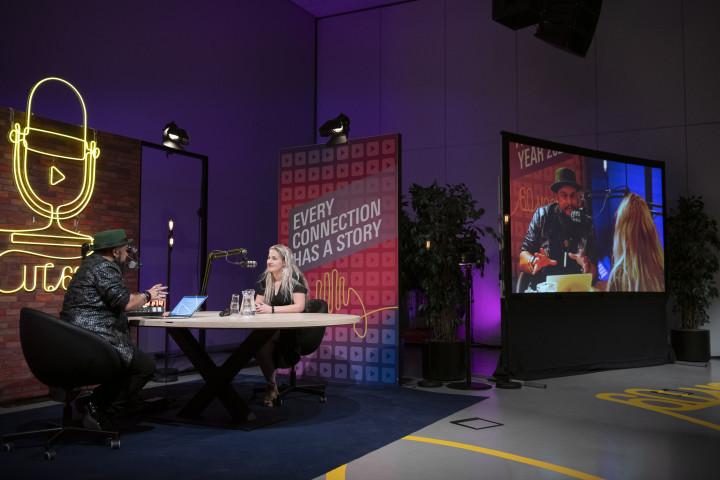 Traditionally, the winners of various awards were called forward. Laurens Spoelstra (23) won the TGS Award. As the winner of this year's award for the first time, he will be given a PhD contract for four years at the UT's expense. The young researcher wants to make a difference in the development of a medicine for arthritis with Joint-on-Chip technology.
Cheque
Professor Nelly Litvak was also put in the spotlight. In June, the Professor of Algorithms for Complex Networks won the Central Education Prize and can now call herself UT Teacher of the Year 2022. Five master's students also received a Graduation Award. The prize - a certificate and a cheque for €1000 - is a recognition of their achievements during the final phase of their studies at the UT.
In between the official ceremonies, host Brahma Ramsodit had a few UT people - Hanneke Scholten, Jimmy Faria and Mats van Dalen - tell their stories in a podcast setting. Dialect singer Hendrik Jan Bökkers provided the musical accompaniment. Finally, the Executive Board unveiled a diversity artwork initiated by Anouk Geenen in the foyer of the Waaier. With this, the academic year 2022/2023 officially started.