This academic year, the universities broke another record: according to the preliminary enrolment figures, there have never been so many people studying at the university. This growth is mainly caused by the large influx of international students.
A new internationalisation monitor from Nuffic shows that HBO (higher education in applied arts and sciences) also attracts many foreign students. The monitor was created using the final figures for the 2020-2021 academic year.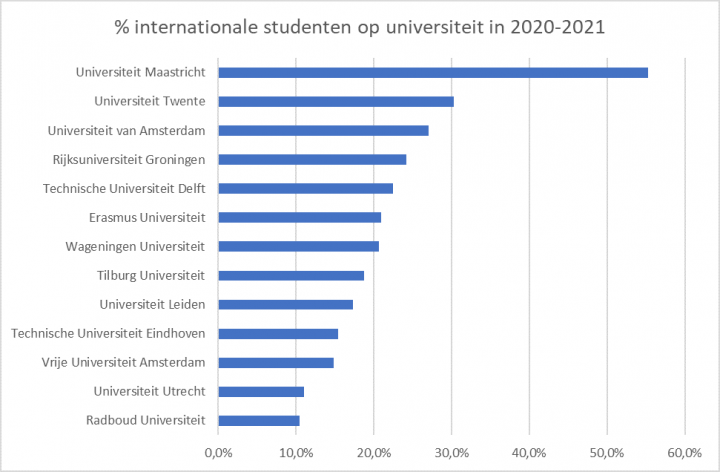 One Quarter from Abroad
In the Bachelor's programme, there was a considerable difference between education at a research university (WO) and HBO. In WO, 19.8 percent of students came from abroad, while that percentage in HBO would not budge from 6.3 percent.
But in the Master's programmes, the difference was much smaller. Proportionally, about the same number of HBO Master's students came from abroad as WO Master's students: 23.3 percent to 24.4 percent. However, HBO has far fewer Master's programmes.
In absolute numbers, WO was much more popular than HBO. Last academic year, a total of 103,708 internationals studied in Dutch higher education. At the universities, there were 40,851 Bachelor's and 29,741 Master's students. The universities of applied sciences had 29,863 international Bachelor's students and 3,253 Master's degrees.
Maastricht
Which institutions attracted the most internationals last academic year? In WO, their numbers — unlike in HBO — increased everywhere. The sharpest increase was seen at the University of Amsterdam, with nearly 2000 new internationals.
Yet Maastricht is likely the most international university. There, more than half of the university student population came from abroad: 55.3 percent. At number 2, the University of Twente, this was 'only' 30.3 percent.
Art Programmes
Nevertheless, the institution with proportionally the most international students was not a university, but an art academy. Nowhere was the proportion of international students as large as at the Design Academy in Eindhoven: 76.7 percent of students (563 in total) came there from abroad.
Other art programmes were also popular with foreign students in the previous academic year. At the University of the Arts The Hague, an impressive 66.2 percent of the students came from abroad (1,089 students). The Gerrit Rietveld Academie (64.9 percent) and the Codarts University of the Arts (51.2 percent) also had a relatively large number of internationals.
Remarkably, in the top 10 higher education institutions with the largest number of international students, there was one university of applied sciences: Fontys at number 7, just above the Vrije Universiteit Amsterdam, Utrecht University, and the University of Twente.
Many international students plan to stay in the Netherlands after completing their studies. According to a study by Nuffic, it is more than half of them. The respondents cited the high standard of living and the quality of research and education as the main reason for not leaving.