Hyneman will be on campus in the last week of November, in the days leading up to the 'Dies Natalis' on the 26th of November. He will participate in a number of events and meetings, some of them open to the general public and/or the UT community.  
During his stay in Enschede, the UT honorary doctor will hold a masterclass in the Wilminktheater. He will also give a keynote speech at the UT PhD & PDEng Day held in the Gallery on the 24th of November and he will attend the Dies Natalis, celebrating the university's 60th birthday.
Jamie Hyneman was awarded the honorary degree at the UT for 'popularization of science'. He was nominated for the honorary doctorate by UT professor Stefano Stramigioli, with whom he regularly collaborates. Hyneman last visited the campus in 2017.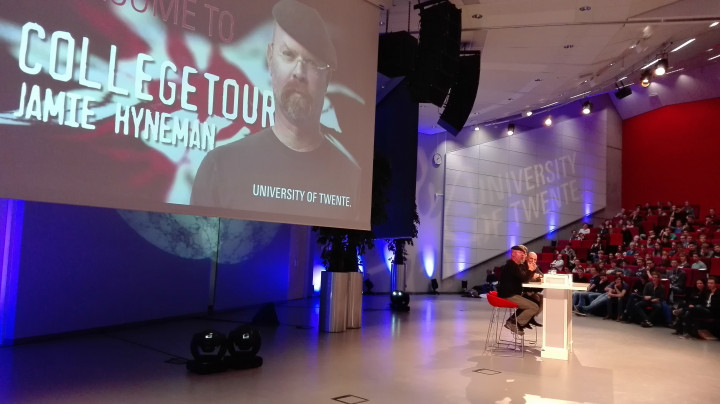 Hyneman is best known from the TV programme MythBusters, where he and Adam Savage used scientific methods to verify or bust popular myths. Before being on the show, Jamie Hyneman had a variety of jobs, including a certified dive master, a boat captain, a wilderness survival expert, a linguist and a cook. He has since taught at the Academy of Art University in San Francisco and is an honorary lifetime member of the California Science Teachers Association. He now gives lectures at universities around the world and he runs his company M5 Industries specialized in creating special and visual effects for films.