Jamie Hyneman, who is a special effects expert mostly known as a co-creator of the TV show MythBusters, received an honorary doctorate from the UT in 2011. He started his visit today by spending time in the University College Twente (ATLAS), where he participated in a roundtable discussion and interactive sessions related to the College's concept and program.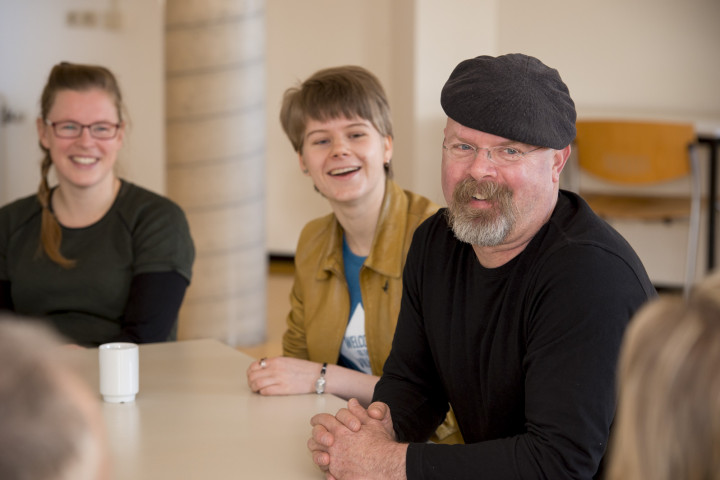 In the afternoon, Hyneman was the star of a special College Tour for UT students and staff, during which he answered questions posed by the event's host, Ed Brinksma, as well as by members of the audience.
'Science isn't just for guys in lab coats'
'I'm honored to be here. This visit is long overdue,' Jamie Hyneman began the College Tour in the Waaier's crowded lecture hall. 'I have made good friends here and I've collaborated with Professor Stefano Stramigioli on many projects. I feel I am a part of the University of Twente.'
As a recipient of an honorary doctorate for 'popularization of science', Hyneman certainly has an official place at the UT. What did this special degree mean to him? 'It was surprising, because we were just doing a TV show and we didn't expect that a show about science and technology would attract so much attention,' answered Hyneman. 'We unintentionally showed that science isn't just for guys in lab coats, but for everyone who is interested in understanding the world.'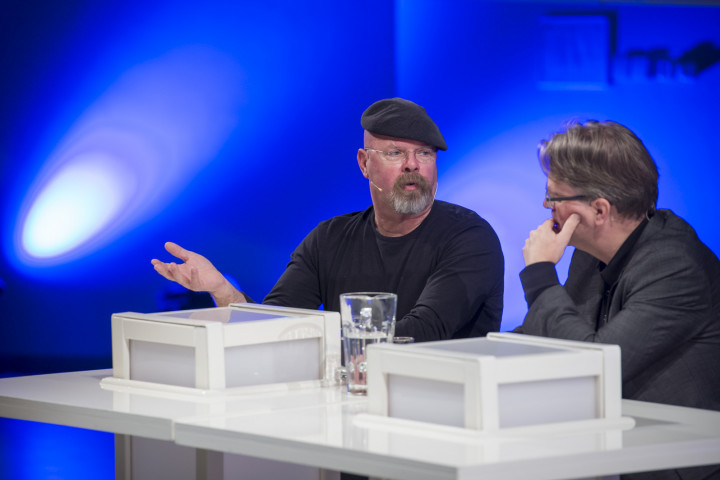 Being methodical
Before he was creating a world-famous TV program, Jamie Hyneman had a large variety of jobs, including a certified dive master, a boat captain, a wilderness survival expert, a linguist or a cook. 'Did this experience prepare you for becoming a MythBuster or were you just not sure what you wanted to do in life?' wondered Ed Brinksma.
'I was just following my nose, wandering a bit. A turning point for me came after working on a boat in the Caribbean for four years. I got tired of it and asked myself "what is it that I want to do?" And how often does that happen nowadays, that a person really stops and thinks about who they are and where they are going?' said Hyneman. 'I decided I could do anything if I'm methodical about it, and so I went to the library and studied. Eventually I decided I wanted to do special effects. My career in special effects was a very conscious and methodical decision. Why don't people do that more often? If you need to make an important decision, why not apply the scientific method?'
'You will never see me on a televised product'
Most people know Jamie Hyneman as one of the MythBusters. What was the most rewarding part of being on the show? 'The best part was the constant problem solving. Almost every week for fourteen years we had a new problem, which we knew nothing about and had to solve. We found that our brains were like levers – even without any experience on the topic, we could push through any problem,' described Hyneman.
And the most frustrating part? 'The film-makers trying to push drama into the show. You will never see me on a televised product ever again.'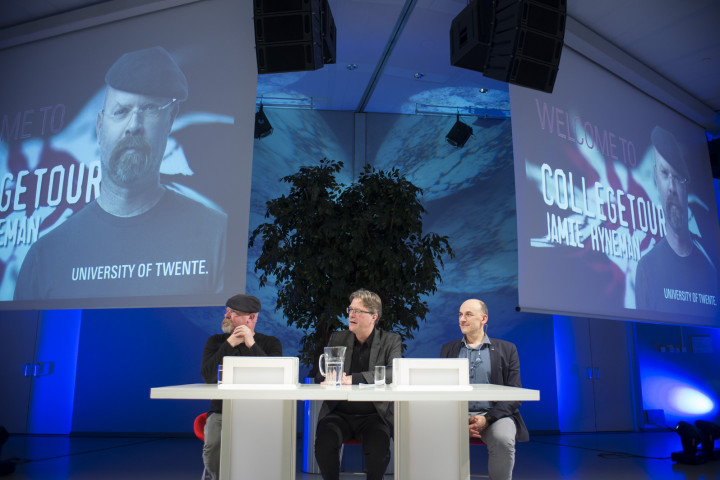 The famous beret
After discussion with Ed Brinksma and Stefano Stramigioli, it was time for the famous guest to answer questions from the audience. Even though the room was full of university students, the first question was not related to science, but Jamie Hyneman's beret. 'Seriously? We are at a place of science and technology and you want to know about the hat?' laughed Hyneman in reply.
Following questions were a bit more technology focused, such as asking Hyneman what he thought of the imperial system compared to the metric one. 'Imperial system sucks. It's America, what can I say, there are problems,' he laughed again and ended the session with describing his favorite and least favorite MythBusters experiences: 'The most fun was to get to destroy Adam's car. The most awful one, however, was me having to bungee jump, aim and try to bite an apple. I detest heights.'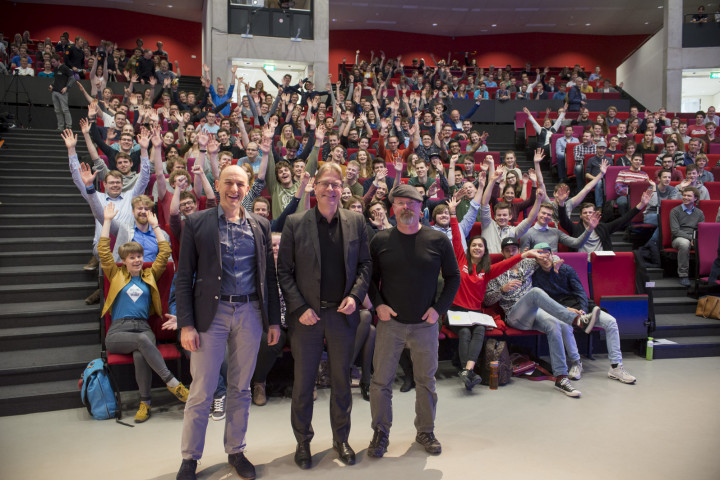 More to come
Jamie Hyneman will be at the University of Twente until Monday, the 13th of March. Tomorrow he will give a College Tour lecture that is also open to the general public and he will participate in a Mini Open House organized at the DesignLab. This event will include an interactive program with demonstrations and experiments using the latest scientific technologies. More information about Hyneman's visit can be found here.