Besides eating cakes and sipping tea, the roughly fifty visitors of the High Tea had the opportunity to ask questions related to English. Staff members from the HR department and the UT Language Centre were present to offer insights into the new language policy.
Head of the UT Language Centre, Katja Hunfeld, explained the main idea behind the afternoon event. 'The Language Policy working group has been focusing on English as the language of governance. Besides official tools, such as our website, we wanted to find an informal and positive way to support staff with the language transition.' On that note, the student theatre association NEST was present to perform three sketches. And custom-made 'UTalk jars' with talking points were spread around to encourage conversations in English.
Learning from colleagues
Many participants joined because they wanted to find out how their colleagues from other departments handle the language change. 'At the Marketing & Communications department, we have been doing everything in English for a long time now,' said one of the visitors Anne Heining. 'However, I was quite surprised when I was at faculties or some other departments and noticed that everything was in Dutch, so I was curious how others are doing.'
'I find this very interesting,' agreed Danielle Hendriks from the Purchase department. 'With our customers we speak English, but within the department the communication is in Dutch, so we have to switch a lot. I wanted to see how other departments deal with this situation.'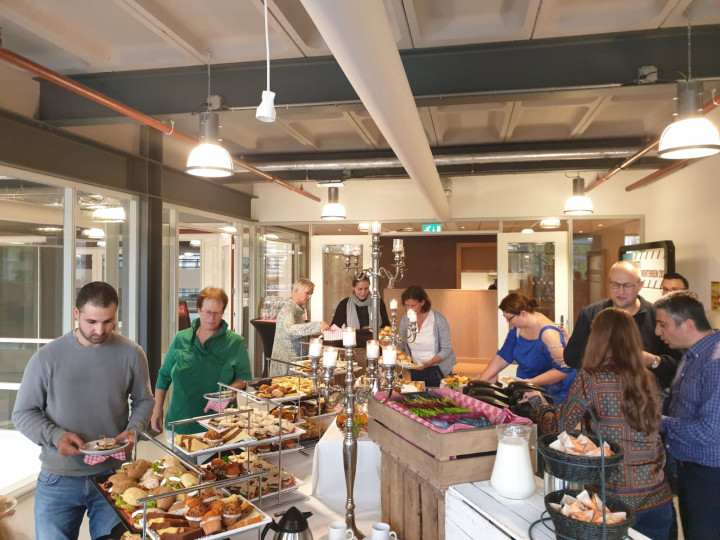 Inclusiveness
Paul van Dijk, the Director of the Twente Graduate School (TGS), attended the High Tea in order to support the use of English at the UT. 'I'm glad that the use of English is emphasized now. At TGS English has been the common language for a long time. I think it's important because more than 50% of our PhD candidates are foreign. Having an official language that is known to them really helps them to be included in everything. It is all about inclusion.'
Inclusiveness was also the main message of the opening speech by Suzanne Wichman, the Secretary General of the UT. 'We have eighty countries represented at the university. Speaking English is all about inclusiveness – or is it inclusivity?' she paused. 'I think it's both. I looked it up earlier. See, I'd just like to say: you will make mistakes, like me, but just laugh about it and do it. Most people here don't have English as their first language, so we are all on the same page. We can learn from each other.'
---
English will be the official language at the university from the 1st of January 2020. The Language Policy working group consist of people from the HR, Marketing & Communications, Language Centre and Strategy & Policy.