The year 1987 is coming to a close and a cold winter has the country in its grip. For the past few weeks, students of chemical engineering have been working on a practical experiment that is supposed to result in synthesis. 'However, it was so cold inside the building that everything would freeze after one night. We had no choice but to start over the next morning.'
This is one of the first memories that Dave Oesterholt (54) recalls when he is asked about his student years in the late 1980s. His fellow student and friend Erwin Platvoet (53) agrees with him via a video connection from his home in Tulsa, Oklahoma. 'What was remarkable about our batch of students of chemical engineering - about 150 students in all - was the large percentage of women. Roughly one third of our fellow students was female. That was quite unique, especially for that time.'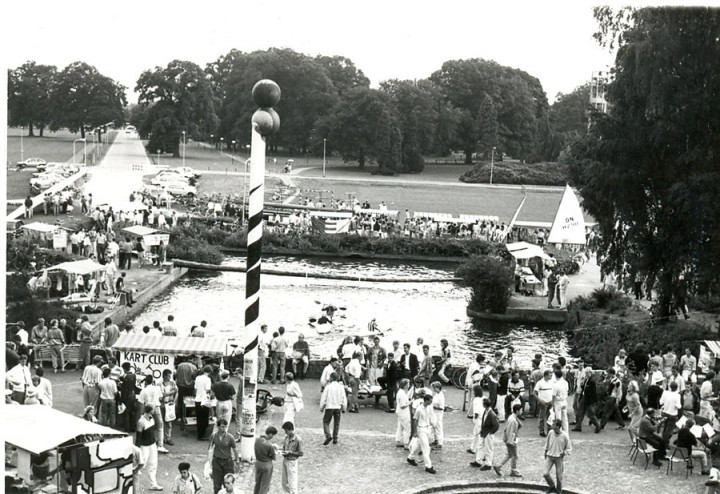 The introduction periode at the start of the academic year (1989).
Heavy metal
Oesterholt and Platvoet aren't your typical students. That is to say, they both have fond memories of their time at the University, but they were not as involved in their student lives as the average student. They were not part of any committees or fraternities and they chose to keep living at home in Enschede. Platvoet: 'When I look at the lives of students here in the US, I feel a bit jealous. For me, my student years felt more like being in school. I enjoyed the fact that we had every opportunity to play music in the Vrijhof. Heavy metal was on the rise during those years and bands like Metallica were still relatively unknown. We started several bands, including one called Thunderhunter. We even recorded a demo at one time, which got a score of 3.5 out of five stars in a well-known music magazine.'
'De Kikker, De Kater, Het Gat in de Markt or playing a game of billiards in some bar. I also remember going to a tonne of concerts. Simply Red even played on campus one time.'
Whereas Platvoet spent most of his time making music, his friend Oesterholt preferred to focus on sports. 'I played badminton at DIOK and was involved in the foundation of windsurfing club Hardboard. We had a little basement where we would meet up and we made endless trips to Zeeland and the IJsselmeer in our Volkswagen van. We held gatherings and even published a club magazine.'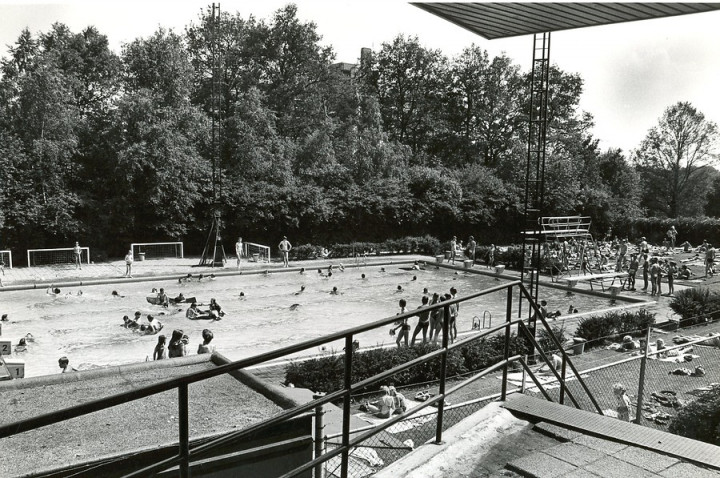 The outdoor pool (1990).
Simply Red
As he recalls, not everyone was focused on extracurricular activities during those years. 'Many students took their studies extremely seriously, but I am glad we also made time for activities outside our studies. You could find us everywhere; at De Kikker, De Kater or Het Gat in de Markt or playing a game of billiards in some bar. I also remember going to a tonne of concerts. Simply Red even played on campus one time.'
Likewise, Platvoet does not have dig very far into his memories to recall café De Kikker. 'My recollection is far from complete, though, because we could spend entire days in there. The café was located on the Stadsgravenstraat and I threw my graduation party there.'
Computer science
Although computers had been around for a little while at the time, actually using them suddenly became a thing. Platvoet: 'The entire group of 150 students had access to just six Apple computers. We had to make do with those. No one knew how to use those things at first, but I quickly discovered that I had a bit of a knack for programming. That's why I chose computer science as a minor.'
At first, Oesterholt didn't know what was happening either. 'I was terrible at programming. The first time I tried, I failed miserably. It was a completely different era. Computers mostly helped me develop my analytical and systematic thinking skills.'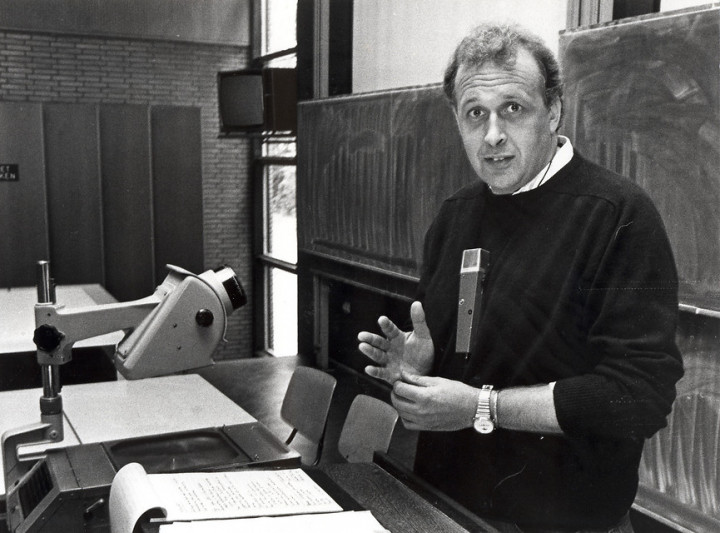 Guest lecture by well-known Dutch sports reporter Mart Smeets (1990).
Lecture notes
Besides the introduction of computers, the two were also among the first students to enrol in the renewed chemical engineering programme. 'The programme was going through a bit of a rough patch. That meant we had a lot of freedom. We were given every opportunity to explore, but it also caused a lot of stress. The atmosphere was very school-like. In addition to attending lectures, we were also given lecture notes to study and we could only hope that everything was legible. It was hard work, but it did give those students a solid foundation and a strong mentality. Those years brought forth some excellent engineers', Platvoet knows.
Whereas the THT had focused primarily on the campus itself during the first twenty-five years of its existence, it gradually began shifting its attention to the region in the late eighties. The duo says one could tell that it wanted to strengthen its ties to local businesses. 'That led to the arrival of several small companies. It was a wise move. I recently saw for myself just how strong the ties with the Kennispark opposite the campus are now and it looks great," Platvoet says. Oesterholt: "You could also feel it in our inorganic materials science department. Its attention was gradually shifting towards businesses off campus.'
'Out of our 150 first-year students, we had one person from Iran, one from Italy and one from Norway'
In the summer of 1986, the THT changed its name to the University of Twente. Although this change had few practical consequences, Platvoet nevertheless felt its impact. 'The funny thing was that people began asking me if I was attending a university. It was like everyone suddenly thought I was smarter. Apparently, the new name was more prestigious than the last.'
Although the situation in the late eighties is hardly comparable to today, the UT was certainly internationalising at the time. Nevertheless, one could hardly tell by looking at the chemical engineering department. 'Out of our 150 first-year students, we had one person from Iran, one from Italy and one from Norway', says Platvoet, who began travelling the world himself some years later.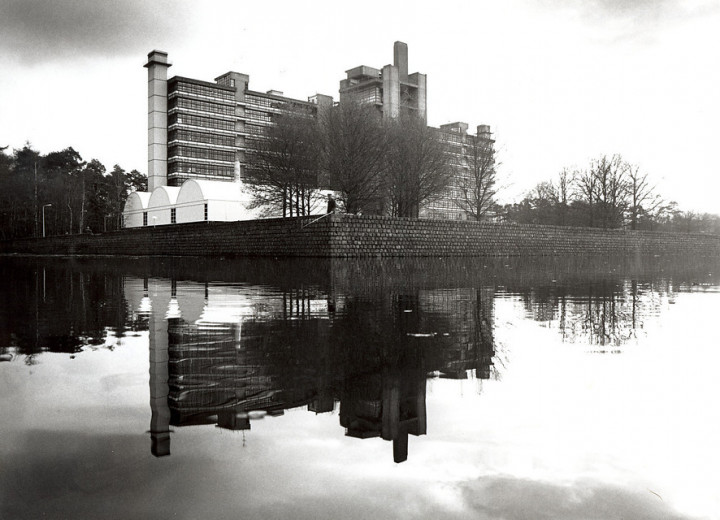 View of the EL/TN building (the Hogekamp), with in front of it the cleanroom building of MESA.
Cowboys and indians
'I never expected to see the world. Back then, the Netherlands was a country with clear borders. I did an internship at Shell in Pernis and figured that was about as far as I would ever go.' Platvoet, a specialist in furnaces and heat transfer, ended up living in New Jersey, Switzerland, Belgium, Texas, South Korea, France and now in Oklahoma. 'I live in Tulsa. Oklahoma is a true Republican state, which you can also clearly see outside the city. It is literally all cowboys, indians and rednecks. Things are a little better in the city itself. Tulsa is known for its oil and gas industry and for its ties to the aviation sector. Since 2017, I run XRG Technologies, a company that specialises in heat transfer.'
Oesterholt, who now works as a sales manager at VONK, never left the country to pursue his career, but he did work several different jobs in the engineering sector. 'When I graduated, the chemical industry was thriving, but I had to go into military service first. I spent fourteen months as an NCO. Once I got out, there was far less demand for engineers. I had to wait a few months to find my first job. I have had several other jobs in the engineering sector since then. In hindsight, I can see just how important the University's role has been in all this.'