It is the late seventies. Technische Hogeschool Twente (Twente Technical College, THT) has emerged from infancy and, on the verge of maturity, it is time to take stock. On campus, there is a need for change, even improvement. Under the pseudonym Engineer Noortje de Vries, what sounds so strange about that? a female student is more than happy to share her ideas about the university at that time. 'I wrote under that name as a guest columnist in UT News, but the feminist undertone was serious and touched on the key issues during those years.'
Pseudonym
She has not used the pseudonym for decades, but from her home on the Singel in Amsterdam, Eefke Smit talks about it in detail. About her reasons for choosing that name, for example. 'Women simply didn't exist on campus for a very long time, literally and figuratively. I didn't write under my own name, afraid of being jeered at, I think, so I could be sharper, more critical. Engineer Noortje de Vries, what sounds so strange about that? That question aimed to make all those men sit up and think. I stopped those columns when I became a regular writer for UT News. At one point, a housemate suddenly linked me to the pseudonym. I think I had written something about what the guys expected of their female housemates in student kitchens. Rather role-reinforcing, of course.'
Technical students were quite "nerdy" by nature, which didn't help boost the female percentage.
Failed experiment
Smit became acquainted with Twente in 1978. She was one of the first Public Administration students. The introduction of that programme played an important part in the development at that time because, according to Smit, much had gone wrong in the early years of the THT. 'By around 1978, the campus had officially been declared a failed experiment. The ideas had been high flown, but much had failed to materialise,' Smit says. She gives a few examples: 'The university was too technical, making it a one-sided male community with fewer than 2% of students of technical subjects being women. The campus was years ahead of the term "bubble". It was so isolated from everything else that interaction with the Twente region also failed. Everything happened on one remote and inaccessible site. In addition, the growth in student numbers never took off as planned. Technical students were also quite "nerdy" by nature, which didn't help boost the female percentage.'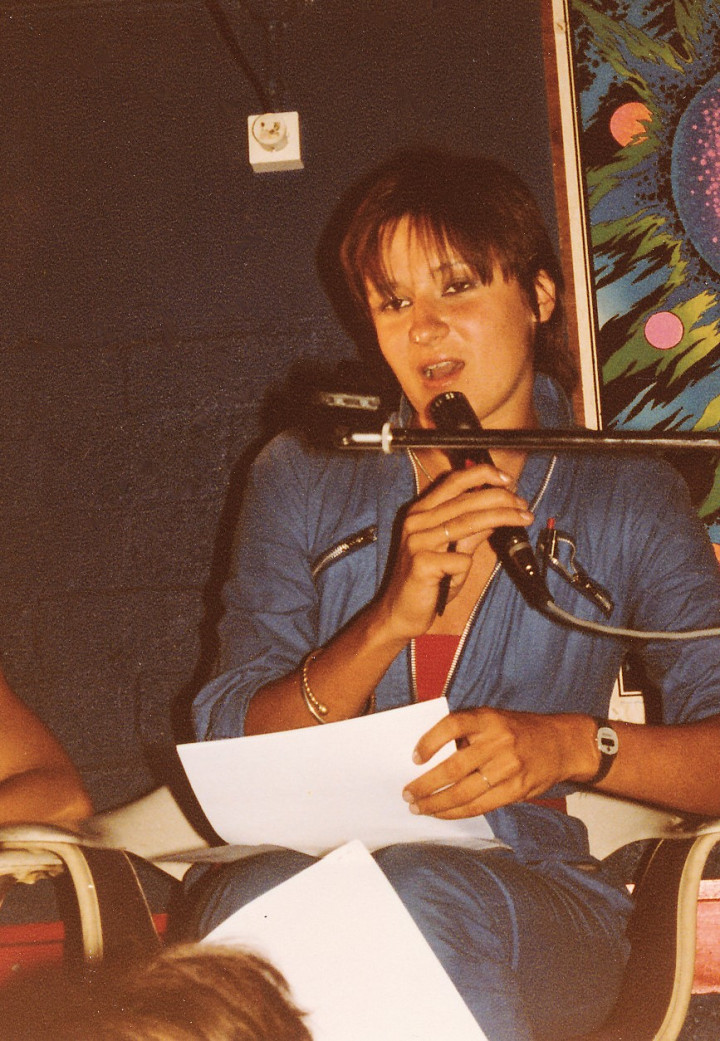 Photo: Eefke Smit is a judge at the Mr Campus elections.
In order to make the campus population more diverse, students from higher vocational education institutions were allowed to come and live there, as well as trainees working in healthcare, or from Twente Airport. The cultural offering also grew to make life on campus more fun. Society-oriented studies, such as Public Administration and Education Science, were also set up. A new Faculty of Medicine and Law was also planned but disappeared to Maastricht.
Following the introduction of the Public Administration and Education Science programmes, Smit noticed the image on campus change, over time, of course. 'The THT wanted to lose that pompous image but did not always go about it very thoughtfully. I remember that the new girls' house was right next to the building where the unmarried scientific employees lived. That was no coincidence, of course. We called that flat the "hunker bunker".'
We were sure you could take good photos in Paris as well, so the association spent a weekend in the French capital. Otherwise we wouldn't spend the whole grant.
Marble club
In the late seventies, Smit was not just one of the first Public Administration students. Under the new University Administration Act, students were now also allowed to participate in decision-making bodies. Contrary to the current University Council, in which students only have an advisory role, students were suddenly also allowed to participate in decision-making. 'Suddenly, anything was possible. And the THT liked to distinguish itself as a forerunner. During my second year of Public Administration, I was catapulted into the THT Council as group chairman straight away. They liked that of course, a girl. They soon discovered the consequences.'
Campus life was also organised democratically and provided with incentives. Smit: 'Money was available for anyone with a good plan. There was a flood of grants for student initiatives. I remember the formation of a marble club, and another group wanted more benches on campus, so they set up a bench association. I was a member of a photography association. We were sure you could take good photos in Paris as well, so the association spent a weekend in the French capital. Otherwise we wouldn't spend the whole grant.'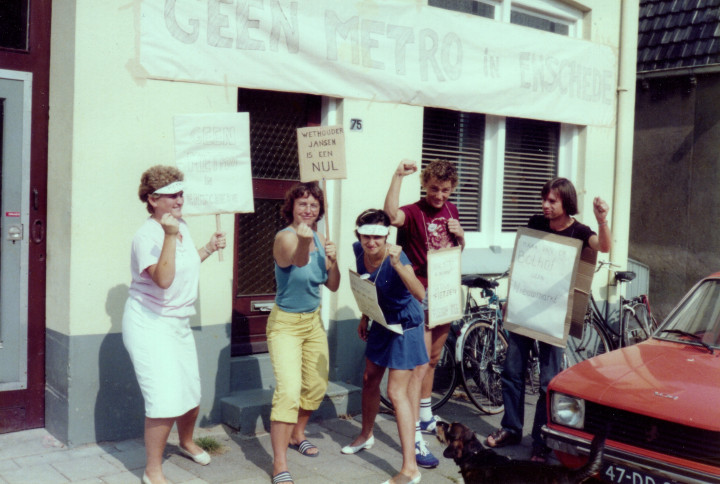 Eefke Smit (in the middle) at a protest against the metro in Enschede.
Smit believes that the sudden infinity of possibilities matched the pioneering spirit that prevailed on campus at the time. 'New professors and lecturers were also attracted by that atmosphere of new adventure. You noticed so much energy everywhere. Everyone was determined to make a success of it after those difficult early years. Twente was dangling at the bottom of the university lists and everyone wanted to do something about that. Because the Board sought to promote the university in those years, fantastic internships became available for us. You were encouraged to do new things and that resulted in prestigious places. That is why I look back on my student days so fondly.'
eefke smit
Born in 1960 in Brabant, arrived at THT as a first-year Public Administration student in 1978. Graduated with professor Kreiken (Business Administration) in 1985 with a thesis on Industrial Policy for High Tech companies. Became a member of the THT Council (1979 - 1981) and then editor of THT News (1981 - 1984). Was awarded the very first THT Stork prize for exceptional student achievements in 1985. Wrote columns under the pseudonym 'Ir Noortje de Vries'.
Wrote about technology and research as editor of NRC Handelsblad and later became an academic publisher at Elsevier. She is now Director of Standards and Technology at STM, a global trade association for academic and professional publishers.]
Not only did Smit meet her husband Joost van der Nat on campus, but she also cherishes the many friendships that arose there. To commemorate forty years of friendship, she returned to the campus in 2018 with some fellow students from that time. 'We were so bold as to ring the bell at all of the rooms we lived in back then. Not all the students were equally pleased.' What struck Smit most forty years later? 'Most of all, how international everything had become. In our day, the issue of diversity was mainly about the relationship between men and women.'
Herman Brood
Not everything has changed in those forty years, Smit says. 'I noticed that the Vestingbar still exists, for instance. I cherish wonderful memories of that. Joost or I regularly come across an 'In Memoriam' notice in the paper of a pop artist who had attracted Joost to the Vestingbar at the time. In those days, there was enough money to bring international artists to Twente. I can still see artists like Herman Brood standing in front of me.'
Four names that Smit remembered from her years in twente
Bert Groenman. 'He was my very first boss ever, that was at THT News. It takes another forty years to appreciate just how important your first boss was. I was an awkward, rebellious case back then, so we clashed regularly, but Bert continues to inspire me.'
Wandi van Leeuwen. 'We were a close-knit duo on campus during our years there. Wandi championed many a cause. She was on numerous boards and was later active in the PvdA, the Dutch Labour Party. Sadly, she passed away much too soon. I think the PvdA would otherwise have had a female party leader much earlier.'
Harry van den Kroonenberg. 'The then rector. The personification of the culture on campus at the time, a genuine pioneer. He had so many good ideas, but he was also a doer.'
Olga Halsema-Fles. 'She impressed me so much because, to me, she was the first example of a woman determined to stand her own in a man's world. I remember having to attend those men's meetings for the first time. She gave me a subtle, encouraging nod when I tried to make a point. I now do the same in comparable situations to encourage young women to start somewhere new. Our Mayor of Amsterdam is lucky to have such a mother.'
In 2003, Joost and Eefke looked back together on their years in Twente, in the Alumni & Relations Magazine. She talked about her efforts to do something about the lack of women on campus. At the time, he used to call her 'the leftiest woman on campus'. Smit: 'That's mainly because there weren't that many women on campus. I was not that radical, really. If I learned anything from that time, it is that if you launch an initiative, it only has a chance of success if it also fits someone else's agenda. Attracting more women to the campus created the potential to increase student numbers significantly. Precisely what the university wanted, which proved a huge impulse. In addition, you learn to realise that all changes take time. At the time, I also worked hard to merge the Public Administration and Business Administration programmes. That did not work out then, but it did happen later.'
Anyone arguing that too few women are available for such positions, is grossly mistaken.
It is remarkable that the struggle many women faced forty years ago is still topical on campus today. The percentage of female professors and lecturers has remained low at the UT, for example. According to some of those women, this is partly due to a lack of support. Smit cannot understand why these percentages are still so low. 'Anyone arguing that too few women are available for such positions, is grossly mistaken. I have written to the UT's Supervisory Board on this matter in the past but have yet to receive a response. They are welcome to call me any time. I know plenty of suitable women and I am also available if necessary. I would like to do something in return for Twente.'