Getting around
The myths about Dutch people being born on bikes are true. The bicycle is by far our #1 mode of transportation. So, if you're here and need to get around, buy a bicycle. It's hard to miss the bikes with the blue front tires on campus. Those are from Swapfiets and cost a monthly fee of €13,50 for students. However immensely popular these bikes are, in the long run they're probably worse for your wallet than a second-hand bike you can find on either the UT Marketplace, Dutch trading website Marktplaats, at numerous bike shops or from sketchy street merchants. Just do the math, you're at a technical university for a good reason.
Coffee
Studying is all about perseverance. Coffee can take you a long way in that regard. The best way to get your hands on a fresh cup of joe – and not having to buy an extra mint chocolate chip pumpkin spice mocha cold brew for €8,50 at Starbucks – is to join the right study association. Thankfully, our former columnist Bas 'The Lister' made an extremely comprehensive listicle.
Food
It's common for Dutchies to eat at home, either alone or with roommates. The campus has a recently renovated supermarket (Coop). If you live outside of the campus, be sure to check out your local grocery store (or toko) for food of your liking. If you don't want to cook for yourself (and others), the Mensa restaurant in the Waaier offers meals for €4,65. Besides, several restaurants in the city center offer daily specials on this website (for students with a more expensive taste). Pro tip: use the Too Good to Go app, if you want to reduce food waste and save money.
Socialize #1
It's an unwritten rule that the person you sit next to during your first class automatically becomes your best buddy. Don't like that person? You're in luck, since the UT has dozens of sports, culture and study associations, all eager for new members. Some sound advice: these upcoming weeks, the associations offer a lot of try-out classes. Don't hesitate to be a window shopper and find out what you really like. To be fair, without purchasing a UnionCard, you won't get anywhere.
Education
Now comes the scary part. If you're not familiar with the Twente Education Model – aka TOM – yet, you'll learn soon enough. TOM is all about modules, project group work and in several programmes you'll probably hear students complaining about an overload of exams. Despite some adjustments over the years, TOM these days is still known as a quite rigid, all-or-nothing system. If in doubt and to avoid stress when you're nearing the end of your first year, make sure to talk the system over with your study advisors and fellow students.
The shitty weather
The possible only good side effect of climate change is that even Dutch summers aren't that bad nowadays. Still, don't expect this weather to last forever, it'll rain before you know it. The Dutch way of knowing is half the battle: install the free Buienradar app. To quote British author Ben Coates:
British people: 'Might rain later, I'll take an umbrella'
Dutch people: 'According to the graphs I downloaded there is a 61.8% chance of precipitation between 9:20 and 9:30am, but if I leave at 9:07 I can avoid it'
Also, if you're going by bike – as advised by us 'experts' – invest in a raincoat. There is no such thing as bad weather, only bad clothes.
Living
Enschede is known in the Netherlands as the city with the cheapest student housing, so prices should be okay here. But if you still think you're paying (way) too much for your room, the Dutch Student Union (LSVb) offers a handy rent check tool. One of the pros of Dutch bureaucracy is that the government doesn't allow landlords to overcharge you, since there is a point system in place. Also check if you've been charged money along the lines of 'administration costs', since landlords aren't allowed to do that.
Traffic
With the overwhelming number of bikes, especially on campus, make sure you know how to behave when cycling. All in all, just don't be a dick when you're in traffic. Reach out your hand to indicate that you're making a turn. If you see red pavement, that's usually a bike lane. And we know the white triangles on the road as 'haaientanden', roughly translated to shark teeth. If you're nearing those, you must yield the right-of-way to all traffic. And for everyone's safety: you should have lights on your bike. Use them when it's getting darker.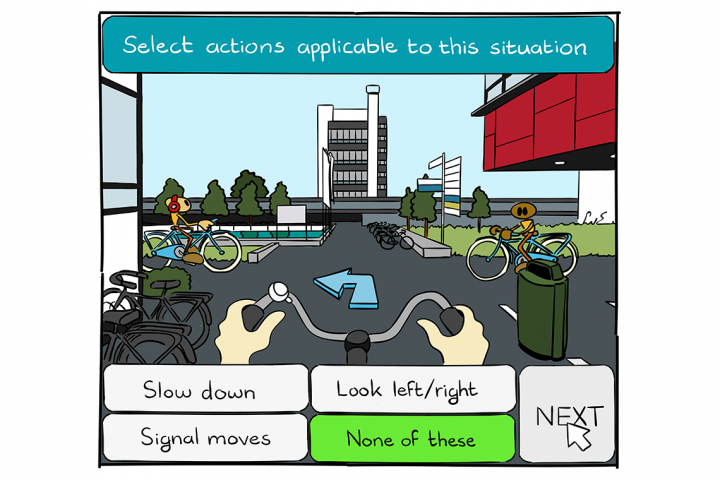 Cartoon by Luuk van Ewijk.
Socialize #2
Ah, Enschede… The city that never sleeps. A bustling metropolis of never-ending over-the-top parties… False. Know what you've signed up for now that you're here. Enschede has never been – and probably never will be – the student city with the most vibrant nightlife. But it's not as bad as some people make it out to be. If you're keen on joining one of the bigger student associations (Audentis, Taste, AEGEE-Enschede and Alpha), you'll probably end up a lot at 'de Pakkerij'. If that's not your cup of tea (or beer), on and around the market square in the city centre (Oude Markt), there are more than enough options to get your fill. Student bars? Go for places like San Remo, Aspen Valley and 't Gat in de Markt. And let's not forget the Vestingbar on campus. Want to drink some craft beer? Go to the trifecta of Proeflokaal België, De Beiaard and Stanislaus Brewskovich. Away from the plethora of beer, you'll maybe stumble upon Rico Latino – for those who love to dance. Or check out the agenda of DHT, a new-ish party initiative founded by UT students. For the more relaxed (and very international) evenings, we heard that Tankstation is the place to be for an evening filled with jam sessions, good food, board games and workshops.
Stay informed
*Shameless self-promotion starts here* As the independent journalistic medium at the University of Twente, you read U-Today to be well informed about anything and everything UT related. So make sure to check out our website, magazine, social media and app, if you want to stay up-to-date.