College Tales
Lukas van Remmerden (22) from Germany, Karl Huggenberger (22) from Switzerland and Sergio Vidal Lopes (23) from Brazil (all Communication Science students) are the founders of the Dance, Hiphop and Techno (DHT) parties in Enschede. Under the flag of 'College Tales' they organised seven parties in one year.
What is DHT about?
Vidal Lopes: 'DHT is the name under which the three of us operate. College Tales is the name of the parties that focus on genres like Deephouse, Dancehall, R&B, Hip-Hop and related genres.'
Van Remmerden: 'We quickly realised that there was a demand in Enschede for more varying parties with different styles. Until we came into the scene, the only place where these music styles could be enjoyed consistently was at some house parties on campus. There you would run into problems such as noise complaints and technical and security issues. We wanted to provide a more professional experience for the public.'
'Here in Enschede we noticed there wasn't enough supply for the demand that we perceived'
Huggenberger: 'The first step in becoming professional was starting our own brand – DHT – with our own style of parties under recognisable names. We met each other in a party committee of study association Communiqué. We quickly realised that there was way more potential than just themed parties with people dressing up, as is common at study associations. Our theme is good music with good friends and good vibes.'
What is your opinion on the Dutch going out scene?
Vidal Lopes: 'It's not bad actually, but the parties in the city feel like the exact same thing over and over again. A lot of Dutch songs are mixed in as well. I can certainly enjoy these types of parties but only once every few weeks or months. To some extent, it feels that the scene is stagnating. In the west of the Netherlands, the supply for more varied types of music styles and parties is there. Here in Enschede we noticed there wasn't enough supply for the demand that we perceived. Especially the demand amongst internationals.'
You just recently had your one-year anniversary party. Would you say it was a successful first year?
Huggenberger: 'Overall it has been very successful. Each time we organise we learn more about providing a better experience. We have feedback sessions after to reflect and act upon what we can improve. It helps, our parties are growing in size.'
Van Remmerden confirms this: 'We can see from our social media engagement that our reach is growing substantially with each party. The parties in Rico Latino especially do well. We are getting a massive increase in attendees. Our anniversary party had around 450 attendees.'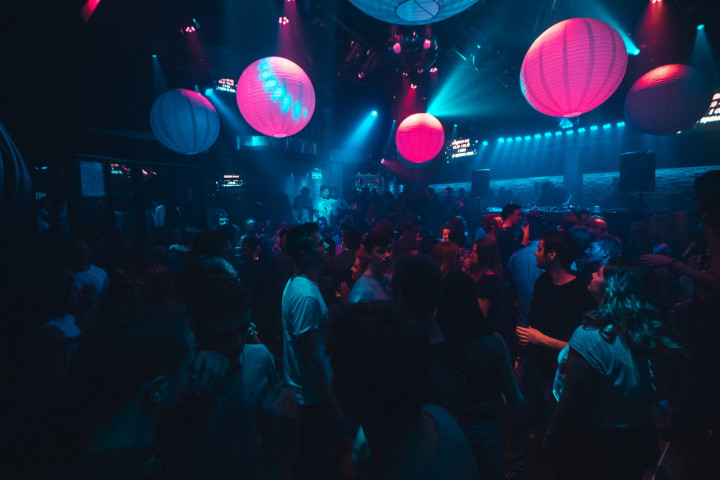 What does the future have in store for DHT?
Vidal Lopes: 'We are going to experiment with different concepts. Now we have the College Tales parties but we want to expand into a different style of party called Wyldfire. The focus of those parties will be on 80's and 90's disco and electric music and 00's old school hip-hop. We have indications that there is demand for this amongst students, so we want to try this out.'
'The parties have zero complications and we receive positive feedback from the bouncers'
Van Remmerden: 'In the future we may also want to get presence at festival stages and we are looking into spreading our brand into other cities.'
What makes you guys happy?
Van Remmerden: 'I am proud! DHT is our baby and we already made it pretty successful. The attendance at the last party with 450 people really made all the effort we put in worth it. We receive so much positive feedback, that makes me really happy.'
Vidal Lopes: 'The good vibes from the crowd that makes the party is what I am in for it. The parties have zero complications and we receive positive feedback from the bouncers. Currently we invest all the money we earn back into our own brand. My dream would be that one day I can make this my day job.'
Huggenberger: 'Sometimes it happens that people invite me to the party I organise myself, that is so cool and I get a nice laugh out of it if that happens! The huge crowd is amazing and I am happy to see that now even people from across the border travel to Enschede to join our parties. Who would have thought that Enschede could be the place to be?'