Rating
Overall rating:
4,5/5 Stars
Buying is surprisingly easy, picking up requires some planning
How it works
The application automatically finds venues in your vicinity that are connected to Too Good To Go. In case of Appèl in the Waaier, you order food for the next day, either lunch (€2.99) or dinner (€3.99). You can pick up your lunch from 14:00 to 14:30, which is lecture hours. Dinner can be picked up from 19:00 – 19:30, therefore planning your meals for the next day is required. You pay upfront via the app, by either IDEAL, PayPal or Credit card. You receive the proof of purchase In-app, at pickup you can cash in your ticket and then swipe the ticket away on screen.
Ordering and picking up the foods is a very smooth experience after you get used to it. Mainly due to the app being user friendly and the staff being helpful with the initiative. The main attraction of the app is that you get a lot of food of surprisingly high quality for a very good price. To think that these foods would otherwise be wasted is confronting. A positive side effect of using the app for me personally is that food waste problems become visible and tangible. It motivates me to be more mindful about food waste.
How it tastes
The food you get is always a surprise. However for the lunch you usually get two pieces of differing breads a piece of fruit and something to drink. In my case it was a cheese croissant and a bread topped off with carpaccio and differing vegetables, the fruit was an apple and the drink was biological milk. It was a shocking wake up moment for me to realise that these foods would otherwise have been wasted. Interestingly the milk still had two days before it would expire, it could be that they added the drinks that were closest to their expiry date.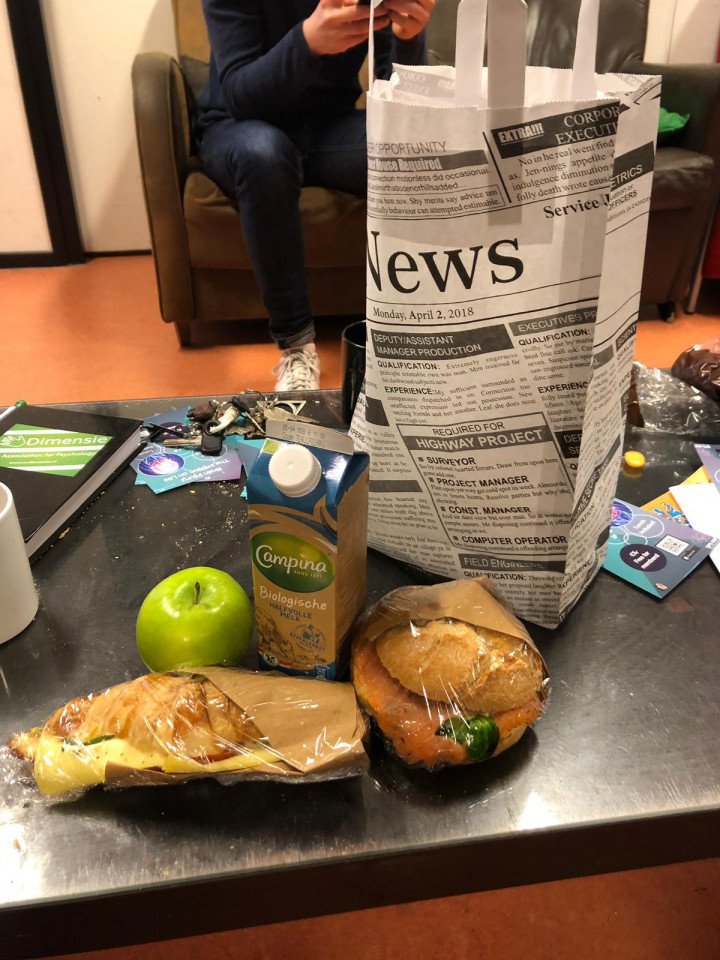 The dinner varies a lot more and consists of a main course, a desert, a piece of fruit and some bread left over from the day. The surprise of the day for me was rice with meatballs and varying vegetables, a nice lemon farmer's custard and a bottle of water. The dinner was very tasty and I am happy I could enjoy it instead of it being trashed. To top it all off they even put in a nice breakfast for me to enjoy the next day constituting of a sandwich topped off with meat and vegetables and a piece of fruit in the form of an apple. How nice of them.
Pros & Cons
For students - who generally do not have very much to spend - this initiative is something to look out for. If I had to nit-pick, more food corners at the UT should join this initiative since food waste is not an issue limited to the Waaier.
For the majority of the population, I believe that the pros far outweigh the cons. Although for some the cons may be a massive deal breaker. All in all I can recommend trying out Too good To Go.
to summarize
Pros
Every day is a surprise meal
The food is relatively cheap. 3 euro's nets you an average of 8 euro's in value
Ordering via the app is very easy
Multiple payment methods
Active participation in reducing food waste
The initiative fits the green image of the University of Twente
Cons
Every day is a surprise meal
No way to choose for specific dietary wishes such as vegetarian/vegan
No checks for allergies (The app informs you to ask the staff)
Pickup times are during lecture hours or later in the evening
It is still a bit cheaper to go to the supermarket and buy foods in bulk
Options at the University are currently limited to the Waaier