'Sometimes inventions are not successful due to political and social reasons'
Ruud Verdaasdonk, Professor of Health Technology Implementation, and lung physiologist Frans de Jongh have worked on quite a list of COVID-19 projects: new types of ventilators, a breathing hood, a modified snorkel mask for COVID-19 patients and a facemask alternative known as the 'beekeeper hat'. While some of their solutions never made it to the clinic – often due to 'either regulations or political reasons', as De Jongh says -, others are available to the public.
Ventilators
From the get-go, the UT scientists' projects were driven by the current problems caused by the pandemic. When there was a lack of ventilators in the beginning of the crisis, the researchers investigated how to use one ventilator for two patients at the same time. 'We worked long days and eventually we were able to find a solution,' says Frans de Jongh. 'At the UT TechMed Centre, we had artificial lungs we could use to test anything we needed and we prepared a report for the Intensive Care Association. Our solution worked but we warned it should only be applied in case of emergency because it couldn't be made patient specific. Luckily, the solution didn't need to be applied in the Netherlands, because enough ventilators were supplied by then.'
'Around the same time, there were a lot companies aiming to design and produce simple ventilators – basically balloons squeezed by artificial hands that press the air out,' adds professor Verdaasdonk. 'Several companies asked us to validate this solution, but by the time we were done testing and had one solution that actually worked well, there was no need for these devices here. However, the company actually sold some of the devices to countries in Africa, where real ventilators are too expensive to use.'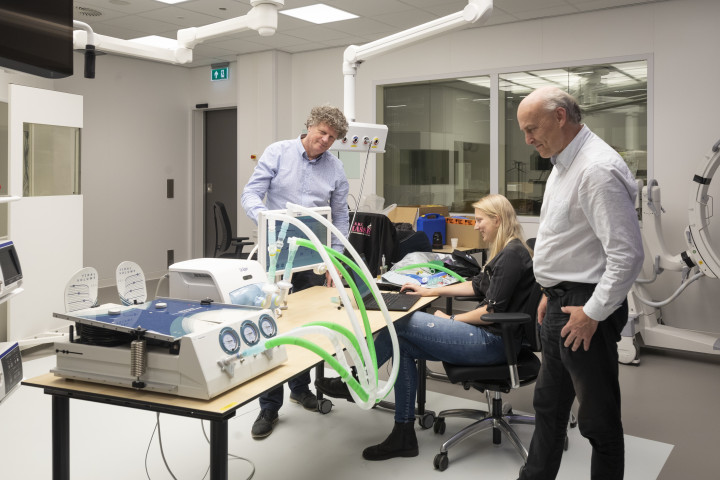 Decathlon mask
Their next projects followed a similar path. The scientific duo made prototypes of a 'hood' to support breathing of COVID-19 patients. 'These hoods were being used a lot in Italy, but they didn't export them, since they were all needed there, and so we were essentially trying to replicate their solution,' explains Verdaasdonk. 'We did the full risk assessment and fulfilled all the requirements, but when it was ready for clinic it was not needed anymore. The same goes for the Decathlon mask.'
The 'Decathlon mask', alias a snorkel mask modified into a breathing support for COVID-19 patients, made quite the splash in the national media. The UT scientists developed a prototype ready to be tested on patients. 'But we didn't get the ethical approval, because the mask didn't have a medical certification,' says the professor. 'However, we showed that the mask could also work as protection for health workers. It is air tight. The mask is equipped with a little ventilator that refreshes the air all the time. The ventilator runs on battery that can be easily recharged by the same power bank you use for your phone. I could imagine bringing it to the market in the future, but we'd need to get medical approval which could take years.'
Face masks
Ruud Verdaasdonk's special face-covering, the 'beekeeper hat', actually made it to the market. It was mass produced and accessible to the general public. 'But there were challenges as well,' says the UT professor. 'We started using the mask with choirs who could use it to practice and sing together. It worked well, but due to regulations they weren't allowed to get together anyway. If they couldn't come together, even with the masks, why would they buy the masks?'
'Sometimes inventions are not successful due to political and social reasons,' adds De Jongh. 'Public wasn't really open to wearing masks. In the Netherlands people simply weren't willing to wear the better and more restrictive masks like in Germany, for example. After our research into effectiveness of masks, we therefore suggested that it was better to ask people to use the simpler masks, which they were more likely to wear. I hope these insights helped to improve the government regulations. We were in media a lot and sometimes media is more powerful than science.'
'The results will really help to make healthcare better'
Richard Boucherie, Professor of Stochastic Operations Research, and his team are experts on healthcare logistics, specifically on models to optimize logistical processes in hospitals and homecare. At the very start of the pandemic, they decided to relocate all capacity and fully focus on issues caused by the corona crisis.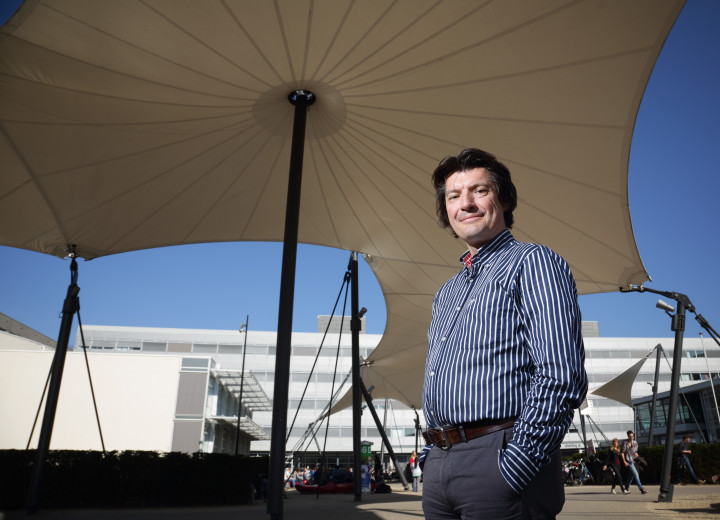 Richard Boucherie. Photo by Gijs van Ouwerkerk 
Tools for hospitals
'We developed software and models to optimize appointment schedules for hospitals,' says professor Boucherie. 'For example, Sint Maartenskliniek in Nijmegen used our ideas to optimize their care during the pandemic. One of their key problems was balancing appointments under the 1.5-meter distancing rule. If patients had several appointments a day, they'd often wait in the hospital, resulting in too many people in the waiting rooms. We also built a tool to predict the number of patients hospitalized in the COVID-ICU and other wards a few days ahead of time. This was implemented in several hospital capacity management systems.'
High pressure
All of this was done under very high pressure, stresses Boucherie. 'Hospitals did use our ideas, but not necessarily our software. We wrote papers on our models and scientifically we learnt a lot, but there was simply too much pressure on healthcare organizations to improve their logistical processes while struggling with the daily challenges during this really difficult period. It was very tough on everyone.'
Because of the enormous strain on healthcare, not all solutions developed by the UT team could be applied (yet). 'We also developed a model to restart hospital care during and after the pandemic, which has not been used in full capacity yet, because hospitals devoted all resources to the daily care,' says Boucherie. 'I'm very proud of our team that kept going and helping hospitals. I think the results will really help to make healthcare better, which motivated us a lot. Hospitals didn't have the space to change their software systems, but I hope we will continue these developments to be prepared for the next pandemic.'
'It pushed us forward'
During the very first lockdown in 2020, (now former) UT researchers Pepijn Beekman and Dilu Mathew came up with an ambitious plan: to develop a fast (corona)virus detection system that shows results within a few minutes and that can be used at airports, festivals and other locations where people gather. And they aimed to have it on the market within one year. They were confident that they could use their patented nanosensor, originally intended for detection of cancer biomarkers, for detection of viruses.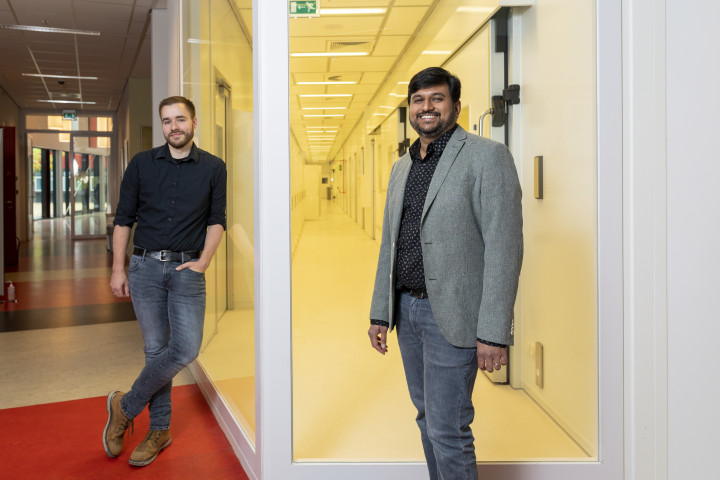 Pepijn Beekman and Dilu Mathew. Photo by Rikkert Harink 
Pandora's box
Realization of this plan has come with a few challenges. 'Starting this project was a bit like opening a pandora's box. We took three steps forward and two steps back,' says Dilu Mathew, who – just like his colleague Beekman – is now fully focused on their start-up ECsens and no longer works at the UT. 'We have a partner in Hengelo, a high-tech biosensing lab, where we need to run our measurements. That means our measurement system needs to be taken to their lab. However, our usual setup is huge and cannot be transported. It therefore needs to be scaled down. That has been a challenge for us. Essentially we had to develop a new system from scratch and there have been many logistical problems along the way.'
'It is a technical challenge, indeed,' adds Pepijn Beekman. 'We would love to run the measurements in our facility at the UT, but that is not allowed. We naturally can't bring infectious samples to the university. We are considering starting our own lab, but that would require a big investment. Another challenge has been getting enough people to help us in the lab. Recruiting has certainly been a hurdle, but we have recently acquired substantial funding, and so we are confident we can soon get more people and move faster. Our project is progressing, and we're dealing with these challenges one at a time. It was crazy ambitious to begin with.' 
Good opportunity
Despite these obstacles, the scientists don't regret switching gears and moving towards coronavirus research. 'It has been a good opportunity for us,' says Beekman. 'It allowed us to go through all the steps of bringing an invention to the market. We now have a prototype that is much closer to a real product than anything in an academic lab. We are confident in our results and want to run the measurements this year.'  
'It was still a nice opportunity,' agrees Mathew. 'It pushed us forward. We now have a scalable system and we aim to use it also for other pathogens and other viruses than only COVID-19.' 
'This technique provides details on quality and type of antibodies'
Professor Marcel Karperien and Richard Schasfoort first started working on COVID-19 related research independently. As soon as the novel coronavirus emerged, Schasfoort started working on a test that measures the presence of antibodies and therefore determines the exact stage of the disease. At the same time, professor Marcel Karperien's team was developing a test for measuring immune response of severely ill COVID-19 patients. As their work was closely related, the two UT scientists soon decided to join forces.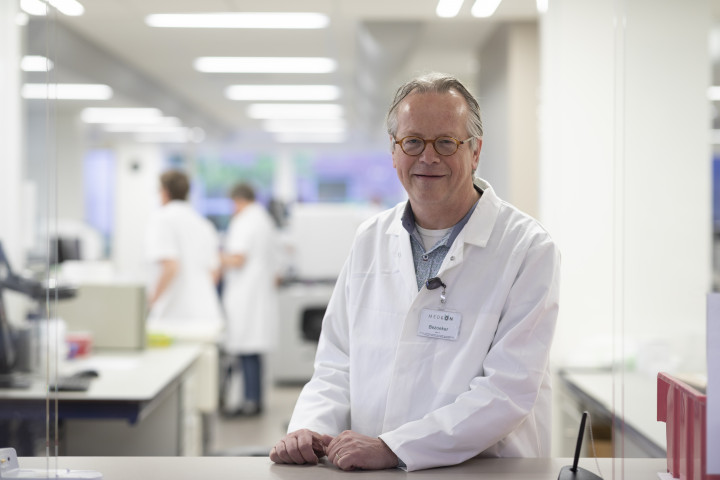 Richard Schaasfoort. Photo by Rikkert Harink. 
'We have been working on using surface plasmon resonance (SPR) for detection and profiling of COVID-19 antibodies in patients,' says Schasfoort, researcher at the Medical Cell BioPhysics group. 'And we have been quite successful. We have used this technology to get a lot of data and we have been able to detect antibodies affinity. There is no other technique that can do it as well as ours.'
Clinical device
'We have collaborated with MST, which allowed us to collect data from COVID-19 patients since the start of the pandemic. We have discovered that critically ill patients have a lot of antibodies, but of low quality,' explains professor Karperien. 'We were able to introduce SPR to hospitals for the first time. We have shown that using this technique is possible and reproducible. It could be developed into a new measuring technique which could be useful in context of other diseases as well. We have obtained powerful data that allow us to move forward with this. We can demonstrate that this technique provides details on quality and type of antibodies, information that we cannot get with any other method.'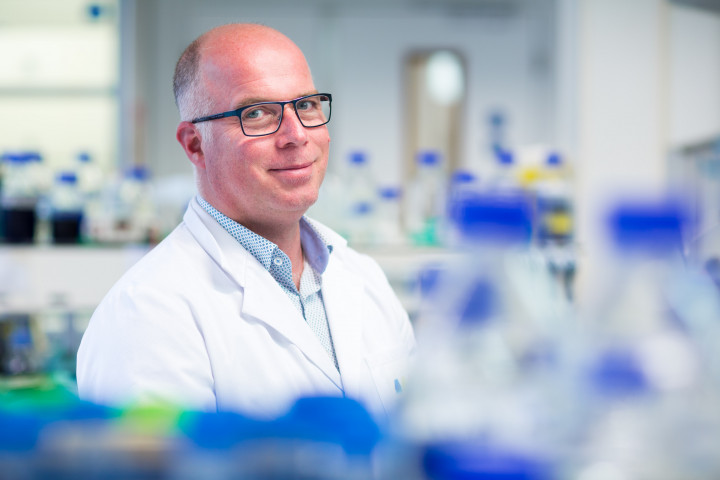 Marcel Karperien. Photo by Gijs van Ouwerkerk 
The scientists are currently working on a clinical SPR device to be used in hospitals. 'It is in development and we have asked for subsidy to be able to continue with that,' says Schasfoort. 'However, once that is available, this pandemic will be over. We can of course use this method for the future pandemics. We will definitely continue with the development of this instrument for the clinic. We were able to write three papers on the topic and we have shown that we can measure patient samples – and that the technique can be used for other diseases than COVID-19.'