We start the interview with a PowerPoint presentation. Professor of Health Technology Implementation Ruud Verdaasdonk and lung physiologist Frans de Jongh have been involved in so many COVID-19 related projects that a clear overview is needed. 'We've worked like mad for many weeks,' says De Jongh. 'At the start, we were contacted for so many projects, together with Remke Burie we had to prioritize those they seemed most likely to succeed.'
Not enough ventilators
The scientists were working on urgency, often switching projects from one week to the next, focusing on the most pressing issues caused by the corona crisis. 'When the pandemic began, the main worry was whether there would be enough ventilators for COVID-19 patients in hospitals,' explains Verdaasdonk. 'That is why, as our first project, we investigated how to use one ventilator for two patients.'
Using a test lung in the TechMed Center, they found a way to do that. 'We have proven that the dual patient ventilation works as an ultimate rescue option, but – in the meantime – more ventilators were purchased by the government and the emergency was diminished.' This solution therefore hasn't been applied in practice yet.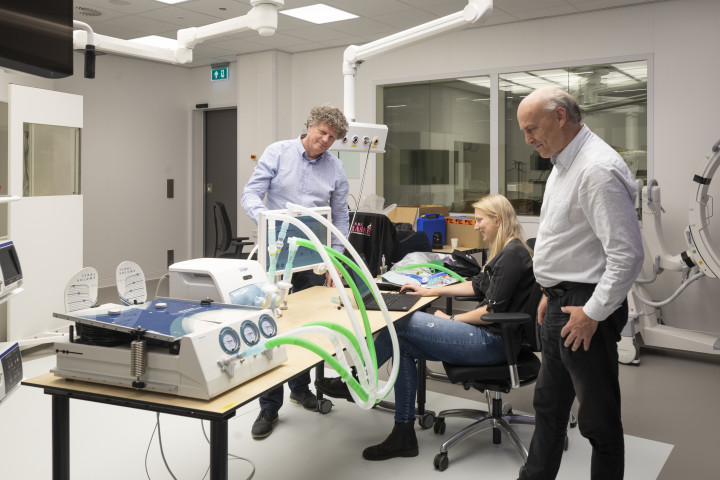 The scientists working on the dual ventilation using the test lung 
Snorkel mask to the rescue
The researchers also attracted national attention with their efforts to use Decathlon snorkel mask as breathing support for COVID-19 patients. 'They are connected to the professional ventilator via a special 3D printed adapter, so patients can wear that instead of having a tube down their throat,' says de Jongh. 'We did a lot of tests and the mask worked well, but we weren't able to get it officially approved as a medical device. That process normally takes years and, because there are now enough ventilators, this is no longer a priority.'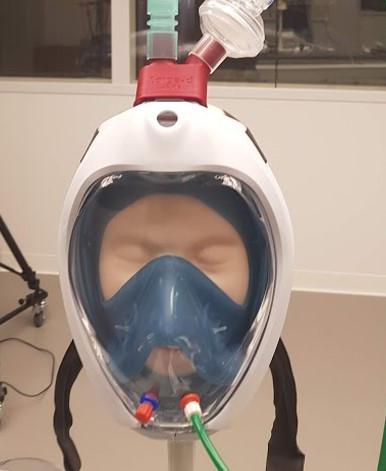 Decathlon snorkel mask adapted as breathing support
 'There are other, similar masks used for other medical purposes. They function essentially the same, but they are made of official medical components, unlike ours,' says Verdaasdonk. 'We couldn't use official medical components, because they were nowhere to be found. We had to puzzle and use what was available.' And so, even though the Decathlon mask worked and similar solutions are used in other countries, the UT scientists had to 'leave this innovation behind' for now.
                            'It's been a bit of a rollercoaster'
The researchers hope similar faith doesn't await more of their recent projects. 'It's been a bit of a rollercoaster,' says de Jongh. 'We worked really long days, testing ventilators and masks. We thought we were working on saving lives, but now we are afraid it will all end up on a shelf. When it became clear there were enough professional ventilators, it felt a bit like somebody pulled out a plug on us. However, our work can be used if necessary – for example in other countries or if there is a second wave.'
Breathing hood
In the initial race to provide ventilator alternatives, Verdaasdonk and De Jongh tested 'a ventilator balloon', a simple device that can be tailored to the needs of every patient, is easy to operate and is much cheaper than regular ventilators. They also came up with a new design for a 'hood' for breathing support of COVID-19 patients. 'There are other hoods like that, but in cooperation with PCV Group we came up with design combining the better features of other designs. The prototype works well and we are satisfied with the results. It could be potentially brought to the market, everything is ready for that.'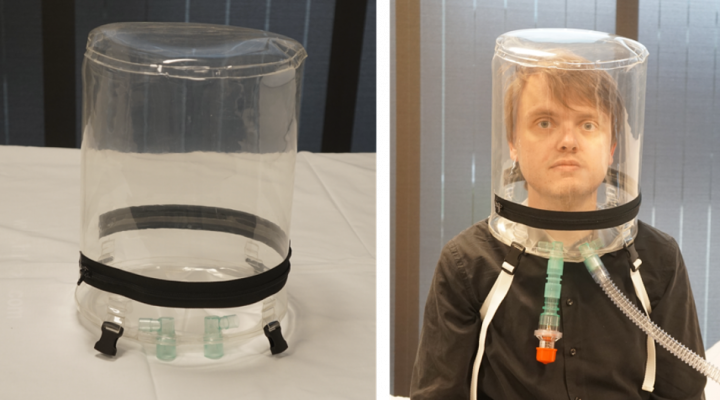 The breathing hood 
Beekeeper hat
Still working on urgency and focusing on what is needed right now, Ruud Verdaasdonk has come up with yet another coronavirus related creation. The 'beekeeper hat'. This special garment serves as a protective facial mask, while not hiding your face, and could come in handy in the '1,5 meters society', explains the professor.
'I was thinking of how to make close interaction more socially friendly and still safe. If everyone wears masks, it can be difficult for social interactions, especially for people with mental disabilities. For instance, elderly with dementia don't understand what is going on and appreciate seeing your face. So I decided to design something a bit fashionable that people would wear and still be protected.'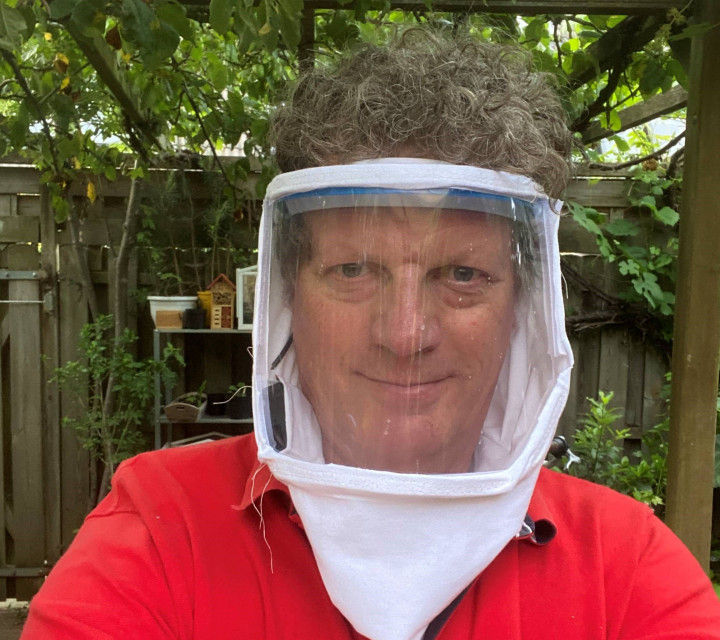 Ruud Verdaasdonk wearing the latest design of his 'beekeeper hat' 
Professor Verdaasdonk is currently looking for investors, who might be interested in producing these hats. 'There is nothing exactly like this on the market. The hat is fully closed, but it has a small ventilator to blow fresh air straight to your face and make it comfortable. The ventilator is battery connected and can last several hours. I believe this would also be a good solution for police officers, because it would be easy to match with their uniform. Currently we are testing the hat with professional singers.'
                            'You couldn't predict what you would be doing next week'
Even though they've encountered a lot of challenges and setbacks, the UT scientists don't regret all the work they have (and continue to) put in during the corona crisis. 'It was a lot of improvisation and you couldn't predict what you would be doing next week, but we couldn't just sit and wait. Sitting at home just wasn't an option.'