'Everything, and I truly mean everything, will change.' With these words Dijkgraaf opened his talk to a packed crowd. 'The climate crisis, energy transition and new technologies such as AI are radically altering our lives. The manner in which everything you observe will be produced, transported, cultivated and conceived is changing. And it's happening at lightning speed, too. Can our society even cope with such rapid transitions?'
Dijkgraaf is confident of this. 'Enschede has previously shown that large-scale change is not only possible, but can also lead to a better world. The city that floated on the cork of the textile industry reinvented itself. Old industry sublimated into high-tech. From cotton and linen to quantum and lasers. Knowledge became the new cork.'
An antidote for crankiness
The politician spoke to several students in Enschede earlier in the day - before joining the procession from the town hall to the theatre. 'I saw a generation of young people who have a very good sense of where we are going, who naturally seek cooperation and who embrace the promises of new technology. Such a promising outlook on the future is something I wish for everyone. An antidote against the crankiness that has taken root in so many places in our society.'
The crankiness to which Dijkgraaf refers can also be found in education, where there is a lot of dissatisfaction. To improve this, he listed three points that he believes could and should be better. 'First of all, the cooperation within our knowledge-based country. The Netherlands' basis is wonderful. Our strength lies in our cohesion. A century and a half ago, there were thousands of looms in Enschede. The warp was the threads that were stretched lengthwise, the weft the threads that were woven between them with a shuttle, from left to right and back again. The fabric derived its strength from the quality of each thread individually and from the connection between all those threads. The same holds true for the Netherlands as a country of knowledge. We can strengthen the fabric both lengthwise and breadthwise. By length, I mean the threads that connect the various forms of education – MBO, HBO and WO - with each other and the companies and social organisations in the region.'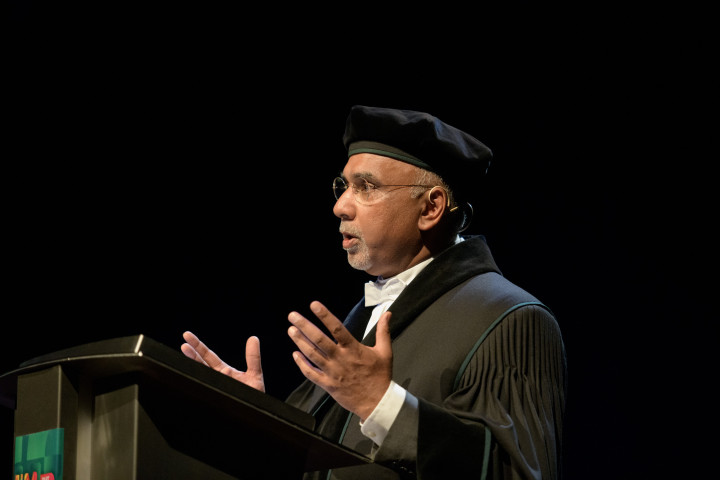 Equal opportunities
The core of Dijkgraaf's second point mainly lies in valuing vocational education. 'How do we give every unique talent equal opportunities to develop themselves? You can read the history of education as a permanent underestimation of the potential in our society. As a careless handling of people,' the minister said. 'There are more jobs than there are people. And the imbalance is only worsening. We desperately need every talent. For our prosperity, for the energy transition, education, care and all those other places struggling with major structural shortages. A further emancipation of vocational education, both MBO and HBO, is essential for this. This starts with the realisation that we have systematically undervalued these forms of education as well as their students and teachers. In our manners of speaking in terms of lower and higher. But also in the disinterest from academia in the unique power of vocational education.
His third and final point of improvement regarded the boundaries within ourselves. 'It is ingrained in human beings to seek these out and push them. The human mind has the unique gift of being able to invent something that wasn't there before. Only creativity can make something out of nothing. We need to encourage such positive forces much more in education. Being creative, developing resilience and adaptability, dealing with uncertainty and stress, cooperating with everyone, no matter the differences. No chatbot can compete with that.' In closing, Dijkgraaf addressed the region. 'Twente proves that improvement is possible on all three of my points. By strengthening the knowledge fabric along warp and weft. By maximising every talent in the range. And by further developing the skills of the future. Above all, proceed with courage,' he ended his story.
Ten years ago
Dijkgraaf's keynote was preceded by a welcome address by president of the Executive Board Vinod Subramaniam, who mostly echoed the minister's words. Subramaniam opened his talk by touching on the special location: the Wilminktheater in Enschede. 'The last time we held the opening in the centre of Enschede was exactly ten years ago. In those ten years, the UT has grown considerably, with about 30 per cent more students and 30 per cent more staff. It's an important development in line with our conviction that we need to make a meaningful social impact, by training our share of the tech-savvy talent required to tackle the major transformations that we face.'
Before handing the microphone to Dijkgraaf, Subramaniam did not address the debate on internationalisation for the first time, a topic that is causing a lot of unrest on campus. 'Of course, this is an issue that affects me personally. We are an institution that is closely involved with our neighbours in Europe and with the world. We are international. For our international staff and students, the current discussion sometimes feels like a blatant disregard or lack of appreciation for what they have to offer our community and society as a whole. To my international colleagues and students: I can only reiterate and emphasise how much we appreciate your presence and contributions to our community in every way.'
---
Numerous awards were also handed out during the Opening Academic Year. Find out to who here.