It's not every day that a car escorted by police arrives at the ITC building. Today proved an exception to that rule, since ITC invited both Princess Margriet and her husband, former UT practice professor (praktijkhoogleraar in Dutch), Pieter van Vollenhoven. The reason: the opening of the brand new Centre for Disaster Resilience, as part of the celebration of ITC's 70 year anniversary.
The special connection between the royals and ITC was strengthened in 2018, with the establishment of the Princess Margriet chair, a joint initiative of the UT and the Red Cross for the princess' 75th birthday. Maarten van Aalst holds this chair since 2019, as Professor of Spatial resilience for Disasters Risk Reduction. Today, he mentioned the special honour of having the princess visiting ITC again. 'The establishment of the chair has made the topic of resilience and risk reduction grow within this faculty. And our connections with the Red Cross have also grown.'
Better to prevent than to cure
Van Aalst then gave the word to Pieter van Vollenhoven, former chairman of the Dutch National Safety Board. 'Today is the first time my wife and I will speak at the same symposium,' he jokingly mentioned. 'And it's about a topic that we both have been passionately working on for years: safety.'
His main message, after sharing examples of the introduction of the safety belt to the Space Shuttle Challenger disaster: 'If you want to improve safety, you need to hold up a mirror to society. You have to convince society what's best for them. And that is that it is better to prevent than to cure.'
His wife, Princess Margriet, agreed with those words. 'Yet, people are not aware of this. We have to move from re-act to pro-act. And that requires a different approach. I believe this Centre for Disaster Resilience can help with that, by combining science with practice.'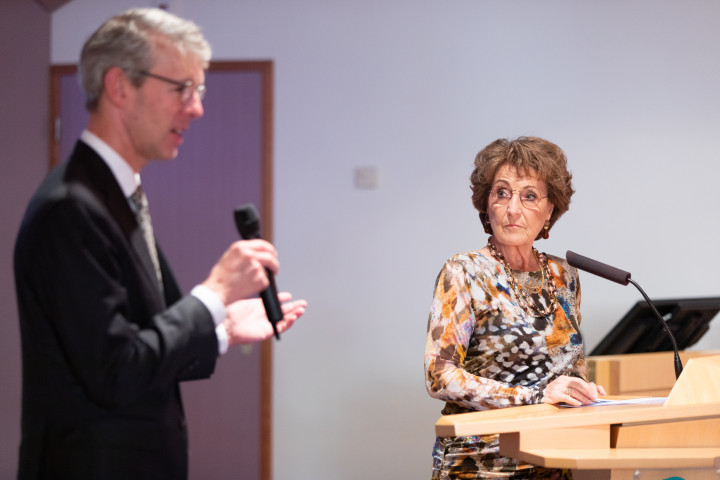 Vast network
Once she officially opened the centre with the push of a button, the centre's coordinator Irene Manzella talked about the practical side of things: the role and goals of the newly established centre. 'Besides improving ITC's visibility, we want to share knowledge, by making it useful and useable. For instance, we're working on further developing the open-source RiskChanges platform, to better help analyse risks. More importantly, this centre is a coordinated effort to reach out and connect. It's important for us to carry out the strength of ITC: the vast network of connections around the globe that we've built over the past seventy years.'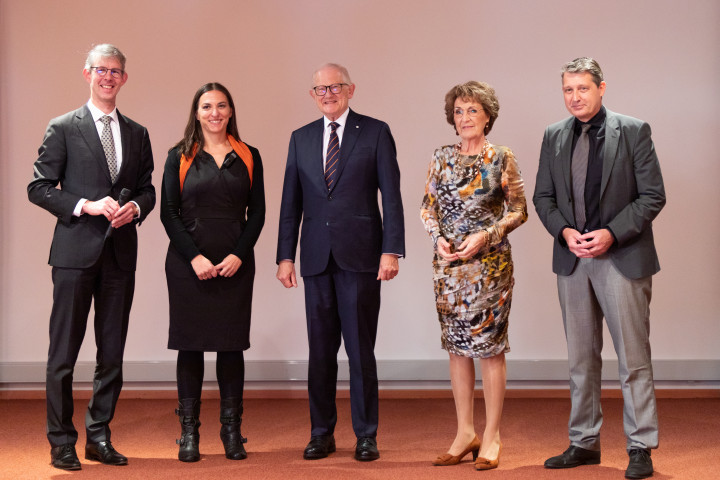 From left to right: Maarten van Aalst, Irene Manzella, Pieter van Vollenhoven, Princess Margriet and ITC dean Freek van der Meer.