Brinksma Innovation Grant
Professor Kees Venner is the winner of the third Brinksma Innovation Grant (BIG). The BIG is named after former UT rector Ed Brinksma and is handed out to a member of the academic staff with the best proposal to design and/or test an 'innovative didactical concept'. Venner's proposal is about a phenomenon called 'TWIN-teaching'. The concept: having a second teacher at a lecture, who is placed in the audience among the students. Being part of the audience he or she can sense when there is the uneasiness of 'not understanding' around or when focus fades.
With this prize, Venner not only gets a small trophy, but also the opportunity to explore this concept during the period of one year.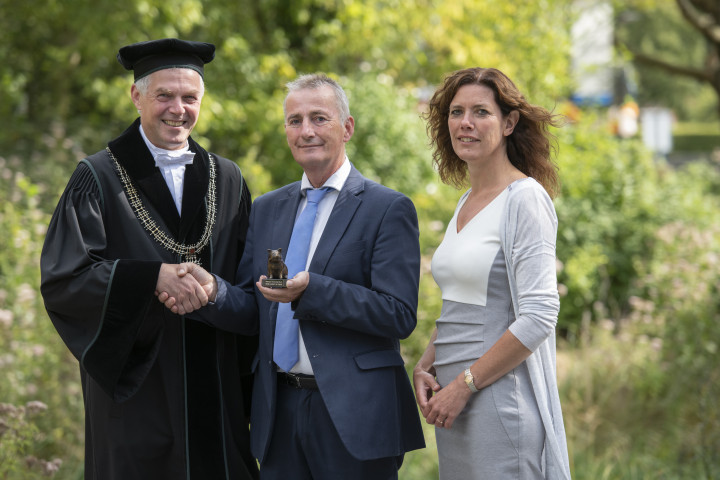 From left to right: Rector Thom Palstra, Kees Venner and Marjolein Dohmen-Janssen (vice-dean education at ET).
Graduation Awards
Rector Thom Palstra handed out graduation awards to excellent Master's students to honour their achievements. Six recently graduated students – one per faculty, with an exception of two winners at the EEMCS faculty – received this award consisting of a certificate and a cheque of €1000. This year's winners are: Alice Fox (BMS), Henk Koopmans (ET), Linde Olde Olthof (ST/TNW), Shashwat Shukla (ITC) and Hannah Pelikan and Erwin Hardeveld (both EEMCS).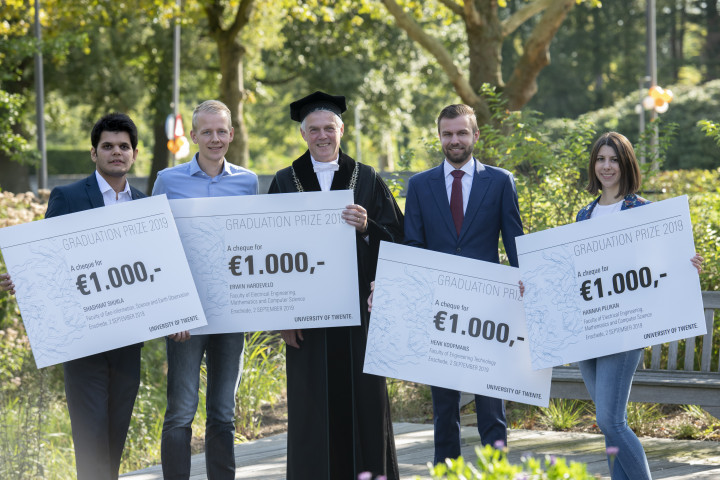 Teacher of the Year
After winning the finals of the Education Award back in June, today it was time to make it official for Ipek Seyran Topan, who is a teacher at International Business Administration. She received a certificate as well as a cheque of €2500.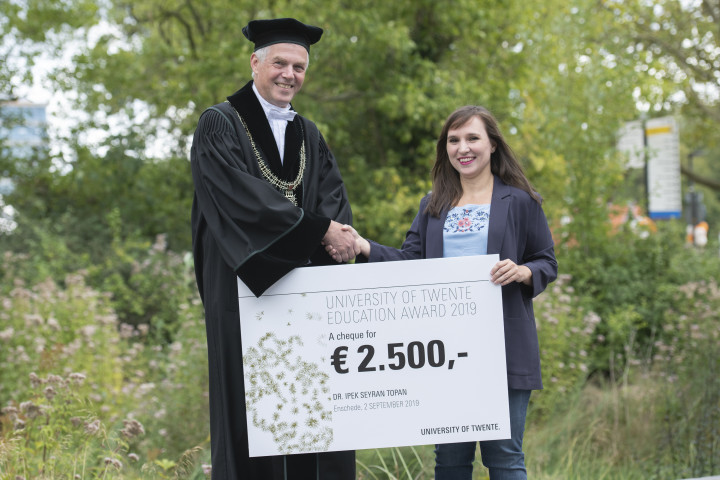 TGS Award
Patricia Reyes is the winner of this year's Twente Graduate School Award, worth €2500 as well. Read more about her research in this interview.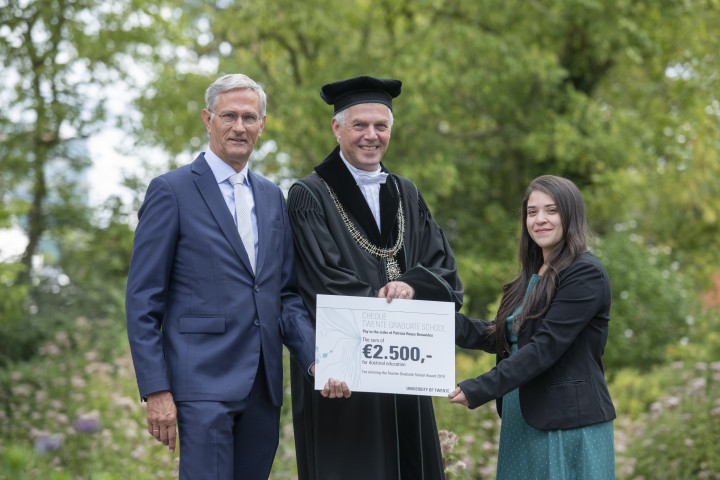 From left to right: TGS director Paul van Dijk, Rector Thom Palstra and Patricia Reyes.