Studios Hogekamp tower finished
The first residents of the new housing units in the tower of the Hogekamp move into their accommodation from August. It concerns 48 so-called 'micro apartments' from Camelot, the company that also manages the other housing units in the building.
De 48 nieuwe woningen in de toren zijn voor dezelfde doelgroep als de andere 444 studio's in het gebouw, vertelt Rosalien Martin, communicatiemedewerker van Camelot. 'En dat zijn de internationale studenten. De net opgeleverde woonruimten zijn groter dan de reeds bestaande studio's. Daarom ligt de prijs iets hoger. Wel vallen de nieuwe studio's binnen de huurtoeslaggrens. Vanwege de grootte denk ik dat de woningen ook interessant zijn voor promovendi en andere medewerkers. En ze zijn geschikt voor stelletjes.'
De nieuwe studio's zijn zes meter hoog en voorzien van een (slaap)vide. Ook hebben de gemeubileerde woningen, net als de andere studio's in de Hogekamp, een eigen badkamer en keuken. 'De eerste bewoners krijgen een short stay contract tot januari. Daarna zijn de woningen beschikbaar voor een periode van één jaar.'
Op de begane grond van de toren bevindt zich nog een grote vrijstaande ruimte. Wat er met deze ruimte gaat gebeuren, is nog niet bekend. Wel is zeker dat het bestemd is voor een commerciële partij.
Vanaf augustus 2018 verhuurt Camelot 444 studio's in de Hogekamp. Het gedeelte van Camelot in de Hogekamp luistert tegenwoordig naar de naam Campus 053. Sinds kort prijkt de nieuwe naam met grote letters (en cijfers) op het dak van de toren.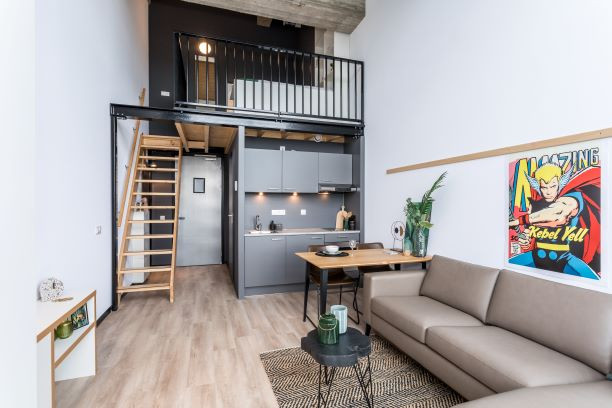 (Foto website Camelot - zo zien de nieuwe studio's in de Hogekamp eruit)