Most of the residents are back at Hogekamp by late afternoon. Two students are playing table tennis in the common rooms. Slightly further on, residents are studying at high tables. Among them are Isabella Morillo (20) and Paloma Roldan (20). They are both from Spain and are on an exchange programme at the UT. They recently arrived at Hogekamp. 
Morillo: 'It's very hard for international students to find a room in Enschede. I've been living at Hogekamp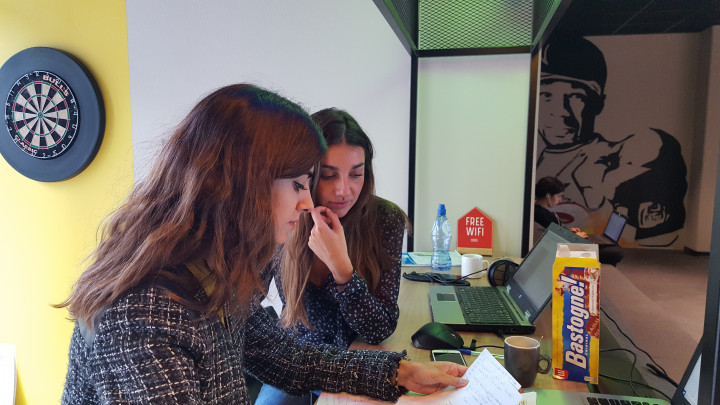 since the beginning of September and I'm satisfied with it. Most of the residents gather in the common room in the evenings. That's how I've made lots of friends easily. The rooms are fine, although slightly expensive. It wasn't easy to set up my contract over the internet: the links sent by rental company Camelot, which I had to click on, often didn't work. Why I chose Twente? I'm half Dutch, half Spanish. That's why I wanted to study in the Netherlands.'
Roldan adds: 'I also wanted to come to the Netherlands. After my second visit to Amsterdam it was clear to me: the Netherlands is the best country ever, I have to go there. Hogekamp suits me. I have to walk a few metres to class and the rooms are comfortable. Construction is still in full swing, but luckily I'm on the other side of the building. The noise from the construction site is very loud in the Vrijhof during class. Once I finish studying I want to stay in the Netherlands for some time to work. Preferably in Amsterdam, by the way.'
Student budget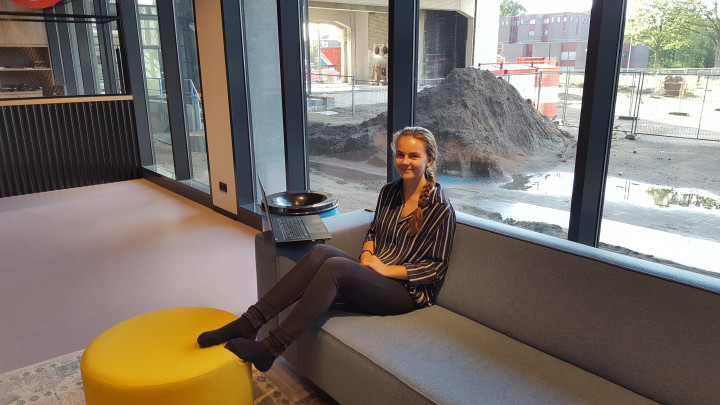 Rebekka Birkov (21) is sitting on one of the lounge sofas further on. Her laptop is on her lap, her feet on a pouffe. Birkov is from Denmark and is on a Civil Engineering exchange programme. She will be in Twente for six months. 
Birkov: 'I like sitting in the lobby. It's a good place to socialize. My experience with Camelot has been a good one, but I've heard that not everyone is happy. I didn't have any problems with the contract. They were rather slow though. It's a good thing I was in time. Of course, it is quite expensive: 600 euros rent a month and a 2000-euro deposit don't really suit a student budget. But this amount is normal in Denmark too.'
Construction alarm clock
Patrick Young (22) is following a master's programme in Mechanical Engineering in Twente. He is from the United States, but has Dutch and German roots. As he walks into his room, he quickly pushes some clutter aside. The room looks modern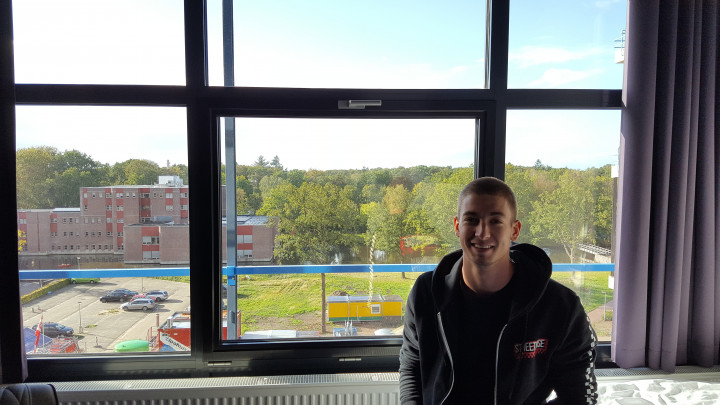 and has its own bathroom and kitchen. Young gazes out over the campus from his double bed. He is renting through Airbnb; Camelot rents out some of its studios via the online platform.
Young: 'I'll get a contract with Camelot in January. I currently pay about 900 euros a month. Thankfully my parents can afford it. When I get a contract from Camelot it'll be cheaper. But please note: I love it here at Hogekamp. It's a good environment for students and the studios have all the facilities. The construction noise? I regard it as my alarm clock. I find it motivating.'
Young continues: 'I also rented through Airbnb during my first month in Twente. That was somewhere in the south of Enschede. The owner watched over everybody very closely there. He had even placed microphones. Very creepy. It's hard for international students to find a good room. At the municipality a lady at the counter said that students who are going to study in Enschede next year are already looking for a room.'
Hogekamp
Hogekamp used to be home to the Faculty of Electrical Engineering and Applied Physics. Last year the concrete colossus was thoroughly renovated. Now the building houses 445 student studio flats. Rental company Camelot requires a deposit of 2000 euros for each flat. The rental expenses are at least 417 euros per month (excluding extra expenses). The students receive a fully furnished studio in exchange. The rental company mainly targets international students, but Dutch students will also be welcome starting next year.
Problem-solvers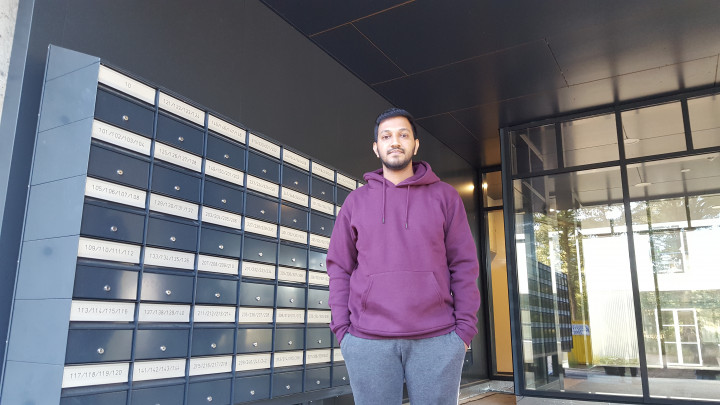 Jithin Kozhuthala Veetil (27) from India is taking a stroll outside. He is standing next to the letter boxes. Everyone has their own letter box at Hogekamp. It allows you to apply for rent benefit and that can easily save you a couple of hundred euros in living expenses each month. The Indian student looks out over the car park, full of Swapfiets bicycles. He is in the second year of the Mechanical Engineering master's programme.
Veetil: 'I think it's even more difficult for international students to find a room this study year. The first year of my master's I stayed in a house on campus. I had to leave after a year. Then I saw the advertisement on the Hogekamp building. One of these studios was my last option. The men behind the counter at Hogekamp are very nice. Real problem-solvers. But contact with the Camelot head office wasn't easy. Thankfully everything's settled now and I'm satisfied. These flats are good and the atmosphere in the building is very relaxed.'
The evening is about to start. It's time for dinner. 'Shall we have pizza?' The smell of melted cheese and salami fills the common room in no time. The students are having a 'pizza party' this evening. It is the universal student meal. The caretaker watches from his office. 'It's fine by me. As long as they clean it all up themselves.'