De vernieuwde marketingcampagne richt zich op reputatie en zichtbaarheid, een belangrijk onderdeel van Vision2020. In de Touch-campagne die de UT vanaf 2012 voerde, mikte de universiteit vooral op studiezoekers. Nu is de doelgroep veel breder met meer aandacht voor internationale masters, bedrijven en politici, aldus marketingdirecteur Atilla Kerpisci.
Lef en trots zijn kernbegrippen in de campagne. Volgens Kerpisci moet de UT 'meer durven claimen'. Bijvoorbeeld de drie teksten waarmee de UT zaterdag aftrapte in de landelijke dagbladen: University of blue energy. University of 800 booming start-ups. University of data driven ocean racing. Vooral de laatste was goed getimed: team Brunel, ondersteund door UT-onderzoek, won 's middags de tweede etappe van de Volvo Ocean Race.
Wat er in de uitingen na 'University of' kan komen, is volgens Kerpisci eindeloos: van 'smart mobility' (voor reclame op bussen) tot 'biggest student party of Europe' (om het feest van de Batavierenrace te promoten). Hij roept studenten en medewerkers op ideeën voor campagne-uitingen aan te dragen.
Gamma-campagne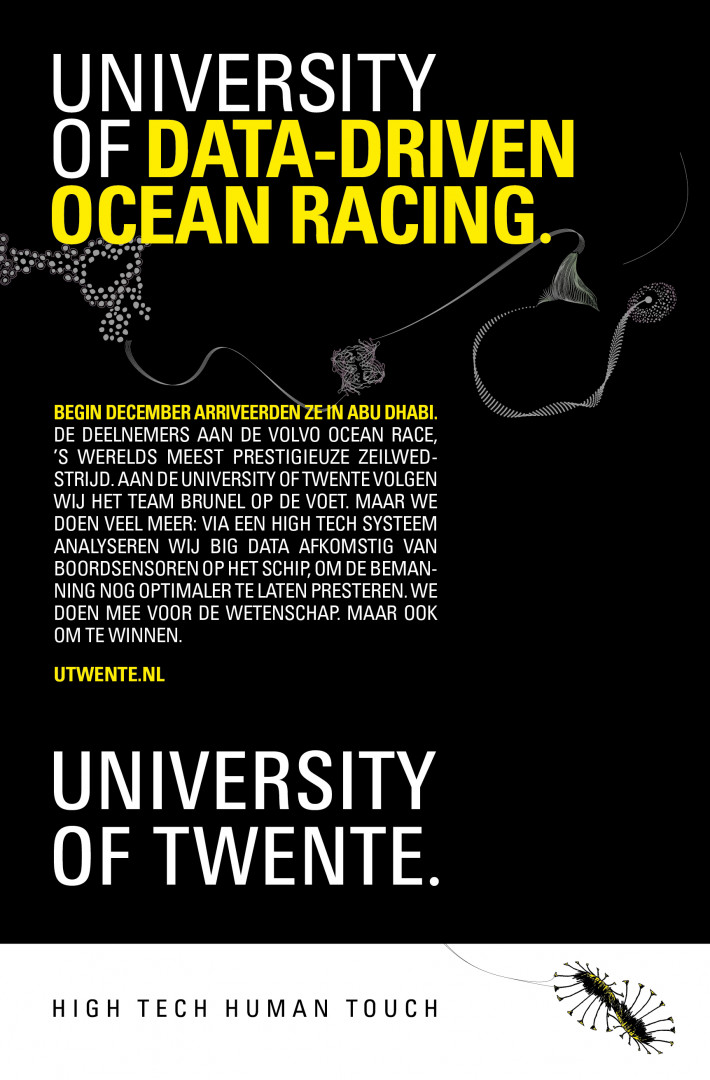 Binnenkort lanceert de UT ook de deelcampagne voor de gamma-opleidingen. 'Psychology? At a technical university', luidt die boodschap. Kerpisci: 'Het is die link met de technologie die psychologie of internationale business administration aan de UT zo bijzonder maken.'
De Touch-campagne, het vorige marketingoffensief, verdwijnt overigens niet. De verhalen over de passies van wetenschappers en studenten blijft de UT gebruiken om de 'claims' van de nieuwe campagne te onderbouwen. Zo is aan 'University of blue energy' het touch-verhaal van membraanonderzoeker Kitty Nijmeijer gekoppeld. Ook blijft de pay-off 'high tech human touch'.
Tijdloos
In het najaar van 2015 hoopt Kerpisci de effecten van de vernieuwde marketingstrategie te kunnen meten in het tweejaarlijkse onderzoek dat de UT laat uitvoeren naar haar naamsbekendheid.
Hoe lang de campagne doorloopt staat niet vast. De marketingdirecteur noemt het concept 'veelzijdig' en 'tijdloos', maar hij sluit niet uit dat er over twee jaar aanleidingen zijn om de campagne bij te stellen.