It all started with an idea, conceived during a course by professor Jos van Hillegersberg in the Industrial Engineering & Management programme. A very own craft beer brewery. And not as thirteen-in-a-dozen Double Dry Hopped IPA-makers, but as a 'Personal Brewing Company'. 'Meaning that people could compose their own unique craft beer online and have it brewed by us', says Bosch, who has almost graduated from his Master's.
Encouraged by Van Hillegersberg, the IEM programme and people from the UT Challenge – the UT's entrepreneurship competition – Bosch and his companion Émile Heijs decided to promote their idea to the company Hops & Grains. Today, Bosch describes what followed as the glory days of Hops & Grains: winning at the UT Challenge and another win at the entrepreneurial event Funding Nemo. This resulted in a sudden 6,500 Euros in prize money or, in their case, start-up capital in their pockets, leading to plans for their own brewery in the kitchen of the Bastille, instead of the basement of a student house.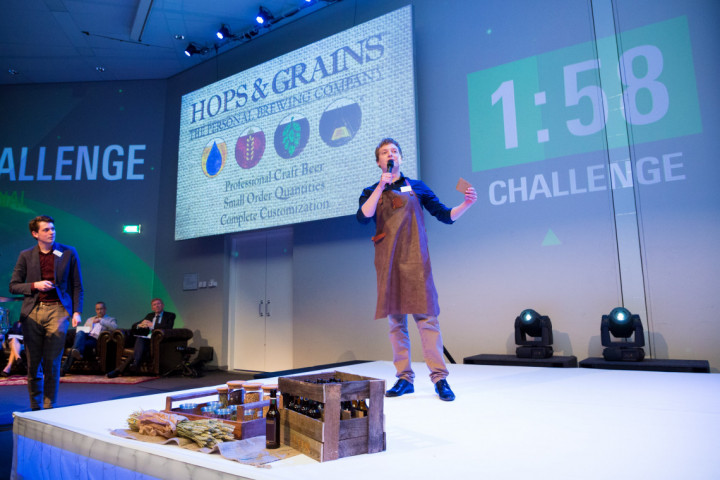 At the UT Challenge final, in 2017.
Kickstart
The brewery in the Bastille finally came about, partly thanks to preparatory work and low rental costs provided by the UT. 'Compared to other starting brewers, we had a kickstart', Bosch said in early 2019. And that kickstart also got a follow-up. 'I was allowed to do my Bachelor's assignment at my own company. Yes, of course that had to be properly arranged with the exam committee. But then I could investigate how we could optimise processes: how to divide it up into smaller brew kettles, how to keep track of which brew is in which kettle, those things. No, I never found a perfect solution, but I did come to the conclusion that with fifteen kettles and five full-time brewers, we would have a pretty profitable business case.'
The crafty UT students went out and about, were present at networking events with their stalls and self-brewed beer, much to the visitors' enthusiasm. And then the momentum started to drop. 'The issue was in sales', says Bosch. 'Our website was established quite well, people were putting together their own beers, experimenting with different flavours. But what we noticed was that no one pressed the buy button.'
Visitors had no idea what to expect, says Bosch. 'Does it come in a big bottle or a small bottle? Will it taste good? What do the labels look like? There was something lacking in the overall experience, turning people off.'
Fail fast
2020 had to be the ultimate year for Hops & Grains: an improved website, more attention towards the sales funnel and a serious marketing campaign – which had never been necessary up to that point. 'But then the Covid crisis broke out, there were no more networking drinks and the website update did not come about. The budget had also run out.' Thus, slowly but surely the plug was pulled on the brewery.
'Brewing beer part-time during your student life, that's not at all a waste of time'
Whether Bosch sees the bankruptcy as a failure? 'In a way, yes. Of course it is a pity that the company did not get off the ground. But I look back on that time very positively. Brewing beer part-time during your student life, that's not at all a waste of time in my opinion. And we managed to keep things going for more than three and a half years with a total budget of 6,500 Euros.
The Master's student also points to the Silicon Valley mantra: fail fast, fail often. 'The best indicator of whether someone is starting a successful business, is that they have failed first, and I believe in that way of thinking. It's ironic: one of the first beers we ever brewed was also called Fail Fast. Due to some yeast problems, it was not a success.'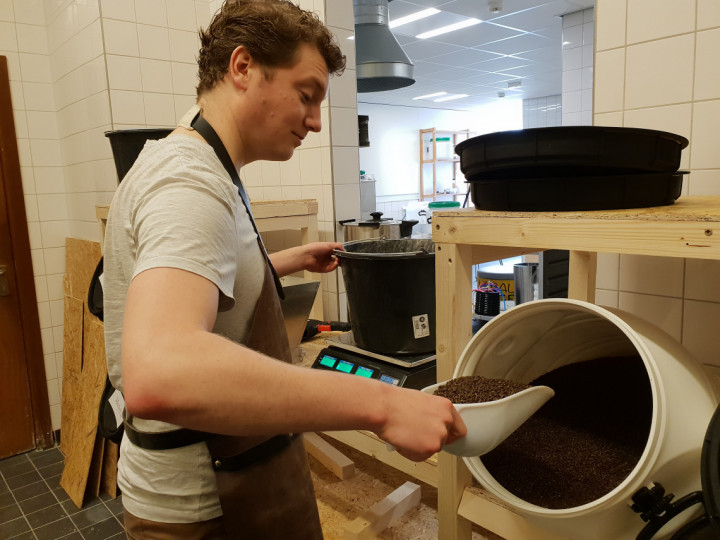 Bosch brewing beer at the Bastille Brewery.
'Your biggest pitfall as an entrepreneur is to believe in your own myth too quickly; you are your own biggest cheerleader'
Cheerleader
And not all is lost. The Bastille Brewery has ended up in excellent hands, with the Brouw Ridders der Arago Kelder (BRAK for short), a beer-brewing fraternity. 'And who knows, one day there could be a restart for Hops & Grains. We still own the name and domain name', says Bosch. 'The number of breweries in the Netherlands has grown explosively in recent years and there is still development. In that sense, there is still room. But now that I am almost done with my studies and already work as an R&D engineer at a machine manufacturer, the leap necessary to start my own business is getting larger and larger. That was the great thing about starting out as a student. It's a very small step.'
Finally, his best advice for students who want to start their own business? 'Make sure you not only have a great idea or product, but also a good plan to sell that product. Your biggest pitfall as an entrepreneur is to believe in your own myth too quickly; you are your own biggest cheerleader. But also take a step back and think through your sales processes thoroughly.'