I am back in São Paulo after an amazing time that I had travelling with some of my new friends from Curitiba. Of course I love to stay in São Paulo, because I love the city but the reason I am here today does not really make me happy. My flight back home to Bremen is scheduled for today and I think a 'goodbye' has never been harder for me.
My last blog entry already felt like a goodbye, but that one was only a small goodbye to Curitiba. Anyways, no need to be super sad now that I am finally leaving to Germany. It is amazing that I can spend Christmas and New Year's with my friends and family back home (but I would have actually preferred if they could all come here to stay with me in the 35 degrees and sun).
But where did I actually travel? My last blog entry was also here from São Paulo and afterwards I left with Fabio, my good friend from studying in Curitiba. We went to Ilha Bela, a vacation island on the coast of the state of São Paulo. Afterwards we travelled to Paraty, an Old Portuguese colonial seaport, which is beautiful because of its architecture and preserved historic centre. I could feel how that town threw me back three hundred years in time.
After Paraty we left to Ilha Grande, the biggest island of Brazil, already in the state of Rio de Janeiro. Until 1994 the island was used as a prison island and today it is one of the main attractions for international backpackers in Brazil, due to its untouched rainforest and breath-taking tropical beaches. On our way, many people that had the same itinerary after finishing their program in Curitiba joined us. So, at our last stop of our journey we got together with ten people.
Where better to end a truly amazing experience here in Brazil than in Rio de Janeiro? Honestly, I always thought that this place would be overrated, but I was completely and utterly wrong. This place is one of the most beautiful places I have ever been to and it is surely the most amazing metropolis on this entire planet. The vibe of the city, the people, the nature around it, and of course its weather. Just amazing.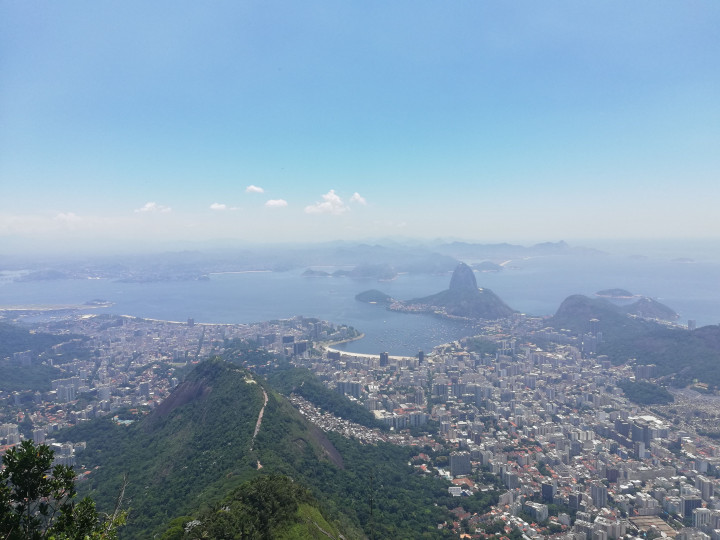 We all celebrated our goodbye with some wild, wild parties in Rio. And of course we saw all the touristy highlights and had some tanning sessions on the beaches of Ipanema and Copacabana. I really loved this travelling time in the southeast of Brazil and also the amazing people I have been with all this time. I will for sure come back as soon as possible!
Now it is time to really say goodbye, it was a lot of fun writing this blog here for you all and show you some pictures of my times 10.000 kilometres away from home. I wish everyone a merry Christmas and a happy new year! And think about me while reading this. At that time I will probably be in Germany already and freeze to death because of the 30 degrees difference from the Brazilian summer to European winter.
A big abarço (hug),
Lennart