The first impression of the cafeteria in the Horst is rather positive. Enough space to walk around, enough people to not feel awkward but not so many that you can't find a spot to sit; and more importantly enough options to choose from (in the 'cold lunch' department).
There is a salad bar as well as packaged salads, a yoghurt bar, a wide variety of sandwiches, soups, fresh fruit, a good selection of bottled drinks. If all of that sounds too healthy for you, there is of course the new Horst specialty, the 'haute dogs'. Not what you might expect, at least in case you are expecting a classic hot dog. Instead of a sausage, the bun features a typical Dutch fried snack 'kipcorn' (deep-fried chicken or turkey meat slurry, breaded with a crust of corn or breadcrumbs). Unexpected or not, with garnish of rocket, tomato, cheese, pickles and bacon, it is quite delicious.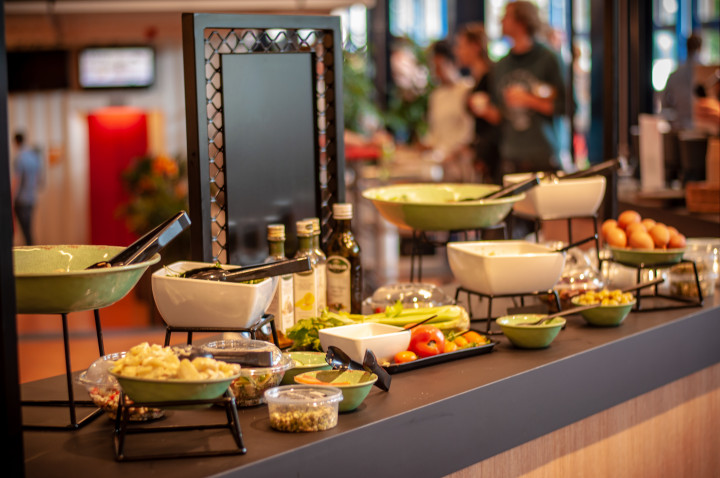 what you think
Balan Ramani, PhD researcher
'It's expensive compared to the old cafeteria. The food quality seems the same and there isn't more variety. What is new is the "haute dog", I've tried it once and it was okay but the price is quite high. Everything also looks almost the same, there are only a few new tables.'
Saied Asadollahi, researcher
'I've only eaten here once since the change, so it's hard to judge, but I was satisfied with the quality. The new design is a bit more attractive, but there aren't any big changes. The prices and the selection are okay for me, but I know that many people go to the Waaier instead to get a warm meal. Also, the prices should be a bit cheaper, especially for students.'
Brend Te Booij, bachelor student
'It's quite good here, definitely better than in my previous school. It can get a bit expensive, so I don't go here too often. The taste is good, there is enough to choose from. We come regularly, because we have our lectures here so it's convenient.'
So what's the catch? The price. As happy as we were selecting the 'haute dog', some nice (packaged) vegan Asian salad and a bacon sandwich – and as happy as we were later to eat it all -, the disenchantment occurs at the cash register. 4,50 for a hot dog? Almost six euros for a salad and nearly four euros for a sandwich? 'Not cool,' said the wallet. Its only consolation was the happy stomach that honestly enjoyed the food. But with these prices, eating in the Horst seems like a luxury that many people don't want to enjoy every day.
our rating
Overall score ★★★/★
Selection ☆☆☆
Taste ☆☆☆☆
Value for money ☆☆
Atmosphere ☆☆☆
Speed ☆☆☆☆☆
Why go: good selection of cold lunches, fried Dutch snacks, fast service
Why not go: for your wallet's sake and because of the lack of warm options