Board members Nina Westera (21) and Luka Pelgrum (20) are still sitting quietly at a table on Wednesday a little before 8 p.m., waiting for the hiphop class to begin in fifteen minutes. One table away, dance teacher Andres Rivas is preparing the workout. His head moves from side to side behind his laptop screen, while his long hair rhythmically moves with it.
Diverse company
The quietness is in stark contrast to the enormous energy that is released in the Audio Hall half an hour later. About thirty dancers follow Rivas' instructions in eight beats. Men and women, Dutch and international, young and old and some with more difficulty than others. Westera also enthusiastically joins in on the music. The fact that Break-Even is such a diverse group - as she explains before the lesson - is what makes the association so special. 'It also fits in with the hip hop culture. Everyone is welcome and we feel like one big family. Whether you dance well or not so well or even have no sense of rhythm. It's really nice that we all come from different cultures, speak a different language, but that everything comes together while dancing. We like to embrace that.'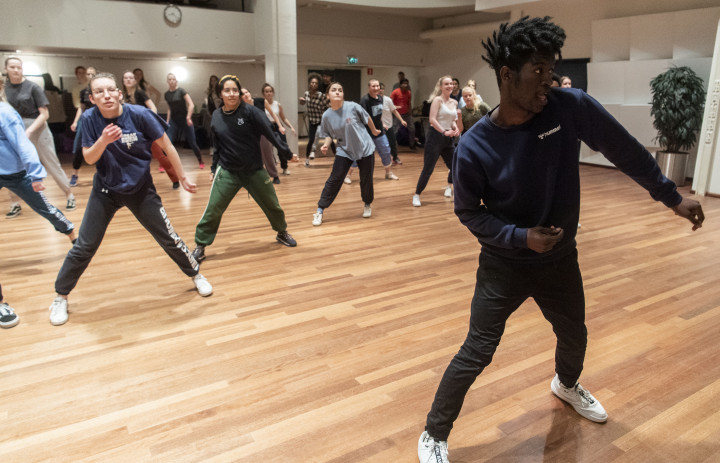 Pelgrum adds: 'Dutch students are heavily outnumbered. This year we see many Germans in our membership, but also some Mexicans and students from Russia, Kazakhstan, China and Japan. And with us, a striking number of psychology students dance. How do we distinguish ourselves? We dance to different, short snippets of music and not to one song as other clubs do.'
The duo have been members of Break-Even for several years and know the club well. This year the club celebrates its seventeenth anniversary. Westera: 'Originally it was all about breakdance. The enthusiasm for hip hop grew by the year, so from 2016 we also provide hip hop lessons. That component is now bigger than breakdance.'
Full house
On Monday evenings, the breakdancers meet. The board members mention that about twenty members are registered as breakdancers. On Mondays, often half of them attend. 'That's a regular club. On Wednesdays we offer two hip hop classes. A maximum of 35 members can take part in such a class, otherwise you get in each other's way. Usually both groups are full. On Fridays there is an open class, to work on a project, for example,' says Pelgrum.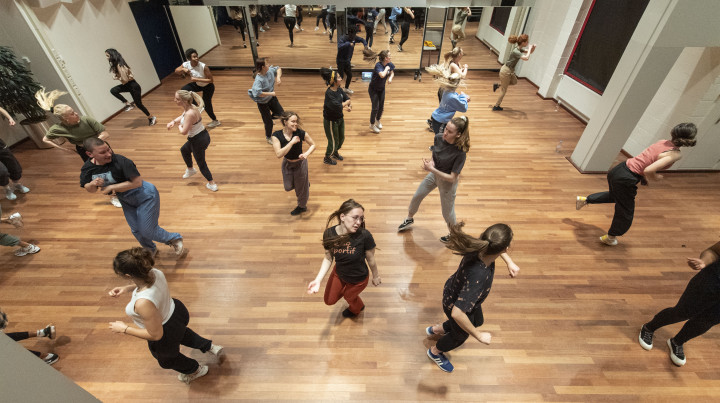 In addition to its dance classes, Break-Even conducts workshops, views and implements new dance styles like K-pop, organizes its own show every year, and holds an average of about four classic student nights per semester. The fact that the association is so alive and well may come as quite a surprise. A year ago, the situation was very different. Stripped dry by corona restrictions, the number of members dropped drastically. Westera: 'To a point where it became very critical whether we could continue. We still had thirty members. At the Kick-In we did our best to recruit new members.'
That effort is paying off, because with 85 members Break-Even is at the maximum and even has a waiting list. The enthusiasm with which the hip-hoppers follow Rivas' choreography suggests that the waiting list will not be shrinking any time soon. Pelgrum: 'Andres has only been teaching since last week. Before that, Joey Veritas taught for years. Supposedly he's returning, but he's in Los Angeles for a few months for his own dance career. That's the city to be in when it comes to hip hop.'
The duo knows that such an opportunity isn't available to most Break-Even members, but according to Westera, that doesn't matter. 'That students have fun with us. Having fun is the most important thing.'