Would she like to participate in U-Today's series of stories in the run-up to Christmas? Hiska Bakker had to sleep on it. Yes, she has been through a lot in the past year. There is certainly a story to tell. But the tone is everything. Above all, it must not come across as larmoyant, she writes in her email back. This is not a story about the misery she experienced in the past year, but a universal message about hope and trust.
Accident
On the 3rd of July, this message still seems far away. Hiska Bakker's daughter Sterre is on holiday with friends in Limburg. It is a sunny summer day and they are making a tour on their racing bikes. In the descent of the Gulperberg something happens that every cyclist fears: the brakes of Sterre's bike refuse to work. She rushes downhill at full speed. In the distance, she sees how the descent ends at a junction to the left and right. The road straight ahead ends in a wall. 'I mustn't hit that wall head-on,' is all she can think of during the last few metres.
Sterre only just manages to steer to the side. With her right leg, she hits the barrier and flies over it. She falls four metres to the ground. Her helmet is shattered and her other leg is broken too. The reaction of the paramedics shows that it is serious. With sirens blaring, she is taken to the Academic Hospital in Maastricht.
Bosnian stray dogs
This could have been her death too, Bakker knows when she hears the news. With her husband she immediately leaves for Limburg. Together with friends and family they cover Sterre in a 'shell of love'. In the meantime, they have to look for a place to stay. Because of Covid, almost all hotels in Maastricht are fully booked. After six different addresses, they come into contact with Lilian. Without hesitation, the woman invites the couple to come and stay in the attic.
'I wanted to give my daughter a goodnight kiss before going to bed every night'
'The house was filled with Bosnian stray dogs,' says Bakker, laughing. 'We too were stray dogs who found shelter with her. It touched me that she took us in just like that. At that moment I realised that most people are good, just like Rutger Bregman writes in his book.' In hospital Bakker also experienced how nurses and doctors turned a blind eye despite the strict Covid restrictions. 'I wanted to give my daughter a goodnight kiss before going to bed every night. The maximum of two visitors had always been there that day, but I was always allowed into her room.'
Trust
Meanwhile, Limburg is hit by extreme rainfall. Rivers overflow their banks and houses in Maastricht are in danger of flooding. Together with Lilian's family they clear out the ground floor of Lilian's house. They themselves have to go to an evacuation hotel. The crisis seemed complete, but according to Bakker it felt different. 'Actually, it was fantastic. People were ready to help each other. All these events gave me more faith in the goodness of mankind.'
After three weeks, Sterre is allowed to go to the Roessingh rehabilitation centre in Enschede. Halfway through October, she manages to stand on her own feet for a few seconds. Soon she wants to return to The Hague, where her student house is. 'My husband and I doubted whether that would be wise. But Sterre was confident. If I cannot manage somewhere with my wheelchair, there are always people who want to help, she said. Sterre just trusted the people around her. I have great admiration for that. Despite everything, my daughter remained hopeful and that gave us energy. What a special child I have actually given birth to, I thought.'
In the same period, Bakker's father is hospitalised with an infection. It was a close call, but he eventually makes it through. Again, she experiences how hospital staff turn a blind eye during visits. The contact with her brothers, with whom she normally speaks just a little, also becomes close when they take care of their parents together. 'We were all there for each other at that moment. And when my father got better, we went our separate ways.'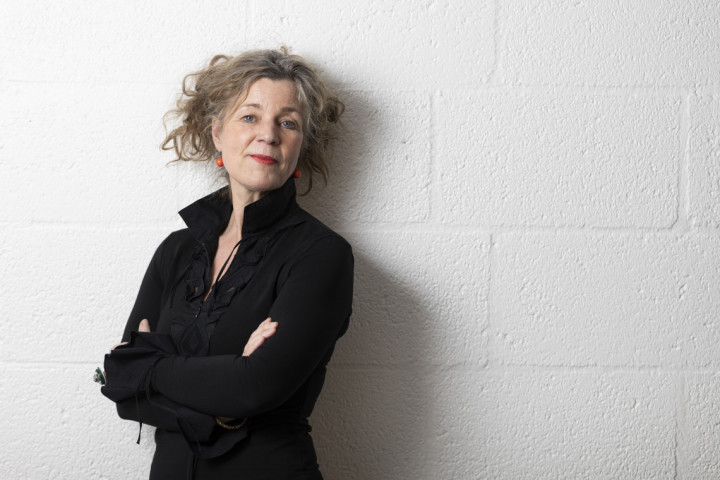 Clear your mind
Thirteen weeks of hospital visits go by. When Bakker gets back to work, she notices how tired she is. The weeks were intense, and caring for her daughter and father was 'an energy guzzler'. On the advice of a friend, she decides to paint, just to clear her head. And she goes for runs. For 25 years it has been her weapon against all too negative thoughts. Even along the swollen river Meuse, in which caravans from flooded disaster areas float, Bakker does her run. 'I would recommend it to anyone in such a situation: do something that takes clears your mind for a while.'
'Because of Covid, it sometimes seems as if we are diametrically opposed. But people are there for each other when it counts'
Grateful
Together with the sporty Sterre, she would be running the Berenloop Marathon on the island of Terschelling in November. After the accident, that is no longer possible. Therefore, she runs the half marathon with her other daughter and Sterre's boyfriend. At the half way point Sterre gives everyone a hug from her wheelchair. 'It was a painful and at the same time beautiful moment. Painful because my daughter might never be able to run again. But there was also gratitude for the fact that she was still there and that we are so healthy that we could run there.'
Throughout all the misfortune, gratitude was, oddly enough, the dominant feeling. She shows a necklace around her neck. Hiska and her daughter received the pendant from Lilian, the woman who provided shelter. 'During this emotional period, I met very special people. Because of Covid, it sometimes seems as if we are diametrically opposed. But people are there for each other when it counts. That is how I experienced it. I am very grateful for that realisation.'