Kayleigh van Dooren (23) – Business Administration student and top football player (attacking midfielder) at FC Twente and member of the national team
'I miss practically all of my classes'
'Before joining FC Twente, I played three seasons in the Eredivisie for PSV. I combined that with studying International Business Administration at Tilburg University. I was still living with my parents in Veldhoven at the time, but in addition to my football career, I was studying full-time. That was tough in the long run. Keeping those two balls in the air was too much me. I constantly had to be at my best and that came at the expense of my rest. I would think about school during training and vice versa.
Wanting to take a step forward in terms of my athletic career, I transferred to FC Twente a year and a half ago. I never considered giving up my studies. There are players who focus solely on football, but I find it important to intellectually exercise myself, and I enjoy it too. I need that stimulus. I want to be able to completely immerse myself in something other than football.
'Keeping two balls in the air was too much for me'
I made a deliberate choice to spread my one-year master's programme over the course of two years. I train seven times a week, plus one or two matches. All training sessions are during the day, so I miss practically all of my classes. Every now and then, I can squeeze in an afternoon class or the occasional evening class, but I often have to make up for missed school hours in the evening. It's a shame that it's almost impossible to watch recorded lectures these days. That was an upside to the days of the pandemic: teachers made all lectures available online, which made it easier to understand everything. Now I often have to make do with the slides, but I miss the explanations.
The top-level sports scheme offers me flexibility. In May, my preparations for the European Championships with the national team coincided with my exams. Fortunately, I was allowed to reschedule them. What's important in this regard is that the teacher is flexible and willing to cooperate. For example, I can sometimes do a substitute assignment if I can't be present. The responsibility to arrange everything lies with the athlete, so that requires pro-activity on my part. It would be helpful to have a top-level sports coordinator at the UT. Tilburg did have one, but I must say that here, things are at least as well-organised as in Tilburg.
I want to get my master's because I have to think about my life after football. If you can keep playing football until the age of 35, you've done very well. I hope to graduate while playing for FC Twente and have already been in contact with technical director Jan Streuer. There is plenty to do there in terms of management and innovation. Working in the football industry seems like an interesting prospect, be it in the policy sector or as a football agent. I believe it's still difficult for a woman to work in the male-dominated world of football. As a woman, you're more likely to be criticised. Nevertheless, that world does interest me.
My contract with FC Twente runs until the summer. What I will do after that remains to be seen; that also depends on my performance. I'm quite happy here at FC Twente. It's a very welcoming club that performs well and plays to win. I might stay in the Netherlands for a while longer, but I definitely have the ambition to play football abroad. In February 2022, I was first selected to play for the Dutch national team and next summer is the World Cup in Australia and New Zealand. I really want to be there. I know I have a lot more potential, so I want to keep moving forward. I will focus on that, and the results will naturally follow.'
Emilie van Eps (20) – Creative Technology student and top sailor
'Taking a test on my laptop at Texel beach'
'My father is a sailing enthusiast. He used to take us sailing from a young age. Although I was brought up on sailing, I only started to grow really passionate about it when I boarded a catamaran for the first time at the age of sixteen. I thought that was really cool. From that moment on, I actively searched out all the sailing camps and races. I was actually kind of a late bloomer: most top sailors start in primary school.
The past few years, I sailed a Nacra 15, a catamaran for competitive sailors. I've now switched to a larger boat, the Formula 18. The great thing about a catamaran is the speed and adrenaline. The boat often lifts out of the water and it's almost as if you're flying. Catamarans are real high-performance boats, quite different from a simple Optimist dinghy. Is it a dangerous sport? If you stay alert, it's not very dangerous. You might suffer a bruise or even a fracture once in a while. But there are no deaths.
'Whenever there's a race, I can always participate'
I have a regular sailing partner. He handles the sails and I'm at the helm. In races, it mainly comes down to tactics. My strength lies in staying calm. At the start, all boats want to be in the same position, where the wind is most favourable. It gets pretty hectic at times with up to two hundred boats competing, and there are all kinds of priority rules. It's important not to get stressed at such moments, and above all, not to be too shy. If we have the right to a certain position, I will not move aside, not even for a forty-thousand-euro boat.
The training schedule for top-level sailing is pretty intense, with an average of twenty hours a week. During the winter, we spend three weeks at a training camp in Spain. I only train in the weekends; on weekdays, I study in Twente. I find it quite easy to combine training with my Creative Technology programme. Fortunately, my teachers are flexible and I get certain exemptions. Whenever there's a race, I can always participate. It can be a bit of a hassle sometimes. I remember I had to take a test just before the Round Texel Race. I took it on the beach, with a laptop on my lap, via Microsoft Teams.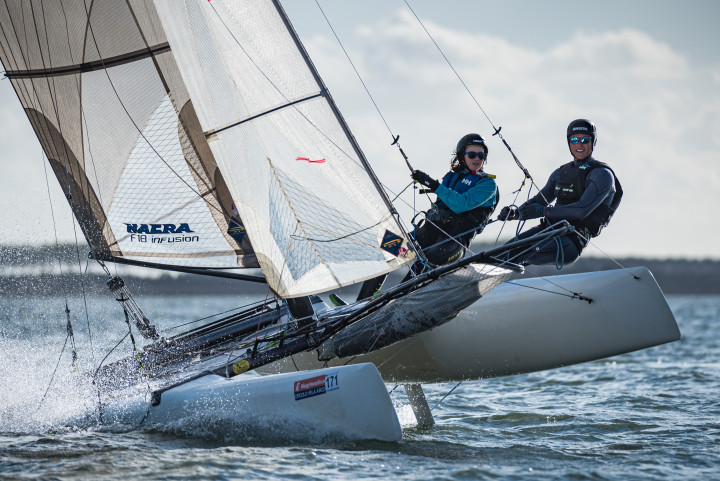 I live in Enschede on campus and I'm really happy there, even if it is a bit far from the water. I try to engage in as many social activities as possible outside my studies. I go out every now and then, but I prefer to do sports. I play football at Drienerlo, I'm a member of surf club Hardboard, I perform theatre sports and I recently started playing spikeball. I also work as a teaching assistant and last year, I was part of student team Solar Boat Twente. I try to work hard at university and not waste time, so I have time for fun things in the evening.
Last summer, we finished second in the Under 21 European Championships. It took place in Italy, in beautiful surroundings. That was quite the experience. Next summer, we're going to the World Championships in Germany. My dream is to sail in the SailGP league, which is sort of like Formula 1 for sailboats. And of course, I would love to go to the Olympics. But finding a good job for later is just as important. My studies are very interesting and technology has always fascinated me. I also plan to work with technology in the future.'
Jelmer Vis (25) – Mechanical Engineering student and top glider pilot
Glider pilot Jelmer has both feet firmly planted on the ground
'As is often the case with top-level athletes, I was introduced to my favourite hobby by my father: gliding, in my case. What also helped is that I was born practically next to Hoogeveen airport. Gliding means flying without an engine. There are several different types of gliding, but what I do is fly a very streamlined plane with long wings, gliding from cloud to cloud so as to stay in the air for as long as possible.
I use a plane from the club, but also have a machine of my own. An old model that I fixed up myself. In competitions, the competitors are launched into the air by a tow-plane and then we disconnect and are free to glide. Experience is key in this sport. You're at your peak around the age of 40. The longer you glide, the better you get at reading the sky. The sport doesn't require much in the way of physical effort. Your heart rate is constantly elevated while in the air, so it's tiring, but not physically demanding.
'You're at your peak around the age of 40'
During competitions, you can make a difference while in the air by using thermals as effectively as possible. The goal is to fly in currents of rising air. That's because thermals make you gain altitude, so you basically glide from thermal to thermal. The ideal weather is sunshine with lots of cirrocumulus clouds. How do you know how to glide? Mainly by feel and by looking outside. After all, everything in the cockpit is mechanical. I don't have thousands of buttons or complex navigational equipment on board. On the other hand, unlike professional pilots, I don't have an autopilot system on board. What makes the sport tricky? In running, you have a general idea of how fast you can go, but if I miss just a single thermal, I'm through. I'll have to land in a meadow or field somewhere. That's all part of it. Sometimes you read in the newspaper that a plane has crashed, or someone might urgently call an ambulance, even though it was a controlled landing.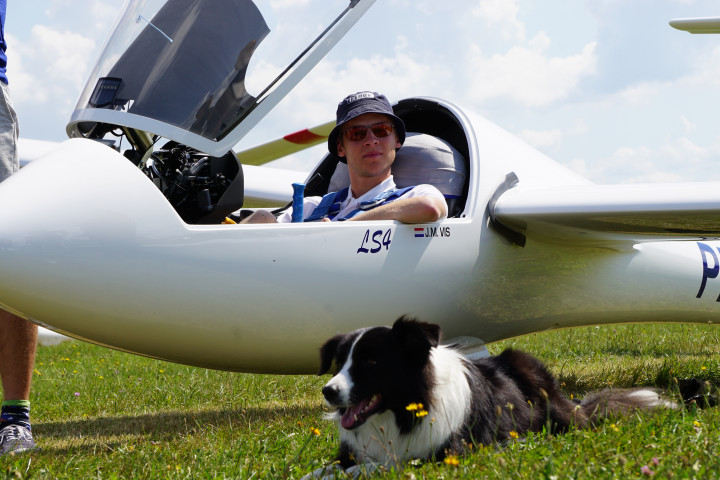 As of next year, I will move up to the senior division. The problem is that I won't rank among the national top anymore. In the junior division, I competed in three world championships and several European championships. It will be quite a challenge to beat the competition in the senior division. And if I do make it to the World Championships next year: it will be held in Australia. Getting my plane there is almost financially impossible. A DUO loan is not going to cut it.
In the winter season, I mainly train on the simulator. That is easy to combine with my studies, but when I participate in competitions, I will often be gone for one or two weeks. That's why the top-level athlete status is so important to me. The flexibility and financial support it offers are very welcome. It's a constant puzzle to fit everything into my schedule, but it's doable. Especially because I enjoy my studies and sport too much to give either of them up.
Strangely enough, the consequences of the pandemic have been a blessing to me. Digital learning allows me to do a lot of work from Drenthe so I hardly have to be in Enschede. That leaves plenty of room in my schedule for training. My focus is now on graduation and setting new goals for myself in gliding. From the very start of my studies in Twente, my goal was to avoid borrowing and to finish my studies without delay. So far, it's going according to plan, thanks to the top-level sports scheme.'