In the spacious extension of Huize Patatras, Timon Metz has taken a seat at the dining table. The common room was recently remodelled, he says with pride. On his lap sits the house cat, Archduke Charles Ferdinand van Horstlanden-​Stadsweide or Barry for short. The residents of this iconic house in Enschede are good at coming up with nicknames. His housemates recently began calling Metz 'minpres.' 'It is all good fun,' he is quick to add.
Metz earned his nickname by being the first prime minister of the Dutch student cabinet. On behalf of the fourteen universities, the student cabinet strives to develop a long-term vision for the Netherlands that is centred around scientific knowledge. 'Our message is a simple one: policy makers should make use of the knowledge that universities possess to help them resolve major societal issues. As members of the student cabinet, we are the ambassadors of that knowledge.'
'I don't like polarisation. There is enough bullshit in the world as it is.'
Appealing
The name 'student cabinet' attracts people's attention, Metz knows. 'Though it is sometimes made bigger than it is. My mother even got stopped in the supermarket because the paper mentioned my name and my role as prime minister. For us, it is mostly a good way to meet with important organisations to present our plans to. We have already visited several ministries. Once we have obtained a seat at the table, we are eager to provide input.'
The student cabinet convenes every week. Most ministries are new. Wageningen, for example, has supplied a minister of LOVE (Landbouw, Omgeving, Voedsel en Energie; Agriculture, Environment, Food and Energy), while Delft has provided the Ministry for the New Delta Works. The cabinet members were selected by the universities themselves. The UT nominated Metz for the role of prime minister. 'A prime minister from Enschede; that sounds good, right?'
His student cabinet wrote its own government agreement. Last spring, it was presented to outgoing Minister of Education Van Engelshoven in The Hague. The newly minted student ministers had hoped their agreement would attract a bit more attention, Metz says. Just when they were handing over their government agreement in The Hague, Kajsa Ollongren walked out with the infamous 'functie elders' note. 'The media thought that was slightly more newsworthy than our future-proof policy,' Metz says with a small grin on his face.
Political ambitions
The difficult formation process, the childcare benefits scandal and the corona crisis: national politics are far from dull at the moment. 'Meanwhile, it also has an extremely short-term focus,' Metz believes. 'We continue to face major challenges, such as the climate crisis. Our generation will have to deal with that, which is exactly what the members of the student cabinet want to talk about.' Metz says the members of his cabinet perform their duties without letting their political beliefs get in the way. 'Our goal is to translate science into policy for the Netherlands for twenty, thirty or even fifty years in the future.'
With great interest, Metz keeps an eye on the latest developments in the world of politics. 'Things are moving fast, fierce debates are being held and the politicians have a crisis to manage. It is all very exciting to watch. Still, I wonder if normal, everyday politics are like that as well.' Metz has been asked about his own political aspirations a few times now. 'The honest answer is that I just don't know yet. I like crisis management, but I suspect the normal political process to be far slower. I don't know if that is right for me.'
'I like a lot of things and I'm quite good at dividing my time between different activities. At the same time, I tend to lose focus quickly.'
He can reveal a little bit about his own preferences. He has an unread copy of the book written by former VVD politician Klaas Dijkhoff sitting on his nightstand. 'That was a gift. I like Dijkhoff's down-to-earth approach. I'm like that a bit myself. He is honest and has a positive outlook on life, which appeals to me. I don't like polarisation. There is enough bullshit in the world as it is.'
Active student
Metz comes from Diepenveen, a town near Deventer. He is the first member of his family to attend university. He chose Technical Medicine at the University of Twente. Before long, he moved into one of the rooms of Huize Patatras on the Emmastraat. 'Living on your own is an essential part of the student experience. That is how you make these the best years of your life - as corny as that may sound. For example, I would never dream of living at home with my parents just to save a bit of money.'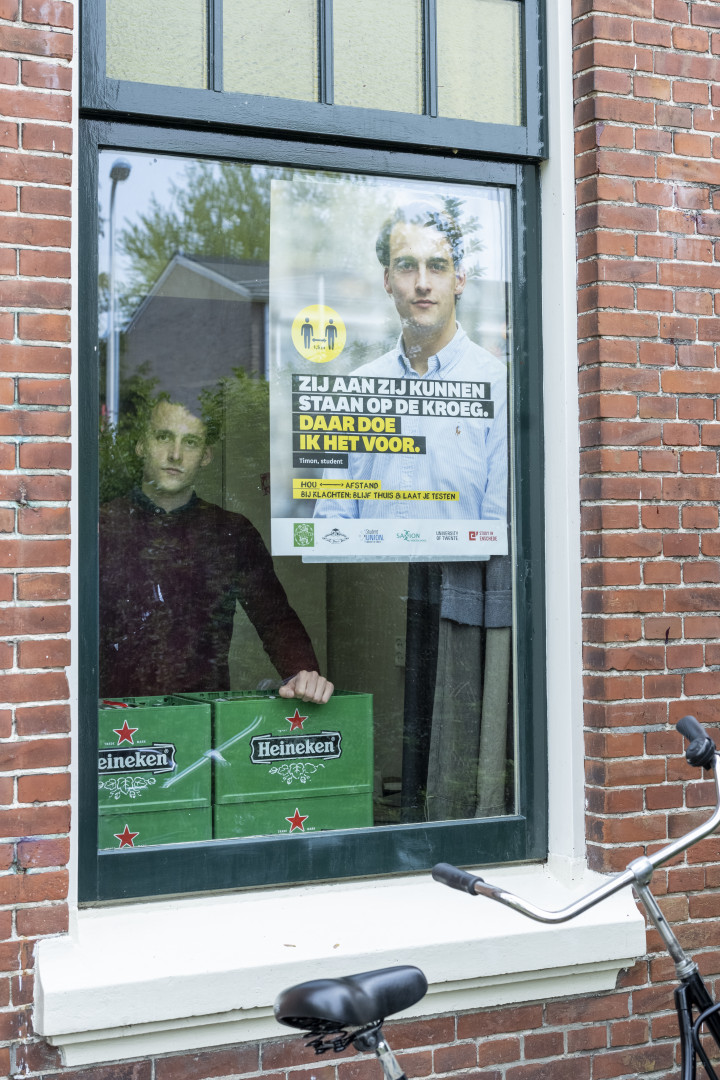 He spends his student life studying and doing many, many extracurricular activities. In addition to presiding over the student cabinet, he is a member of Yunophiat, student association Audentis and the University Council. 'I have plenty to do,' Metz laughs. 'I like a lot of things and I'm quite good at dividing my time between different activities. At the same time, I tend to lose focus quickly. When it comes to my studies, I am not such a try-hard at all. For me, that is a good excuse to undertake as many extra activities as I can. I believe merely obtaining a degree does not prepare you well enough for your future.'
Ambition is encouraged in Huize Patatras, the student says. 'Everyone has great plans for their future. We all see eye to eye in that regard and we support each other. During my first year, an older housemate encouraged me to sign up for the Kick-In committee. He had done that himself. I did not regret that at all. Serving on a committee is important for your development. You may fail once or twice, but that is okay. It is great practice for the future.'
In between all his activities, Metz also managed to earn his degree in Technical Medicine. 'I had to take plenty of resits,' he adds. Metz is now working to obtain a master's degree in Industrial Engineering and Management. 'I am interested in the human body, but I learned during my internship that the hospital world is not always a fun one.' He has not figured out what he wants to do instead. 'For now, I'm focusing on obtaining my degree. After that, I'll see what life throws at me.'
'I am young and I am living a great student life. I want to enjoy that while I can. As prime minister, I might think a little more carefully about what I'm doing. At the same time, drunken nights and fun parties are part of student life. After all, I am not the prime minister of the Netherlands, but of the student cabinet.'