Ian Gibson is an expert on additive manufacturing and renowned all across the world. And he has seen quite a bit of that world. After working in the UK, Hong Kong and Singapore, he became Professor of Additive Manufacturing at Deakin University in Australia. 'My mom said I was just moving further and further away from her,' he says jokingly. In any case, the scientist is much closer to his native Scotland now.
What brought him to Twente, after so many years half a globe away? 'A phone call,' answers Gibson. Several phone calls, to be precise. He rejected the offer at first. 'It was the added challenge of Fraunhofer that brought me here in the end. Because being a professor is similar everywhere, but being a scientific director is a new challenge. Moreover, I wanted to work with applied research and was thinking of establishing something similar to Fraunhofer back in Deakin. So I asked if I needed to learn Dutch, they said it wasn't necessary and here I am.'
Always the first
Starting something new is a familiar task for Ian Gibson. He has been pushing the field of Additive Manufacturing (often referred to as 3D printing) forward since the 1990's, a time when it was still called 'rapid prototyping' and when the cheapest 3D printer cost about 200.000 USD. 'I was working as an Automation and Robotics lecturer at the University of Nottingham. My colleague learnt about the technology at a conference. It was just another form of automation in my eyes, so we went and set up the first rapid prototyping research group in the UK, which ended up being rather successful.' The researcher repeated the success in Hong Kong, where he once again helped to establish the first rapid prototyping lab in the area.
Gibson has covered various forms of additive manufacturing throughout his career. In Singapore, he focused on 'bioprinting', more specifically on bone tissue engineering. In Australia he was involved in metal printing. He recently received the International Freeform and Additive Manufacturing Excellence (FAME) Award, lifetime achievement award recognizing his contribution to the field.
Additive manufacturing
Additive manufacturing (AM) is more commonly known as 3D printing, but Ian Gibson points out that there is a difference between the two. Additive manufacturing refers to the technologies that build 3D objects by adding layer-upon-layer of material, whether the material is plastic, metal, or even human tissue. 3D printing is limited to 3D printers, specific machines that use AM to print objects.
'I'm proud that I've been a part of a vibrant research community,' he says. 'I'm happy I could contribute to a larger body of knowledge. When I started in the field, there was no journal dedicated to additive manufacturing. So I started one.' Founded in 1994, Rapid Prototyping Journal is still the world's leading journal covering additive manufacturing (AM). 'We've never changed the name, even though there has been criticism. For me the name is a historical legacy. It shows we were there first.'
'We were there first.'
Gibson was also the first to realize that there was no good teaching book on the topic. The book 'Additive Manufacturing Technologies' has reached over one million downloads. 'Yes, I've written a lot. But what I would like you to notice if you look at my scientific profile is the high number of co-authors,' adds the professor.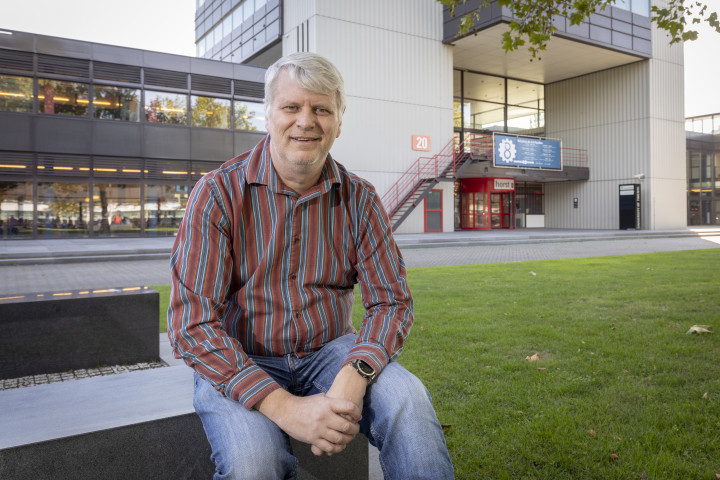 'Fraunhofer should serve the region'
We covered the past. How about the future? What are Ian Gibson's plans as the newly appointed scientific director of Fraunhofer Project Center? 'The center has to be successful,' he answers straight away. 'There is already a great team and a great network. So it shouldn't fail, right? I want to contribute to its success. To achieve that, I first need to understand the needs of the region, find out what local companies want, because the center should primarily serve Twente.'
Fraunhofer Project Center
The Fraunhofer Project Center, opened in 2017, is an independent institute based at the UT campus. It is a partnership of the University of Twente, Saxion University of Applied Sciences and the Fraunhofer Institute for Production Technology in Aachen, Germany. The Center mainly aims to transfer research directly into industrial practice. It focuses on assignments based on issues from industry, helping to develop solutions covering from product development, production processes and maintenance to digital designs.
'Many companies are interested in technologies like 3D printing, but don't know how it could help them. That's what we are here for. We can focus on the problems they are facing and work towards solutions together,' continues Gibson, who is currently acquainting himself with the companies in Twente. 'We are in touch with aerospace companies, food producers, packaging companies… We don't want to focus on a specific field, but on regional problems and those change over time.'
In his other work at the UT, Gibson would like to focus on medical prototyping. 'I would like to design products that help surgeons to perform surgeries more effectively. In general, however, my work is about trying to understand existing technologies and seeing how we can best take advantage of them. Additive manufacturing is particularly useful for aerospace, automotive and medical industry, but it's important to understand that it is not a solution to all problems.'
Ian Gibson in a nutshell
2013 – 2018 Professor of Additive Manufacturing, Deakin University (Australia)
2017 Winner of the International Freeform and Additive Manufacturing Excellence Award
2005 – 2013 Associate Professor, National University of Singapore
1994 – 2005 Associate Professor of Advanced Manufacturing Technology, University of Hong Kong
1992 – 1995 Robotics and automation lecturer, University of Nottingham
1989 PhD in Robotics, University of Hull