Last year, the Green Team Twente won the Shell Eco Marathon with their hydrogen car H2∞. But now we have a new Green Team and they want to do things a bit differently – they are working on a brand-new car, strategy and image.
'We are the seventh Green Team, but every year we have to start from scratch,' explains Feike van Veen, the new team leader and a UT student of Applied Physics. 'Our predecessors used the existing car and focused on its reliability. Thankfully, they did more than just build a car. They also paid attention to professionalizing the team, cooperation with companies and promotional materials. They created a professional ambience and made a great start for us.'
Faster car
The current Green Team Twente plans to continue developing this professional structure of their team, but they also have other items on their agenda. Building a new and a lot faster hydrogen car, for one. 'Last year the car had a maximum speed of 36 km/h. We want to get to 55 km/h,' specifies Van Veen. 'The Shell Eco Marathon is about efficiency, about using the least amount of fuel possible. But if you do well, you can qualify for the Drivers' World Championship – and that is certainly our goal. I believe we could even secure one of the top three spots in this race.'
Shell Eco Marathon
The Shell Eco Marathon (SEM) is an annual competition that challenges students around the world to make the most energy-efficient car. The victory goes to the student team that goes the furthest on the least amount of fuel. SEM has three main events, one in Asia, one in America and one in Europe, which is taking place in July 2018 at the Queen Elizabeth Olympic Park in London.
The winners of each SEM category can qualify for the Drivers' World Championship, in which the teams compete to see who the world's fastest energy-efficient driver is.
Making a fast and highly efficient car is a challenge, though. 'It is difficult, because an efficient hydrogen car needs to be very light and thin. This means it breaks rather easily. We therefore need it to be more solid, but that might make it heavier and less efficient,' explains Van Veen, pointing out that the team will have to make the best possible compromises in order to succeed.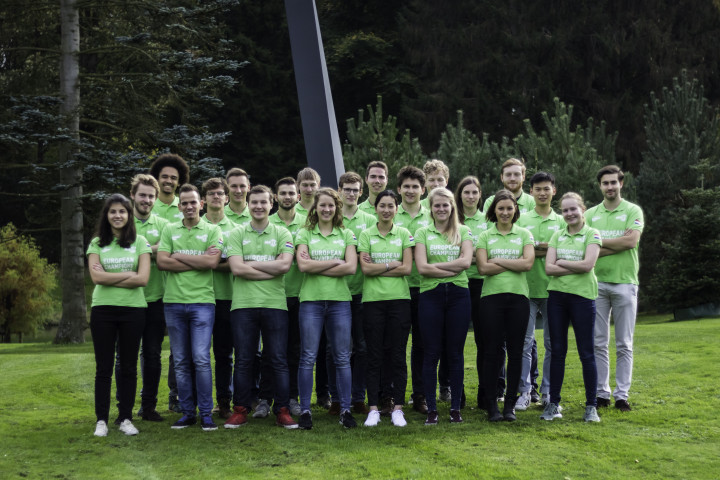 Promoting hydrogen by winning
Doing well during the SEM is not the sole focus of this year's Green Team, though. 'We mainly want to promote hydrogen as the fuel of the future,' says Van Veen. 'Hydrogen cars are the future – we genuinely believe that -, but unfortunately nobody knows that yet. We want to raise awareness. As one example, we want to cooperate with the company Holthausen from Groningen. They actually transformed a Tesla car into a hydrogen car, so called 'Hesla'. This significantly improved the driving range of the car and caught interest worldwide. The company also wanted to collaborate with us, because they wish to promote hydrogen as well.'
Promoting hydrogen is the new main goal of the Green Team. 'We see the Shell Eco Marathon as a way of achieving this goal, as a way of raising awareness,' says Feike van Veen. 'But of course the best way to do that is by winning. And we have to win.'