That's right. The Green Team won gold in the hydrogen vehicles group of the UrbanConcept category. This result is well-deserved, considering all the struggles the students had to overcome. Their first official attempts at the race were invalid due to technical difficulties and unexpected weather conditions, but the team didn't give up and set a great result of 278 km/m3 (845 km/l) during their third round.
'We will kick their asses!'
The happy atmosphere in the paddocks of the Shell Eco Marathon is infectious. 'It's crazy! I can't even describe the feeling I had when we realized we won. Today I woke up thinking "we will kick everyone's asses" and that is what we did!' laughs Sevim Aktas.
'Now we can finally say the car really is a reliable husband!' jumps in Regina Chang. 'I can't believe it! Look, I have goose bumps! After the unsuccessful attempts, I kept thinking "what if", what if we can't do it, what if we fail... That was the scariest and most challenging part of all of this for me. But we did it! I'm so incredibly proud of the team!'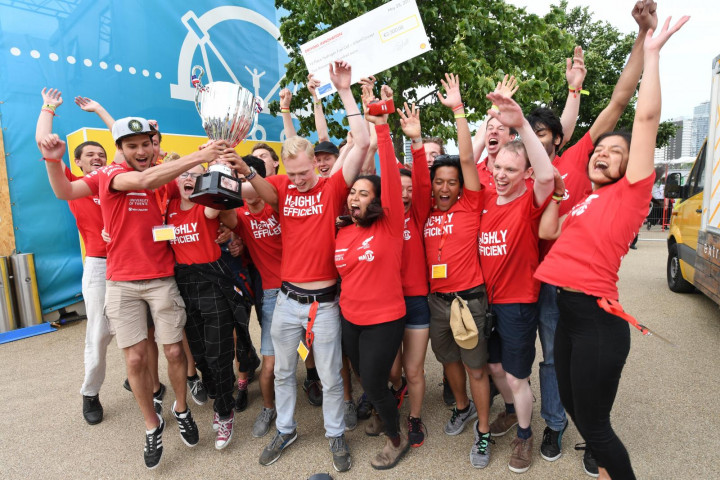 'Really intense until the last moment'
How about the driver, Mariska Bos? In the end, it was her on the track, setting the winning score. 'I was so nervous, but the last attempt felt really good,' says the girl behind the wheel. 'Yet, you never know, cars can crash in front of you and it's all over. It was really intense until the very last moment.'
Thanks to this victory, the Green Team is qualified for tomorrow's Drivers' World Championship. 'That is more of a round of honor, because our car is build for efficiency and the championship is about speed,' clarifies Eeke De Jong. 'We are just proud to win the "King class of the Shell Eco Marathon", which our category surely is. This is the first time in years we took the victory away from the French team La joliverie Polytech Nantes. I still can't believe it!'