It is day two of the RoboCup in 'La belle endormie', where the Twente students hope to colour the Bordeaux red RoboTeam purple. After yesterday's setback, a fierce opponent awaits this afternoon, reigning world champion TIGERs. The team worked late into the night to iron out yesterday's mistakes, says team captain Emy Ganzeboom prior to the match. 'One of the team members fell asleep with a soldering iron in his hand. That was the moment to send him to bed.'
Malheur
It seems that most of yesterday's malheur has been remedied. 'There were problems with the time stamps. In between, we were getting a zero all the time when it should actually be counting down. We've never had problems with that before, but it should be fixed now,' said Ganzeboom. Although the question remains whether the team will be able to field more than four or five robots at kick-off. Indeed, yesterday the team was heavily outnumbered against eight Japanese robots. 'Just when we think we have a top board ready, it turns out it doesn't work after all.' So the students will mainly keep soldering, programming and testing until kick-off.
Anyone who takes a look around the halls of the Parc des Expositions de Bordeaux these days will find that technical problems are the rule rather than the exception, among all participants. Robots fall over all over the place, crash, look the wrong way, miss in front of the goal, shoot it in their own goal... They often remain standing agonisingly still, waiting for an artificially intelligent signal. It can get even worse, sometimes the robots refuse service completely and a match cannot be played. In other words, those who fear that artificial intelligence will soon overtake humanity would do well to take a look at this event.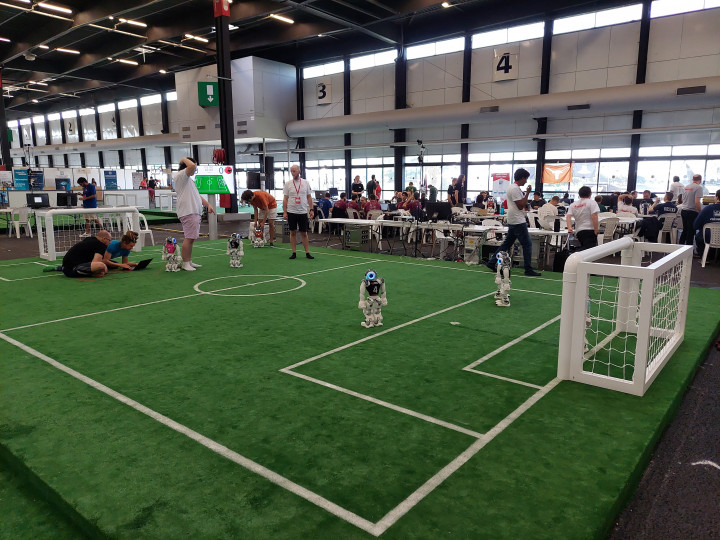 Robot referee
The Small Size League in which Twente's RoboTeam competes still offers a relative amount of action compared to many other football, rescue or home automation disciplines. Although it should also be noted here that play is often quiet during matches. Indeed, the matches have a pure playing time of twice five minutes, but often last more than an hour. Why is that? Although the playing field is completely surrounded by boards, no play is allowed through the boarding. If the ball goes out, a robot must put it back on the line itself, after which the opponent may continue playing.
It gets a bit more complicated: the robot has to retrieve that ball within a certain time. In fact, a robot referee is present at every match.In this case, it is a purely software-based referee, whose job is to keep the game on track - though assisted by two human referees. But the robot referee registers, for example, whether the robots put enough distance between themselves at a dead-game moment and monitors whether there is no double touch (first dribble, then shoot).And yes, if the ball goes out of play, the referee keeps an eye on whether it is placed back in the right place and in time. If that ball placement is not successful, a yellow card follows.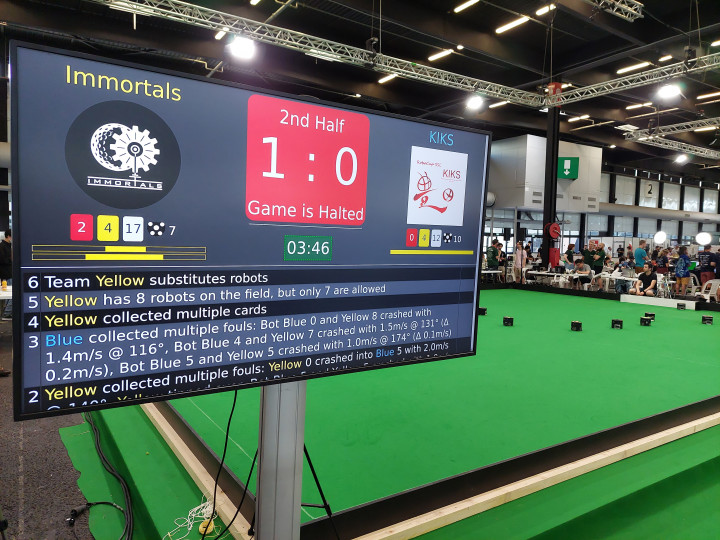 Military precision
Due to the delay, RoboTeam Twente's match against the TIGERs from Mannheim starts a little later than planned. However, it does not take long before the first goal is scored. After goalkeeper R2D2 first saves fabulously, he slides the ball into German feet a second later. The score then quickly piles up: the eleven German robots play with military precision and discipline and leave the three Twente football robots without a chance. Already in the first half, they run out to a 10-0 score. That is also immediately the early final score. It is how British football presenter Gary Lineker once put it: 'Football is a simple game; 22 men chase a ball for 90 minutes and at the end, the Germans win.' A similar adage also applies this RoboCup, for their robot equivalents. To pour extra salt in the wounds, the German robots celebrate their victory in style: a tightly grouped dance, to the tune of the Macarena - which they perform themselves.
Continuity
Some four former team members, meanwhile, managed to find their way to Bordeaux to watch the proceedings. A bit tragically, 'Bordeaux 2020' appears on their polo shirts; after all, the intention was that the RoboCup would already take place in Bordeaux that year, but that ambition was crushed by the corona crisis. Former RoboTeamers Casper de Regt and Sabine van der Werff view the earwashing against TIGERs with sorrow. 'We're standing here grumbling a bit, but that's because we care,' says Van der Werff. 'They worked incredibly hard for a year on these robots, so it is sad that they cannot show what they can actually do.'
The flaw is in the processors, says De Regt. 'That has actually been a problem for years, one that we could not solve either. In that respect, we also lose together. Because it's a hardware problem, it can't just be solved on the spot either. Then you have to transfer entire components to another processor. If it was a software problem, it would be easier to solve.'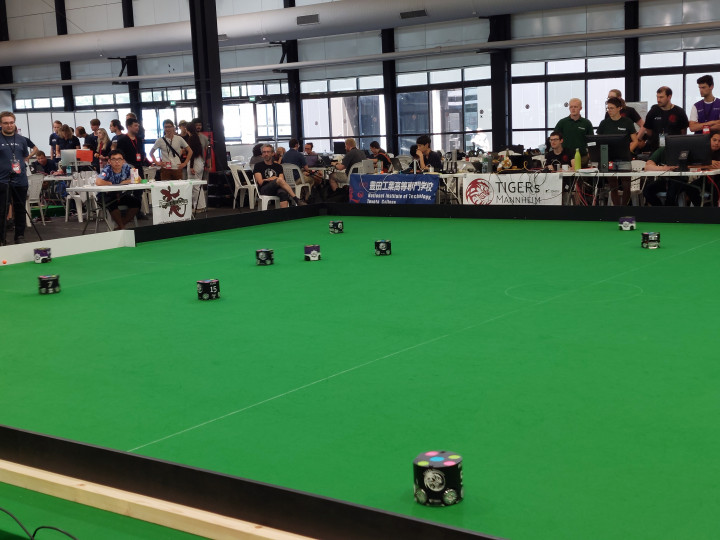 De Regt and Van der Werff point to a more persistent problem with student teams at the university, the lack of continuity. 'Every year the baton is passed on to a completely new team. This is very good for the learning process, but often the new team tries to reinvent the wheel. And sometimes a team's own ambitions also get in the way,' says Van der Werff. 'RoboTeam is not too bad in that regard,' adds De Regt.'The other student teams often really start again from scratch, our football robots are built iteration upon iteration. For example, our team laid the basis for the wheels under these robots.'
Make or break
But the other teams participating in the RoboCup do have an edge over their Twente competitors, according to the former team members.'You can see that the teams are more embedded in the institutions, people stick around longer or employees are involved. We are actually the odd one out,' says De Regt.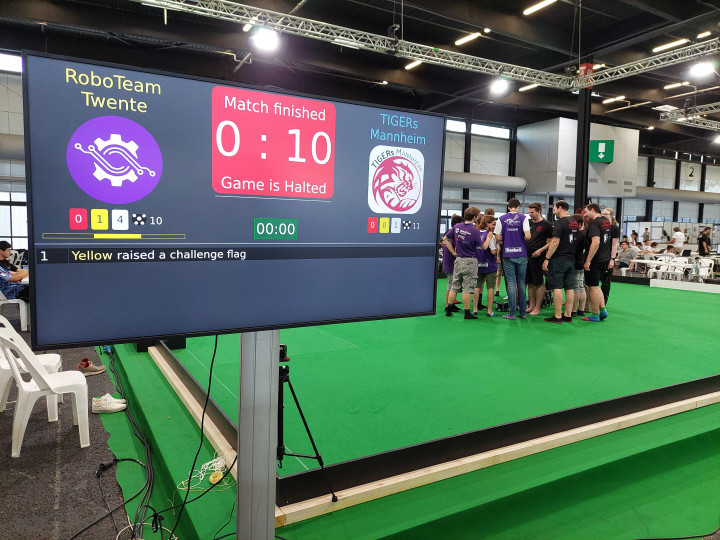 Team leader Emy Ganzeboom still expresses positivity after the match. 'Yes! All the problems with the double touches yesterday have been fixed, we didn't have to intervene during the match either. Besides, we knew beforehand that we would not win this match, so we chose to field three working robots. It seems that by now we got more top boards working. The next match should go better, with more robots at the kick-off.'
That match is make or break. At the end of this afternoon, they will play the quarterfinals. Despite the two big losses, the team will advance to the knockout phase; the Small Size League has seven participants, so a quarterfinal spot was a certainty beforehand. Whether a sporting revenge is in it, we will know tonight.
UPDATE - 19:05 | THROUGH TO THE LOWER TOURNAMENT
The quarterfinal against Iranian Immortals was unfortunately lost 0-5. However, RoboTeam Twente is not out of the tournament yet. The loss means they are advancing to the so-called 'Lower Tournament'. Another match is scheduled for tomorrow morning at 9 am. À demain!