While hordes of day-trippers, school classes and robotics enthusiasts stream into the Parc des Expositions in Bordeaux, RoboTeam Twente has been livestreaming for a while. At a competitor's match, that is. A task the team apparently already takes on tournament after tournament. 'All participants have their own role, besides participating,' explains team leader and control engineer Emy Ganzeboom. 'The TIGERs from the German city of Mannheim, for example, make sure the cameras above the field are properly adjusted. Our teammate Thijs (Bink, ed.) has brought his own equipment from the Netherlands, to live broadcast every match of our competition.'
Block tower
At the time, it is silence before the proverbial storm. Quite literally, as the match between Iran's Immortals and ER-Force from Germany's Erlangen ends in a bloodless 0-0. Although, bloodless... The Iranian team manages to pick up no less than eight red cards. Occasionally, someone rushes onto the pitch in stocking feet to retrieve a broken part from the billiard cloth.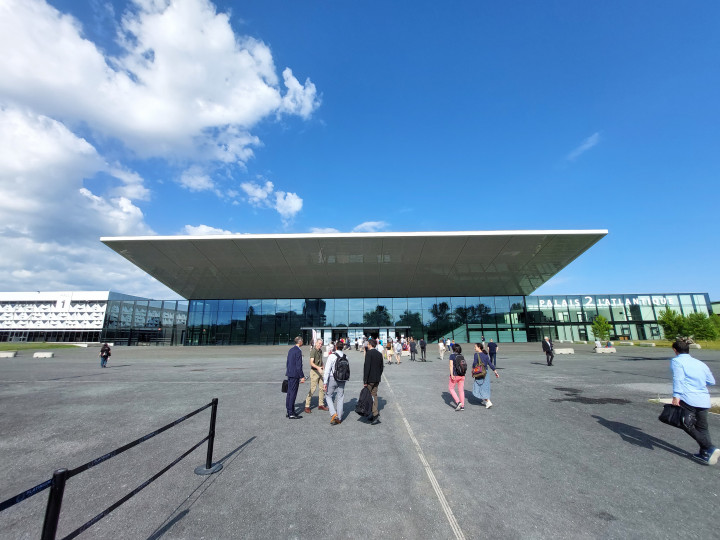 Only at half past one, the Twente football robots face the Japanese RoboDragons, the only match they have to play on this Thursday. The preparation did not go without a hitch, says Ganzeboom. 'Some robots have some problems with their kicker and chipper. We have to see what works.' Because, adds teammate Silas Hoevers a little later: 'Even though they are robots, making them is ultimately still human work. And where humans work, mistakes are always made.' After all, the football robots look like robot vacuum cleaners, but behind that facade is a complex world of hardware and software. 'Think of it as building a giant block tower,' says Hoevers. 'If one block goes crooked, you have to correct in other places. Moreover, it remains to be seen whether you can fix those earlier mistakes.'
Problem child Jarvis
The fact that the Twente team is not at full strength soon becomes apparent. Whereas a maximum of eleven robots are allowed to start, only five are ready to compete. And of those five, one robot soon drops out. Moreover, software malfunctions are hampering the rest of the team. 'The robots get halt commands through, but no stop commands,' Ganzeboom informs at halftime. 'We haven't had that before. It is unclear whether the problem lies with us, or with the network here.'
At that stage, it is already 0-5. The Japanese, struggling with their own ball placement problems, show themselves merciless finishers. On the Twente side, robot Jarvis proves to be a 'problem child', drilling into the wall overenthusiastically. 'Sweetheart' Marvin tries his hardest, but proves unable to dribble. Holt (for fans of comedy series Brooklyn 99) stands his ground defensively, but falls sorely short offensively. Fortunately, goalkeeper R2D2 is piling up world saves and keeps the Twente team in the game.
No revenge in the second half, however, as Murphy's Law has long since kicked in. Once again, a Twente robot drops out. Moreover, Marvin turns out to be a not very reliable goalkeeper. And unfortunately there is no Twente goal. The only goal that is scored, is disallowed because of a so-called double touch. Unlike human football, robots are not allowed to dribble first and then shoot. The final score: a resounding 0-10.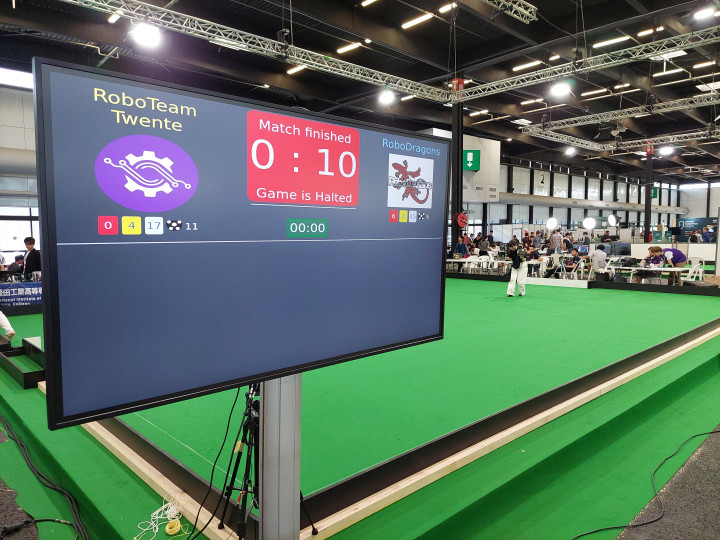 Learning process
There is no room for sorrow, however. After the match, there is a team photo with the direct opponent and a pep talk, followed by a yell. 'The enthusiasm is definitely still there. Above all, this was very insightful. It is also a learning process, that's why we are a student team,' the team manager says in the post-match review. 'We will now work hard to be ready for tomorrow's match, with hopefully more robots at the kick-off.' 'We didn't come here to play with only four robots,' adds software engineer Bink. With the prospect of hours of soldering and programming, it's likely to be a short night, they know. 'There were SD cards in the robots, so we hope to be able to read out exactly what went wrong. Hopefully we can test on the practice field later today,' Ganzeboom said.
Tomorrow, the next match is scheduled, against the undisputed favourite and title holder: TIGERs. A loss, possibly again by double digits, is to be expected. But the team captain's parents, who are combining their summer holidays with a visit and the much-needed encouragement, show themselves born optimists. 'The Dutch national football team also lost their first group match at the European Championship in '88, only to become European champions,' says father Vincent Ganzeboom. 'I still believe in a victory.'
À demain.