It is the fifth time RoboTeam Twente is participating in the RoboCup, what are your ambitions?
Ganzeboom: 'Just the fact that we are travelling to France feels like a victory in a way. It was quite a challenging year, with some setbacks. Moreover, we had a relatively small team this year, with many part-timers. We therefore hope to match the performance of last year's team. They eventually achieved a shared third place, at the previous RoboCup in Bangkok.
We are also aiming for the Open Source Award, which goes to the team that has put the most effort into sharing their technology with other participants. That's what the RoboCup is also about: sharing knowledge and innovations, because that's how we all progress. If you ask me, the previous team should already have won that prize. This year, we will go the extra mile: a fanatical former team member developed a kind of ChatGPT, using as a database all technical desciption papers from teams that participated in previous years. Anyone with a technical question could ask our AI.'
What kind of tournament is this?
'You can consider it as the World Cup of robot football, although there are also more competitions, such as for rescue robots. Within the football division, there are different competition formats. We participate in the so-called small size league. And - to make it even more confusing - it is divided into two divisions. We play in the A division; that means we play with 11 against 11, just like in a regular football match.'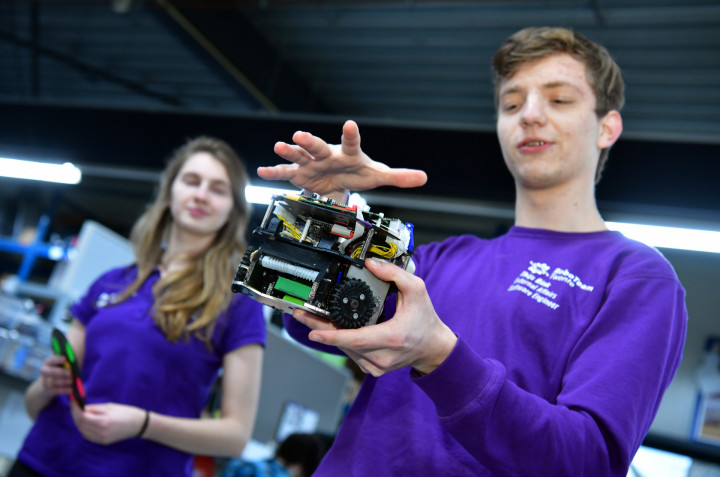 How do these football robots work?
'Our robots are quite small and they are somewhat like a robot vacuum cleaner. On the top of the robots are brightly coloured dots, which interact with four cameras suspended above the playing field. This allows the software to recognise where a robot is on the field, and the electronics under the robot's hood should ensure that the right signals are picked up and control the motor. A common misconception is that people think we control the robots with a remote control. But during a match, we can't actually do anything. Based on artificial intelligence, our robots have to make the right decisions and, of course, goals. On the front of the robots are mechanisms to dribble, pass and shoot.'
About RoboTeam Twente
RoboTeam Twente is one of UT's eight student teams. The team has existed since 2016 and has participated in the RoboCup every year since 2017 (two corona years excepted). The team has previously competed in Nagoya (Japan, 2017), Montreal (Canada, 2018), Sydney (Australia, 2019) and Bangkok (Thailand, 2022). This year, the RoboCup will take place in Bordeaux, France. Matches can be followed live via the team's YouTube channel.
In what areas have you grown from last year?
'We mainly tried to make the robots more reliable. For instance, we invested in our circuit boards production process. The housing is also a lot more robust than last year, when many parts were lost. Losing a part is considered a serious offence, for which the robot gets a yellow card.
Besides strengthening the robots, the focus was on artificial intelligence in terms of what is known as path planning. This is how the robots move around the pitch and around opponents. Also, this year our robots can chip the ball, hopefully giving us an extra offensive weapon.'
What does the competition look like?
'We are in the pool with two Japanese teams, RoboDragons and KIKS, and one German team. That German team, TIGERs, became champions last year and is the big favourite for victory this year too. Should we advance to the knockout stage, we might meet another favourite, the Chinese ZJUNlict team. There are myths going around that their dribbler-bar spins so fast that they even deform the ball. We'll see how far we kick it.'
What does the squad look like?
'We are there with fifteen robots, all named after famous robots like WALL-E and Baymax. The squad is fairly evenly matched, although there will always be robots who are less enthusiastic. We hope to field eleven robots every match, but during a practice tournament we learned to choose sharply and tactically: it is better to have three well-functioning robots than two mediocre ones and two good ones. Then the fumbling robot should just sit on the bench, haha.'
On y va!
U-Today is following RoboTeam Twente and Solar Boat Twente this week during their competitions in France and Monaco respectively. Reporter Rense Kuipers travels to Bordeaux to follow the RoboTeam's performance, while Stan Waning does so for Solar Boat on the Côte d'Azur. Follow their stories and updates on utoday.nl, the U-Today app and on Instagram: utodaynl.