Van Ewijk's career as campus cartoonist started at 'UT-Nieuws', the predecessor of U-Today. He drew the student-like characters Rat and Mouse for the monthly magazine. When UT-Nieuws changed to U-Today in 2017, Van Ewijk chose to adopt a new style. 'The emphasis shifted more to the web and social media. That is why the drawing really had to stand out and I opted for a striking image without text.'
Recognizable
According to Van Ewijk, the first drawings were mainly recognizable campus scenes. 'My first cartoon for U-Today is a church service for fish under the 'Torentje van Drienerlo'. This drawing still hangs in the Theatercafé of the Vrijhof and I get nice reactions to it every now and then. As an Industrial Design student, I knew the campus well. I used that inspiration for the first drawings for U-Today. Ultimately, I think most of my cartoons are aimed at students.'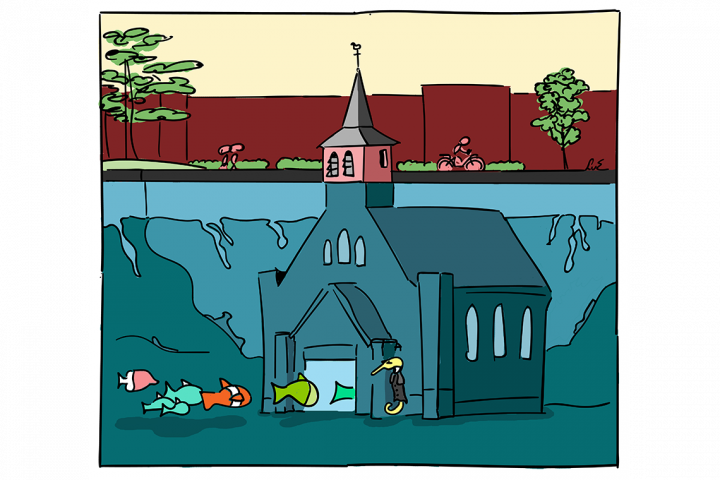 Illustration: the first cartoon for U-Today, 17 May 2017.
His style is also recognizable, although it is constantly evolving, according to Van Ewijk. The floating heads and large eyes on the figures are characteristic, and are all drawn in the so-called 'ligne claire' style. Over time, his drawings increasingly appeared in other places on campus. For example, Van Ewijk has been making the illustrations for the program booklet of Studium Generale for several years now, he provides researchers and services with drawings and in 2022, meter-high cartoons of the UT sports associations appeared on campus. 'The campus audience knows to find me', Van Ewijk affirms.
Critical
Over the years, the cartoonist has increasingly incorporated current campus affairs into his drawings for U-Today, in which he regularly criticizes the UT policy. For example, in a cartoon, he changed the policy document Shaping 2030 into Sheeping 2023, complete with buzzwords such as 'resilient' and 'leadership'. The housing plans were not safe either. 'Maybe it was because I started working as an information specialist at the University Library. As a UT employee, you naturally notice these kinds of policy things more than as a student.'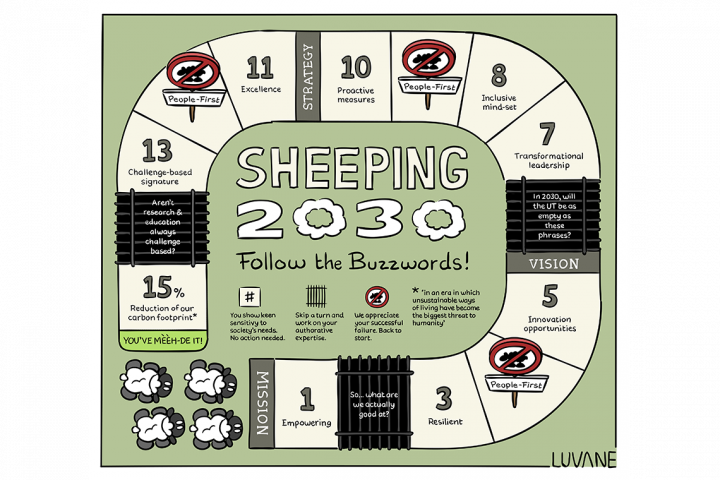 Illustration: 'Sheeping 2023', 6 January 2020. 
During the Covid period, the actuality became even more important, according to Van Ewijk. 'We were all in the same boat, so I was able to make many recognizable drawings, for example about video calling or hybrid lectures. Usually, I kept it light, but I also made cartoons with a more serious undertone. With the Christmas cartoon, for example, I tried to offer comfort to lonely employees and students. A cartoon is not just to laugh at or to mock something.'
Sometimes, Van Ewijk tried to get the public debate going at the UT, for example, with his drawing about Black Lives Matter. 'I thought it was very strange that the UT, and the Executive Board in particular, said nothing about this during the BLM protests. While the university always shows off its social engagement. In the end, the cartoon brought about very little. I received exactly one reaction on Twitter from someone who was disturbed by the cartoon.'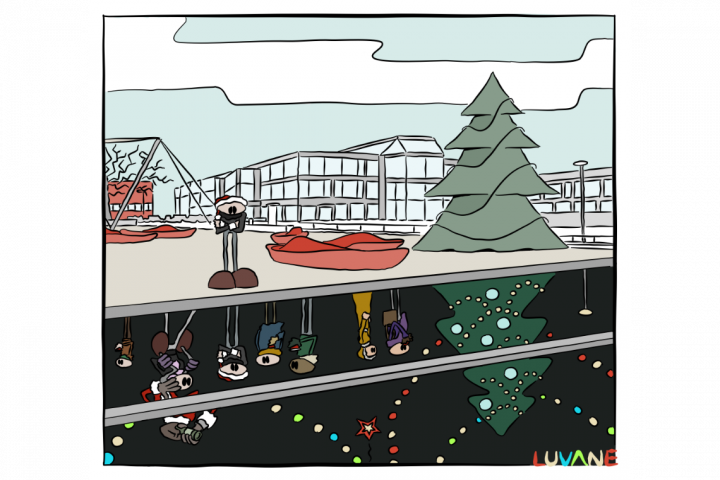 Provocation
According to Van Ewijk, it is typical for the University of Twente. 'Things are more moderate here, sometimes even apathetic. There is not much fuss. Many social topics are not the talk of the day here. You do not see any blockades at the university because of the climate (yet). The question arises whether students and staff are critical enough. After all, we do work and study at a university. I would like it to be a bit more activist-like.'
Although Van Ewijk regularly criticized in his cartoons, he said he was not a stone cold provocateur. 'That is not my style. Usually, my cartoons look friendly. Preferably, they are fun for everyone. I do not want to stigmatize. You could use all the preconceptions about Psychology or Mechanical Engineering students, but I think that is too easy. I always try to be original, that is my ultimate goal.'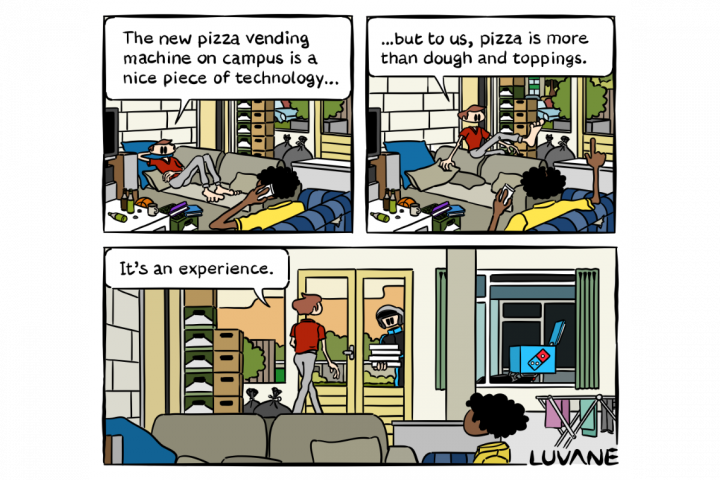 Illustration: the last typical campus cartoon, 3 July 2023.