The evening starts with a history lesson. Via the famous Italian artist Raphael, Van Ewijk's story leads to the first satirical drawings about Napoleon. The power of a good drawing was known early on. 'These depictions damaged me more than a dozen of generals,' the little emperor desperately declared.
With the rise of newspapers, cartoons really took off. However, the circulation of those same newspapers fell sharply from the 90s onwards with the emergence of the Internet, and thereby cartoons also came under pressure. Typically, The New York Times, stopped completely with political cartoons last year. There was also another reason for that: a cartoon about Donald Trump gave so much commotion that the newspaper no longer dared to publish political cartoons.
Rat and Mouse
The internet also offered opportunities, Van Ewijk knows. 'A cartoonist can find his own audience on a very specific topic.' Van Ewijk himself started as a cartoonist at UT-Nieuws, the predecessor of U-Today. His first two characters were Rat and Muis (Mouse). Over time, Van Ewijk opted for a different style. 'I felt limited by the cast of two characters, and I also wanted to draw without text and with color.'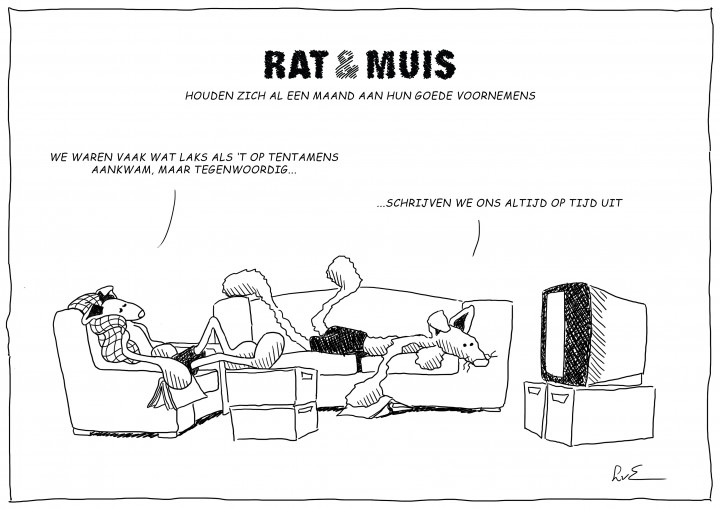 (Rat and Mouse, lazy student archetypes. The two rodents figured in the first LUVANE cartoons.)
According to Van Ewijk, his new style, known from the cartoons on the U-Today website, is characterized by the 'Klare Lijn', a style that was introduced by Hergé in his world-famous Tintin comics. The thin legs and eyes of the old Disney characters also served as inspiration for Van Ewijk's cartoons. Add in some art deco and Japanese print art and you have the new style of LUVANE.
Selfie stick
Van Ewijk shows the audience how the clue of his cartoon gradually comes about. 'I often just start drawing, and then the joke will follow.' Two things are crucial, he says. What is the target group? And: does the message, in this case the joke, come across to the public? Sometimes it doesn't work. Van Ewijk once drew a goose with a selfie stick at the UT's main entrance. 'Some people thought it was a gun barrel, aimed at the geese. It is not very convenient to aim a gun at your own university.'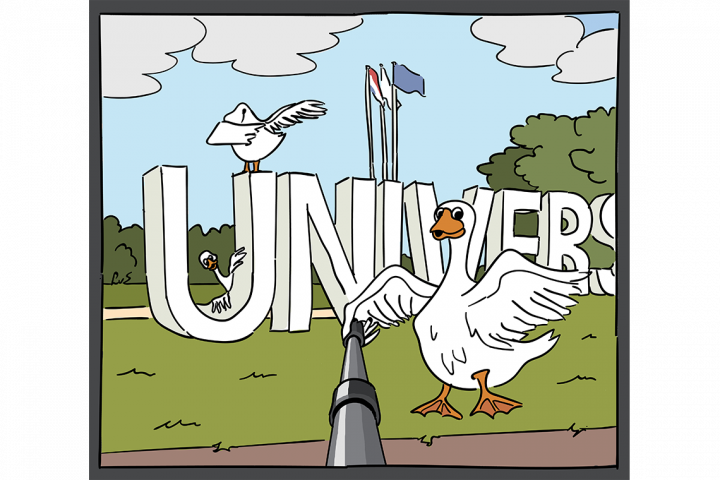 (Geese at the entrance of the UT. Some people mistook the selfiestick for the barrel of a gun.)
A critical question from the audience. 'There are a few people from the elite who have decided to speak English at the UT. Why don't you make caricatures of these people in your cartoons?' He sometimes tried, Van Ewijk explains. A sketch depicting Van der Chijs and Palstra appears on the screen. 'But it's not really my style. I don't want the image of the cartoonist that roasts people. That sticks with you forever.'

(Sketch of Victor and Thom. This cartoon did not make it to the U-Today website.)
Van Ewijk has other goals. One of his plans is to build a bridge between science and society. In addition to U-Today, Van Ewijk is now drawing for various other departments within the UT. 'Take for example a conference poster. They are often very boring. A good cartoon can make a conference attractive to a wide audience.'
Haven't had enough yet? The cartoonist will give a workshop on 3 and 24 February. Van Ewijk already gave the first tip last night: 'A good cartoon is all about exaggeration.'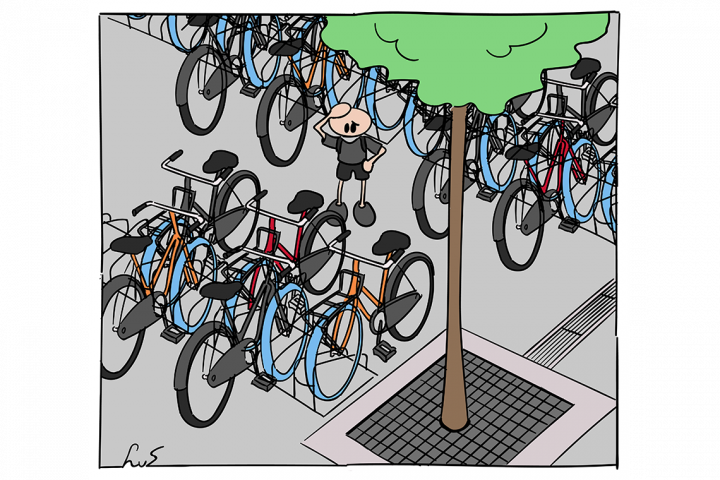 (Cartoon about the well-known Swap bikes on campus. A successful cartoon, according to Van Ewijk, because of its recognisability.)