A new study has found that of the estimated 409,000 students not living with their parents, about 80,000 have single glazing. The research was commissioned by Stichting Natuur en Milieu and conducted by ABF Research.
In the Netherlands, 19 percent of student housing has single glazing, which is higher than the national average for housing overall (11 percent). Of the larger student cities, Arnhem has the highest percentage of single-glazed student housing (40 percent), while Almere has the lowest percentage (6 percent).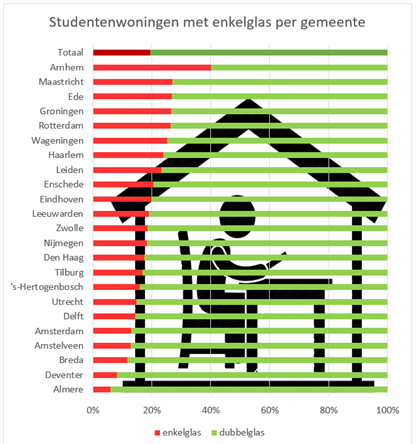 © HOP. Source: ABF Research. Student housing with energy label in largest student cities.
Stichting Natuur en Milieu has been campaigning against single-glazed windows for some time. Together with the Jonge Klimaatbeweging (Young Climate Movement) and the LSVb, it delivered a manifesto to the House of Representatives today calling for a ban on single glazing in rented housing by 2029. To encourage landlords to take action as soon as possible, they also want single glazing to be included in the residential rating system as a factor that would lower rent prices starting in 2024.
According to the study by ABF Research, 217 m3 of natural gas per single-glazed student housing unit could be saved each year if double glazing were to be installed. 'Many students face energy bills that are hundreds of euros too high, and there's nothing they can do to change that. With rising energy prices, this is completely unsustainable', according to the organisations.
Table: student housing units with single glazing by municipality
Municipalities with more than 500 student housing units with an energy label.
| | |
| --- | --- |
| Arnhem | 40.0% |
| Maastricht | 26.9% |
| Ede | 26.8% |
| Groningen | 26.6% |
| Rotterdam | 26.3% |
| Wageningen | 25.3% |
| Haarlem | 23.8% |
| Leiden | 23.3% |
| Enschede | 20.5% |
| Eindhoven | 19.9% |
| Leeuwarden | 18.9% |
| Zwolle | 18.6% |
| Nijmegen | 18.4% |
| The Hague | 17.5% |
| Tilburg | 16.8% |
| 's-Hertogenbosch | 16.0% |
| Utrecht | 14.8% |
| Delft | 14.3% |
| Amsterdam | 13.0% |
| Amstelveen | 12.9% |
| Breda | 11.7% |
| Deventer | 8.1% |
| Almere | 6.0% |
| Total | 19.5% |