This isn't your first time at the UT. Was there a particular reason for this visit?
Hyneman: 'I've become good friends with professor Stefano Stramigioli, we keep in touch and collaborate regularly. He has invited me to the Dies Natalis, which was scheduled for this week. I've been busy touring labs, seeing projects people here work on and I met up with the student teams. Yesterday I gave a talk on Business of Innovation. Students are usually focused on the tech, but what do you do after you come up with your innovation? It needs to leave the lab and be used – and make money. It's hard enough to come up with something new, but it's even harder to figure out how to make money with it. I've run a small business for a very long time, so I can offer my unique perspective on this topic. I wanted to encourage students to look at the full picture.'
jamie hyneman
Jamie Hyneman was awarded the honorary degree at the UT for 'popularization of science'. Hyneman is best known from the TV programme MythBusters, where he and Adam Savage used scientific methods to verify or bust popular myths. Before being on the show, Jamie Hyneman had a variety of jobs, including a certified dive master, a boat captain, a wilderness survival expert, a linguist and a cook. He has since taught at the Academy of Art University in San Francisco and is an honorary lifetime member of the California Science Teachers Association. He now gives lectures at universities around the world and he runs his company M5 Industries specialized in creating special and visual effects for films. 
During your last visit, you mentioned that you see your honorary doctorate as a chance to build a relationship with the university. How are you involved with the UT overall?
'I've collaborated with Stefano and his team a lot. They helped me analyse robotics challenges for MythBusters episodes. They were able to provide the deeper engineering principles. For example, once we were making a flapping hang glider – hang glider with flapping motorized wings. Stefano's team came up with several ways how to make one and analysed which approach would be best. That never made it onto the show, by the way, because I had a fight with the producers. I wanted to test the hang glider while attached to a zipline, because, well, I didn't want to die. The producer didn't like that, so I told them 'screw you' and that was it. The show wasn't successful because of their brilliance as producers, but because we did actual science and engineering.'  
'I enjoy universities and their hunt for knowledge.'
'Moreover, I enjoy working with academic institutions because to me it feels like they are the only institutions where actual knowledge is required. Just think of our last US president, who didn't know a thing about governing and was leading the government. In academia, on the other hand, if someone is leading a robotics department, you can be sure that they know something about robotics. That is why I enjoy universities and their hunt for knowledge.'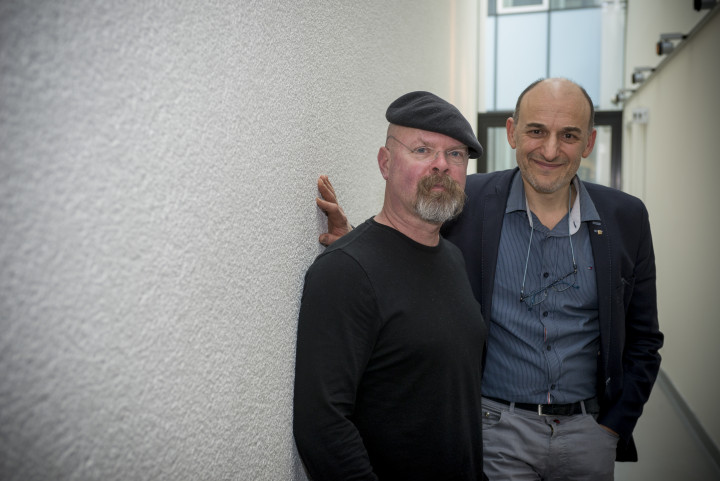 Jamie Hyneman and UT professor Stefano Stramigioli 
Have you started any joint projects with the UT, for example?
'I'd say that cooperation is starting to develop now. Interestingly enough, many projects I've seen here are very similar to what I'm working on these days. I'm involved in electric motorcycle development in the US. There is a student team here in Twente with a really nice electric race motorcycle. I've been working on a drone hunter, a drone that can take down other drones. There is a student team here doing the same. All of this is very telling of why I've maintained my relationship with the UT.'
Have you seen anything specific at the UT that has inspired you?
'I'm totally geeking out here. It's so nice to meet students and scientists in Twente. Most of them have watched me on TV at one point or another. It's nice to think that they ended up going to engineering because of the fun they saw us having on the show. A lot of the student teams here are working on technology I'm familiar with – the solar car, the solar boat, the electric motorbike, all these things are in the realm I'm heading into. I'm more focused on green and sustainable technologies now. Anyone observing what is happening with our planet should be concerned. For instance, a round ticket from here to San Francisco leads to huge amount of CO2 emissions being released to the air. What can we do about that? There is a team here working on robotic avatars that will allow us to enhance virtual communication. There is also a robot like that in my workshop. Except that one is made of wood and it's designed to be delivered to people in a flat pack, like IKEA furniture.'
You received the honorary degree at the UT for popularization of science. Are you still on a mission to popularize science?
'No, I'm not busy with that. I did my bit and I can't think of what else I could do that would have such a positive impact as MythBusters.'
Do you have any advice for students and young scientists here at the university?
'For whatever my opinion is worth, I'd like to say: I look at the projects here as a huge adventure. It's so rewarding to have an idea and try to make it work. That hunt to bring an idea to life is an adventure, it's exhilarating and it's tremendous fun. The process of inventing something and engineering is just so fun. People I've met here look like they can't wait to get to work. That's great. I hope young people see it and realize how great science is.'
watch Jamie Hyneman lecture tonight
Jamie Hyneman is giving a masterclass in the Wilminktheater in Enschede tonight. You can follow the show live online via this  link: https://www.did22.nl/jamielive