The Living Innovation Lab was initiated by the UT faculties Geo-Information and Earth Observation (ITC) and Engineering Technology (ET). The faculty of Electrical Engineering, Mathematics and Computer Science (EEMCS) has recently also announced its plan to collaborate in the lab's development. One of the project managers, ITC professor Mark van der Meijde, explains more about the initiative.
What will the Living Innovation Lab look like?
Van der Meijde: 'It will mostly be an outdoors facility. There might be a few small buildings, such as greenhouses, but largely we plan to use it to study subsurface infrastructure and land-atmosphere interactions. The section for subsurface infrastructure contains various bays with deployed cables and pipelines in distinctive soils. The surface level is also divided in bays and can be used for, for instance, observations of hydrological, energy, and vegetation cycles but also geological trials containing pebbles and rocks.'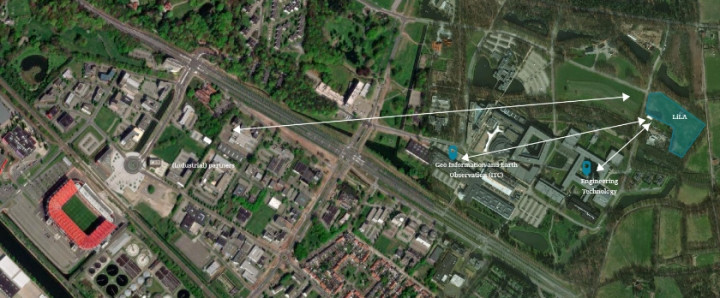 The planned location of the Living Innovation Lab
What type of experiments will it be suitable for?
'We currently have eighteen different teams signed up with a broad scope of experiments. The original idea was to create a lab for subsurface studies but it has grown much further than that. There are now many experiments we didn't expect at all. We didn't expect to have a wind tunnel in order to study dune erosions or to use the lab for detection of unexploded bombs and grenades in the ground. On top of that, the lab can serve for vocational training for detection of pipes and cables. We plan to use it for research into ground water, sewage systems, sink holes, but also vegetation cycles and animal life. We can measure how plants react to stress, to different temperatures and gases. Normally we had to travel to other sites for such experiments. Now we can do it directly on campus.'
Who will be able to use the lab and for what purposes?
'It'll be open to researchers, students, but also external parties and even the general public. We plan to divide the terrain into two parts: one only for scientists and one also for the general public, where we want to incorporate interactive elements. For example, we'd like to include sensors to measure earth vibrations and allow visitors to create their own earthquakes – and watch it happen directly in the ground. We want to open up our science to the public.'
When will the construction begin and when can we expect it to be finished?
'The constructions start this year. Hopefully the subsurface level will be finished this year and the surface components should be finalized in 2022. The first experiments should be running there next year, but we expect the Living Innovation Lab to be quite dynamic. We expect a continuous flow of new experiments, and therefore it will never be completely finished.'